Panasonic has extended its ruggedised range of Toughbook systems with the launch of its new Toughbook CF-C1 convertible notebook.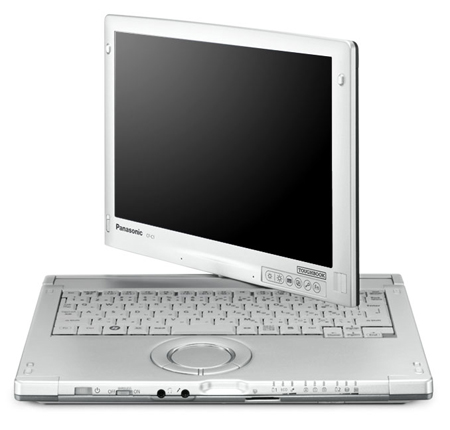 The notebook-turned-tablet system, pictured above, is designed with mobile professionals or road warriors in mind, and should manage to cope with most challenging environments. In addition to its obviously robust shell, the Toughbook CF-C1 features a spill-resistant keyboard and a rubberised, disinfectable carry handle. Panasonic also reckons the system can be dropped from heights of up to 76cm whilst in use with no risk of damage.
It's harder than your average ultra-portable, then, but it's also notably potent in the performance stakes, too. Panasonic has kitted out the Toughbook CF-C1 with a 2.4GHz Intel Core i5 520M vPro processor, up to 8GB of DDR3 memory and a shock-resistant, flex-mount 250GB hard disk.
That array of inner goodness is joined by a 12.1in multi-touch capacitive display offering a 1,280x800 resolution. The system ships with a digitiser, for user via pen or finger input, and for those who wear gloves at work - Panasonic tells us a "Gloved Multi-touch" model will also be made available later in the year.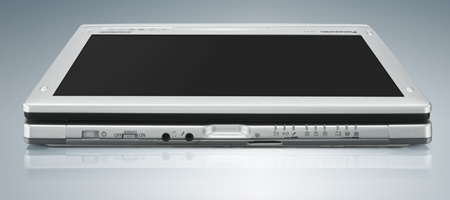 Weighing in at around 1.47kg with a single four-cell battery installed, the system isn't as heavy as it looks. Though, road warriors who demand longevity might prefer to install twin hot-swappable batteries, providing up to 10 hours of use from a single charge. Another advantage of the latter is that batteries can be swapped whilst the system is in use. Nifty.
Knowing that you're likely to be out and about when using the Toughbook CF-C1, Panasonic also has most connectivity options covered. The system ships with Wireless N, Bluetooth 2.1 and 3G connectivity as standard.
Expect to see the system at retail this July priced from €1,998 (approximately £1,810). The "Gloved Multi-touch" model will follow in September.