Earlier today we took a look at Lenovo's foldable screen laptop, destined for introduction into the premium ThinkPad X1 family in 2020. However, Lenovo's Accelerate 19 event featured plenty of other new products that will be available much sooner (in the next month or two rather than next year) and are more traditional but sit at their own extremes of computer product design. Coming under the spotlight below are the ThinkPad X1 Extreme Gen 2 (a powerful thin and light), and the ThinkCentre Nano M90n which is described a "the most compact commercial desktop series in the world".
ThinkPad X1 Extreme Gen 2
Lenovo says that the new ThinkPad X1 Extreme Gen 2 delivers "monster upgrades" to become a worthy sequel to its predecessor. Inside you will find that Lenovo has equipped the newest Intel processors - up to 9th Gen Intel Core i9 CPUs, and dedicated Nvidia graphics in the shape of the GeForce GTX 1650 GPU with Max-Q design. Furthermore, storage has been almost doubled to 4TB. Buyers can configure up to 64GB of RAM.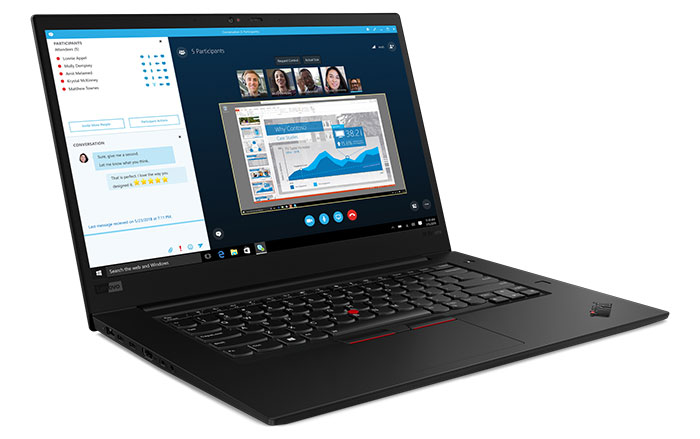 The 15.6-inch screen built-into the ThinkPad X1 Extreme Gen 2 can be configured as an IPS FHD HDR touch display or a 4K OLED panel with optional X-Rite Pantone calibration. Other attractive features are the machine's thin and light nature (for a 15.6-inch device) measuring 361.8mm x 245.7mm x 18.4mm and weighing 1.7kg. It features an 8oWh battery for up to 14 hours battery life plus fast charge, there is a finger print reader, ThinkShutter over the 720p webcam, Dolby Atmos speakers and far field microphones, Wif-Fi 6 connectivity, Bluetooth, Ethernet (via adapter), 2 x USB 3.1 Gen 1, 2 x USB 3.1 Gen 2, SD card reader, HDMI 2.0 port, plus audio combi ports.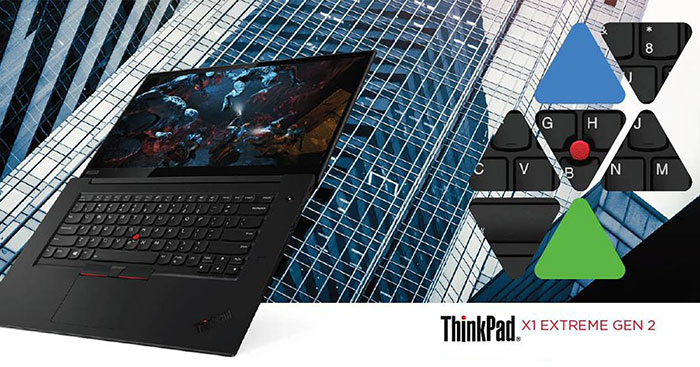 Lenovo's ThinkPad X1 Extreme Gen 2 starts at $1,499.99 and is expected to be available starting July 2019.
ThinkCentre M90n
The ThinkCentre M90n is headlined as "the most compact commercial desktop series in the world". Examining that specific quality; this machine measures 179mm x 88mm x 22mm, roughly the same size/shape as a VHS video cassette (and weighs from 505g). I'm not sure if the external 65W power adapter is accounted for in the weight figures, probably not. Despite its tiny footprint, Lenovo asserts that "it performs like a high-performance desktop". So, let us have a look at the key specs of this machine.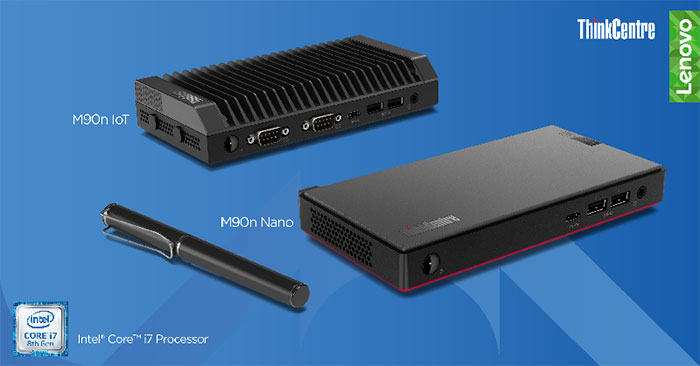 Buyers can configure up to an 8th Generation Intel Core i7-8665U (1.80GHz, up to 4.60GHz with Turbo Boost, 4 cores, 8MB Cache). VPro processor options will be available. Up to 16GB of DDR4 RAM is possible, as are dual 512GB PCIe SSDs. On board you will find quite a few ports for the size of this machine; Front - 2 x USB 3.1 (Gen 2), USB-C (USB 3.1 Gen 2), Headphone / mic combo and Back - 2 x USB 3.1 (Gen 2), USB-C (USB 3.1 Gen 2), DisplayPort, RJ45. Wif-Fi 802.11ac is built in as is BT4.0.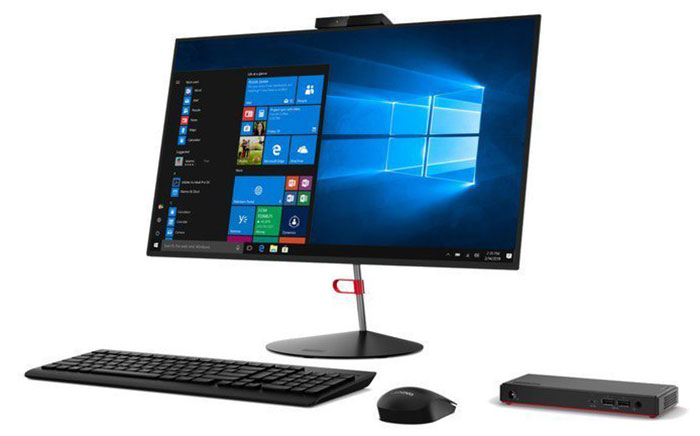 If you need further connectivity options you might be happy to hear that the PC supports USB-C docking. Instead of using the supplied power adaptor you can power the ThinkCentre M90n via a compatible USB Type-C monitor or Type-C dock.

Above you can see the ThinkCentre Nano M90n (right) and ThinkCentre Nano M90n IoT side by side. The special IoT version has scaled back computing specifications (fanless system with a maximum Core i3-8145U and 4GB of RAM), has an IoT focussed connectivity/port selection, is built with a broader thermal deployment range (0-50°C), and is designed for higher vibration and thermally challenging environments like manufacturing.
The ThinkCentre M90n Nano expected to ship August 2019, with a list price $639. Lenovo's ThinkCentre M90n Nano IoT is expected to ship August 2019, with a list price of $539.