Lenovo kicked off its Accelerate 19 event in Florida a few hours ago. As you might expect, the company was talking about new ThinkPads, ThinkCentres, ThinkBooks and so on, as well as its efforts in the VR, enterprise, and AI spheres. However, probably the star of the show thus far is an upcoming 'laptop' that Lenovo unveiled with a foldable screen.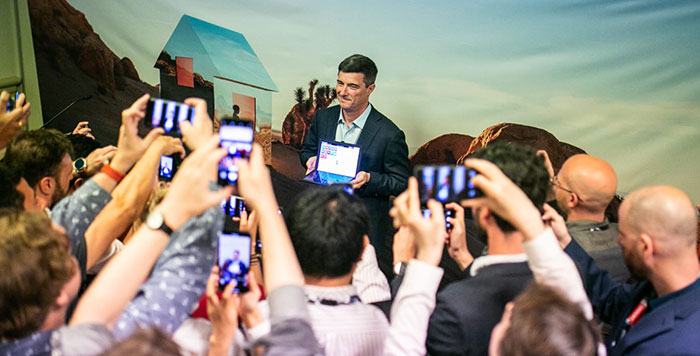 The upcoming foldable screen laptop will be a part of the premium ThinkPad X1 family when it is released sometime in 2020. Lenovo calls it the "World's First Foldable PC", but is of course making reference to the fact that it packs a foldable screen, rather than its clamshell form factor. The Chinese firm stresses that the upcoming X1 laptop "is not a phone, tablet, or familiar hybrid; this is a full-fledged laptop with a foldable screen". However, it overeggs the pudding somewhat by saying that its design "will in no way compromise productivity and reliability". For productivity on the go a physical keyboard is still considered an essential by most, and for reliability - time will tell but foldable screens haven't fared well thus far.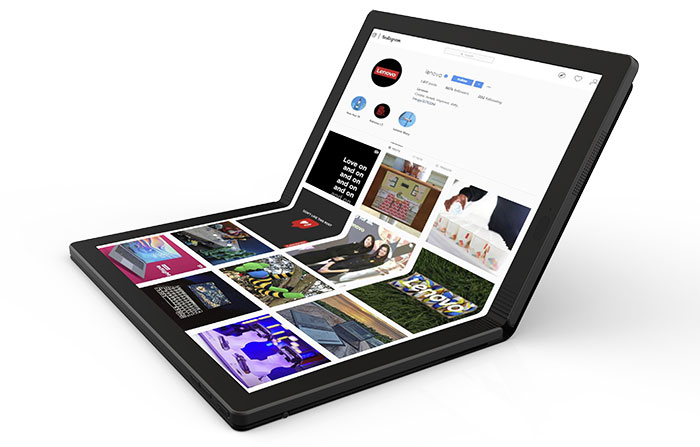 We don't have very many technical details about the above foldable so far. With launch possibly a year away, why would Lenovo set such things in stone? The company did talk a bit about the screen though. Central to the foldable design is a 2K OLED panel with touch and stylus compatibility, manufactured by LG. When fully opened up the screen presents a 13.3-inch diagonal. Sitting in laptop mode the half of the screen facing you will be a 9.6-inch diagonal section from fold to opposite top corner.
In the presentation we were told that the device will be 'always on' offer all-day battery life. Tablet, book and productivity modes were shown off. Other modes are available and it will easily dock into a multi-monitor setup at work, for example, and can be stood and used as a landscape 13.3-inch display with an accompanying mechanical keyboard (see image via Mashable's hands-on reproduced below).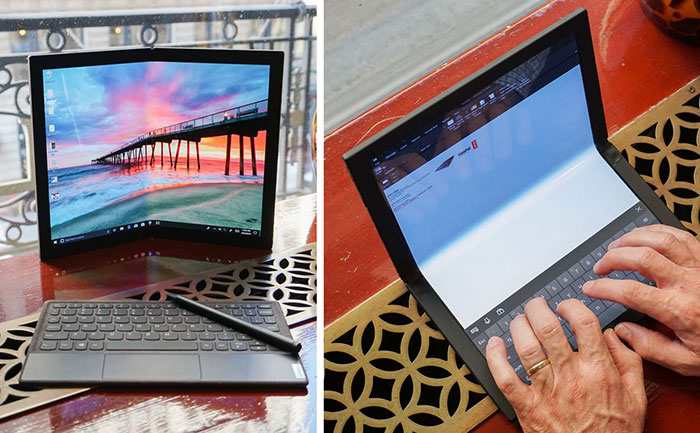 If you want to see the on-stage unveiling of the "World's First Foldable PC" you can watch the full first day Accelerate 19 keynote on YouTube. Skip forward to 1hr 39m 30s for the start of the product introduction.