Asus has been busy preparing new laptops aimed at a wide segment of gamers. Now that Nvidia has officially announced its GeForce GTX 16 GPUs for mobile, and Intel has announced its 9th gen Core mobile processors the biggest Taiwanese PCs, component and accessories maker has opened the floodgates. Yesterday, Asus launched ten new and updated ROG, Zephyrus, and Strix laptops - as well as a pair of TUF Gaming laptops which stand out for combining AMD Ryzen 3000 series APUs with Nvidia GTX 16 series graphics.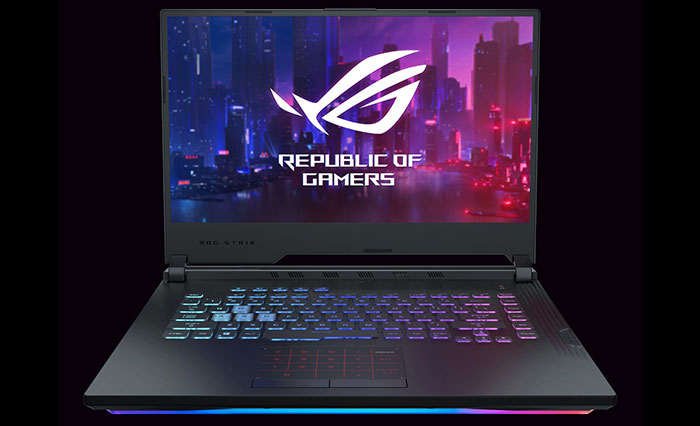 The abundance of new gaming laptops announced yesterday by Asus was mostly covered by a ROG Gaming blog post about the so-called 'ROG Spring 2019 Collection'. Asus espoused the benefits of the new technologies from Intel and Nvidia in its latest gaming laptops, helped by Asus 'Intelligent Cooling' design refinements resulting in "higher performance through lower temperatures". The firm also highlighted the "industry leading" displays it is equipping in these machines, alongside "desktop style keyboards" and strong supporting components providing fast NVMe storage, speedy networking, impressive audio, extensive I/O options, and lighting effects.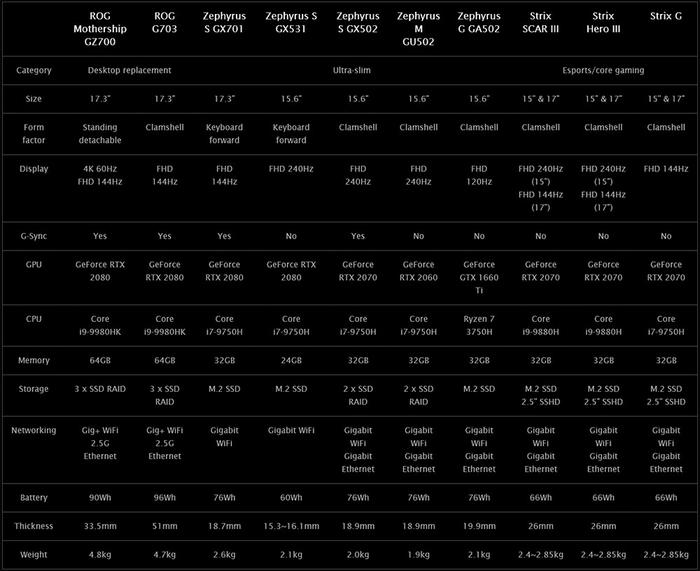 For clarity in the propositions of the new offerings, please refer to the 10 model feature comparison table above (click to zoom in). Most models are available immediately for order or pre-sale, others will become available in the coming weeks. You can read more about these gaming laptops on the above blog link or in the press release hosted by HEXUS.
Asus TUF Gaming laptops
Evidence of these laptops in the pipeline first became public after Tum Apisak shared a screenshot of the FX505DU as found in the 3DMark online database. Now the TUF Gaming FX505 and FX705 laptops are official, and feature on the Edge Up Asus blog. In brief, these 'affordable gaming laptops' come packing the key attractions of the latest Ryzen mobile 3000-series 'Picasso' APUs with the new GeForce GTX 16 series mobile GPUs.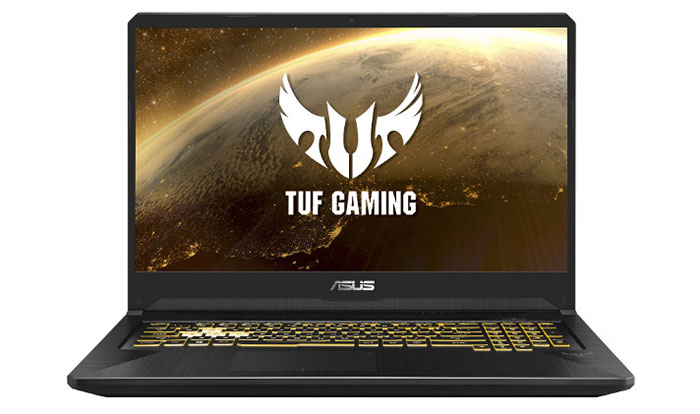 Like the ROG, Zephyrus, and Strix laptops launched yesterday, these TUF machines include the following Auss technologies; self-cleaning cooling fans, desktop-inspired keyboards, punchy sound, plus plenty of modern ports. These features are joined by the signature TUF "military-grade toughness," with a rigid chassis and durability designed to meet STD-810G standards.
Thanks to the choice of AMD APUs and Nvidia GeForce GTX 15 series graphics (rather than the more expensive GTX 20 series) these new TUF laptops should provide an attractive 'bang per buck'. Despite the relatively pocket-friendly pricing here, Asus has still managed to make sure all the models detailed come packing RGB backlit keyboards.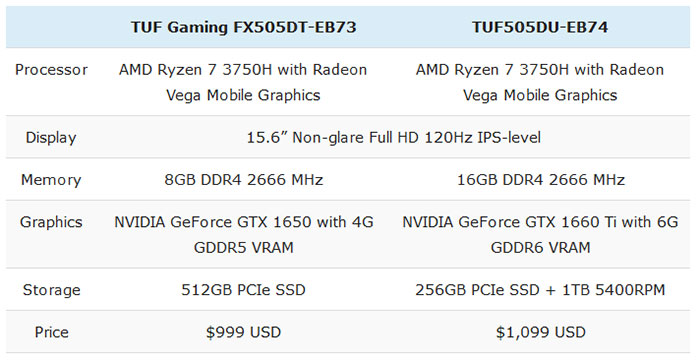 Two example TUF Gaming FX505 laptops models are shown with key specs and pricing, above. These are both available in the US at places like Newegg and Amazon. Head on over to the official Edge Up Asus blog for further details of configurable options and the specs of the 17.3-inch TUF Gaming FX705DD/DT/DU models.