Intel 9th gen mobile processors
Many of the new and updated laptops which were launched yesterday, featuring the new Nvidia GeForce GTX 16 series GPUs, were also pepped-up by the inclusion of a new 9th gen Intel mobile processor. If you ponder over the HEXUS press release section you will find new gaming laptops featuring Intel's latest and greatest CPUs from the likes of Razer, Asus, and CyberPower. Ahead of any upcoming HEXUS reviews of such laptops it is worth a look at the new Intel processors that have become available in the mobile market.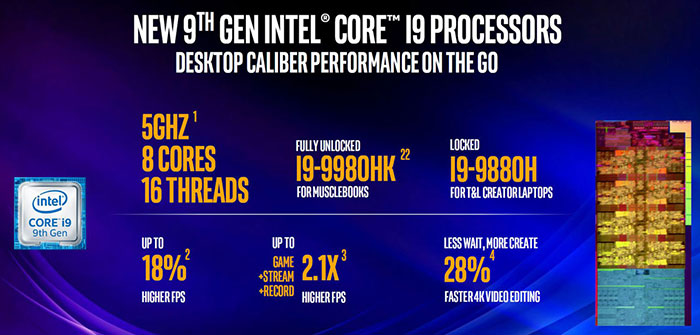 The new 9th gen mobile processors from Intel boast up to 8 cores and 16 threads and boost clock speeds of 5.0GHz. The top-end SKU with these statistics is the Core i9-9980HK, and you will find that it still squeezes a 45W TDP. Such processors are important, thinks Intel, as millions of gamers and enthusiasts "require PCs that can handle everything from demanding AAA games to taxing creative workloads like editing, rendering and transcoding massive 4K video – all while on the go".
These 9th gen Core processors for mobile aren't just about headline performance, they also come with some compelling new features such as; "the fastest, most reliable wireless with Intel Wi-Fi 6 AX200 (Gig+)," as well as Thunderbolt 3 support, and Intel Optane memory support. With regard to the faster Wi-Fi, Intel says that it can enable the sharing of 10GB of multimedia files in under a minute (with supporting Wi-Fi 6 networking gear in your home / office).

An overview of the new mobile processors is provided in the table above (click to zoom). Availability will vary depending on the various laptop OEMs such as Asus, Acer, MSI, Gigabyte, Lenovo and so on.
Expanded 9th gen desktop processor range
Intel added more than 25 new products to its 9th gen desktop processor range yesterday. The additions included members of the Core i3 to Core i9 families, as well as Pentium Gold and Celeron products.
Highlights of the new processors are, according to Intel, the following:
Up to 47 per cent more FPS while gaming.
Up to 2.1 times faster video editing compared with a 5-year old PC for 4K and 360 video editing experiences.
Intel Wi-Fi 6 (Gig+) with gigabit Wi-Fi speeds delivering almost three times faster than standard 2×2 AC, and 40 per cent faster than Intel Wireless-AC (Gigabit).
Up to 8 cores and 16 threads, up to 5GHz maximum turbo frequency, up to 16MB Intel Smart Cache and up to 40 platform PCIe lanes.
If you wish to explore further please take a look at the full range of 9th Gen Intel Core Desktop processors now on offer, please click to enlarge the embedded table graphics.
In case you missed it, HEXUS looked closely at the Intel Core i5-9400 in a review yesterday.