As well as launching the $149 / £138 GeForce GTX 1650 GPUs for desktop PCs today, as part of its GeForce gaming update, Nvidia has announced that gaming laptops will start to come packing GTX 16 series GPUs. Impressively there will be more than 80 new models rolling out, starting today, from OEMs such as Acer, ASUS, Dell and Alienware, Gigabyte, HP, Lenovo and MSI. Consumers will be able to grab a new GTX 16 gaming laptop from as little as $799 / £699 MSRP.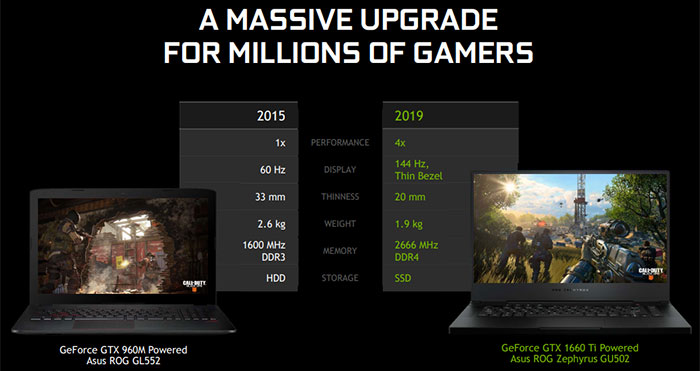 Nvidia is touting laptops from its partners with a choice of either the GTX 1660 Ti or GTX 1650. For some reason there is no mention of a GTX 1660 (non-Ti) laptop at all. In its promotional spiel, Nvidia highlights the advantages of the Turing architecture for mobile gamers, specifically it claims that the new generation GPUs are "40 per cent more power efficient than Pascal and deliver 50 per cent more instructions per clock". Additionally, those that have read-into Turing will be aware of the advantages of concurrent execution of floating point and integer operations, adaptive shading, and a new unified memory architecture with twice the cache of its predecessor.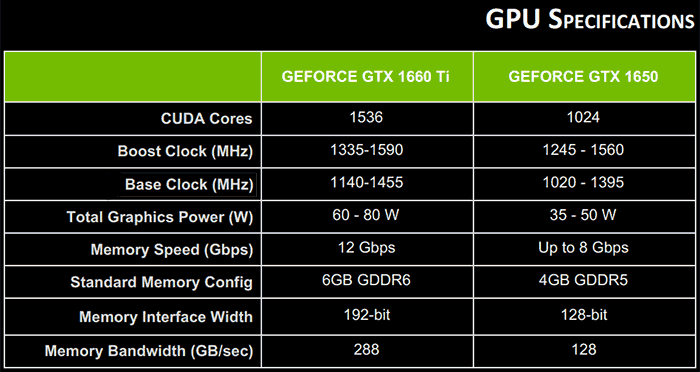 Thankfully Nvidia has shared some reference specs ahead of the partner laptops rollout, and I've embedded an official mobile GTX 1660 Ti and GTX 1650 comparison table above. Immediately I see that the GTX 1660 Ti is a very close relation to its desktop counterpart but with base/boost clocks calmed to fit with the OEM's laptop design choices. However, the mobile GTX 1650 appears to sport 1024 CUDA cores with vendor chosen base/boost configurability to fit between 35 and 50W TDP. From our earlier report, you can see that the desktop GTX 1650 graphics card features 896 CUDA cores and offers much faster base/boost but with a 75W TDP.
Performance
What kind of performance can you expect from new laptops featuring Nvidia's GTX 16 series GPUs? Nvidia has kindly supplied both intergenerational comparisons and game specific performance numbers.
GTX 1660 Ti laptop


GTX 1650 laptop


100+ FPS in the most popular competitive games
Up to 4X higher performance than GTX 960M
Up to 1.5X higher performance than GTX 1060
Starting at $999

60+ FPS in the most popular competitive games
Up to 2.5X higher performance than GTX 950M
Up to 1.7X higher performance than GTX 1050
Starting at $799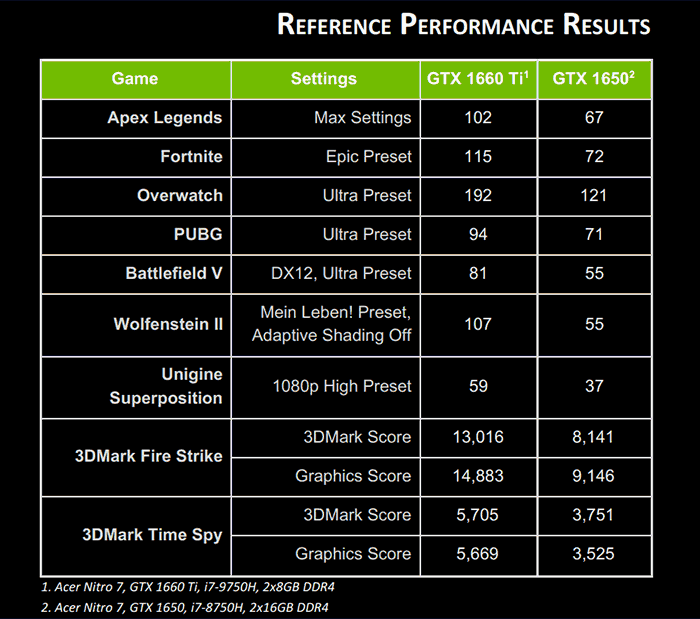 If you've recently bought a laptop featuring a Pascal GPU like the GTX 1050 or GTX 1060 those intergenerational uplift figures might hurt a bit. On the other hand, it's good to see advancements of 1.5X being achieved and if you are thinking of upgrading an older gaming laptop like one packing a GTX 960M you can gain up to 4x the performance with a new Geforce GTX 1660 Ti gaming laptop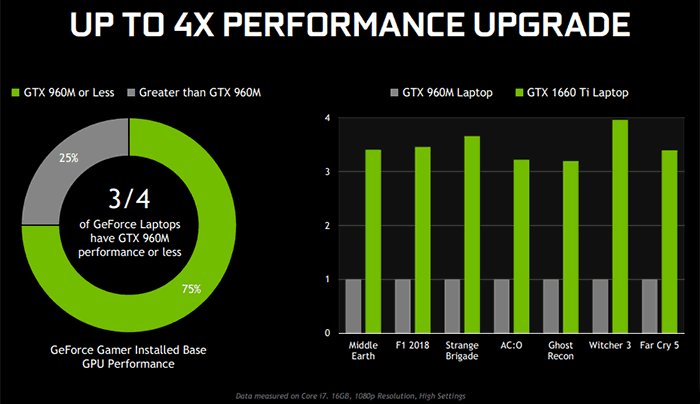 Specific GeForce GTX 16 series gaming laptop information will arrive shortly from OEMs. Please keep an eye on the HEXUS press release section for these products, and of course some of the best examples will feature in HEXUS news and reviews too. Remember, there are already over 60 models confirmed from the likes of Acer, ASUS, Dell, Gigabyte, HP, Lenovo, and MSI. Models we have been told about include the Acer Nitro 5, Asus ROG Zephyrus G, Dell G5, Gigabyte AERO 15, Lenovo Legion Y7000, and MSI GS65.