Dell is at the CES 2019, and has some appealing hardware on show. However, it is its specialty gaming brand Alienware that has really pushed out the boat with eyebrow raising product unveilings. In particular, the Alienware Area 51m laptop with upgradable CPU and GPU capability, and the Alienware 55 OLED Monitor for 120Hz 4K gaming, stand out.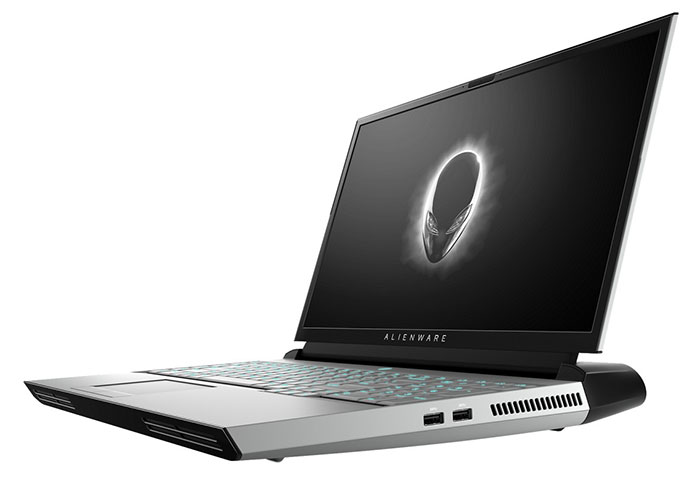 Alienware Area 51m laptop
This machine is currently the world's most powerful gaming laptop, according to Dell. Sporting the new Legend brand identity, the Alienware Area 51m is configurable with up to an Intel Core i9-9900K and Nvidia GeForce RTX 2080. However, something that really sets this desktop replacement gaming laptop apart is its upgradability…
Almost twenty years after Alienware launched the first gaming laptop with upgradeable graphics it revisits and builds upon the idea. As well as the socketed swappable Intel 8th gen desktop CPU, Dell has used a swappable DGFF GPU slot for NVIDIA's RTX 20-series cards (up to the RTX 2080). Of course memory and storage can also be upgraded by the owner (max 64GB of RAM). The only hitch with the Dell Graphics Form Factor (DGFF) will be the limited supplier choice for a GPU upgrade.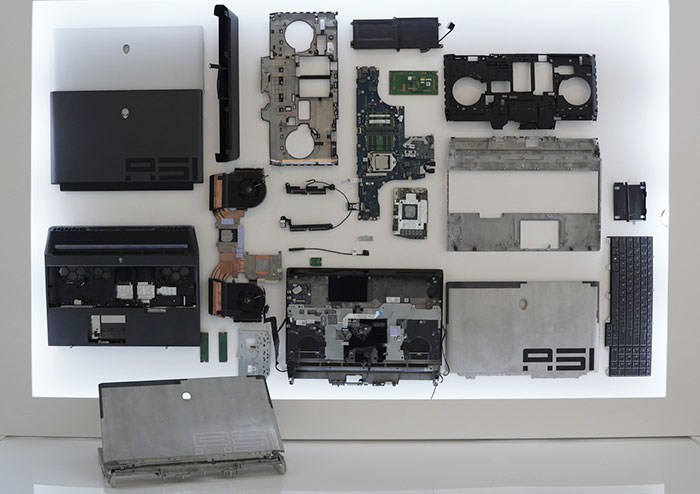 The Alienware Area 51m is based around a 17.3-inch panel and this too is configurable. The options include; a 60Hz display, 60Hz display with G-Sync, 144Hz with Tobii eye tracking, 144Hz with G-Sync, or 144Hz with G-Sync and Tobii eye tracking.

With the 17-inch chassis, power on tap, a hefty cooling system, and upgradability - the dimensions and weight of the Alienware Area 51m aren't its most attractive features. It measures 410mm x 402mm with depth varying from 27.65mm to 42mm. Weight is 3.87kg.
The Alienware Area 51m will be released at the end of the month priced from US$2,549.
Alienware m15 and the new Alienware m17
Taking quite a different path to the above, these two laptops try and balance thin and light portability with gaming goodness. They come packing 8th-gen Intel Core i5 and i7 processors featuring dynamic CPU overclocking and Dell Cryo-Tech Cooling technology. As is common of all new gaming laptops at the CES, these have been updated with GeForce RTX 20 series GPU options. At the time of writing the Dell web store doesn't seem to have been updated to reflect the RTX 20 upgrades.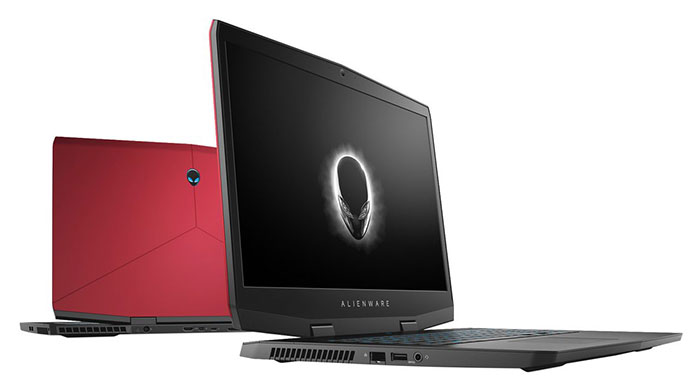 Alienware 55 OLED Monitor
This might not quite match the HP Omen X Emperium 65 BFGD for size, but it has some very attractive qualities of its own, most notably the inky blacks afforded by the OLED panel. The Alienware 55 OLED is a 55-inch 4K OLED which is capable of variable refresh rates up to 120Hz.
Engadget spotted this monitor at CES and their reporter says it "did a great job of showing off the insane contrast I'm used to from OLED". It comes with DisplayPort 1.4 to make full use of the resolution and refresh rate available, but we don't know about other connection options. The info might be vague as this product isn't scheduled for release until H2 2019.
If you are keen on OLED screen technology, elsewhere in the Engadget report it says that Dell is bringing OLED to its 15-inch XPS, Alienware and G laptops this March.