Samsung has some interesting new products at CES 2019. For PC enthusiasts and gamers probably the most eye-catching announcements so far were of the Samsung Notebook Odyssey (a 15-inch gaming laptop with RTX 2080 and G-Sync display) and a preview of the firm's 'groundbreaking' Micro LED technology packing displays.
Samsung Notebook Odyssey 2019
Samsung makes that age-old claim that its new gaming laptop means "users will never again have to compromise to experience the best, most intense games on their mobile computing device". However, mobile platforms are edging ever closer to being able to hold their own in the performance stakes, you just have to put up with the comparatively small screens while out and about.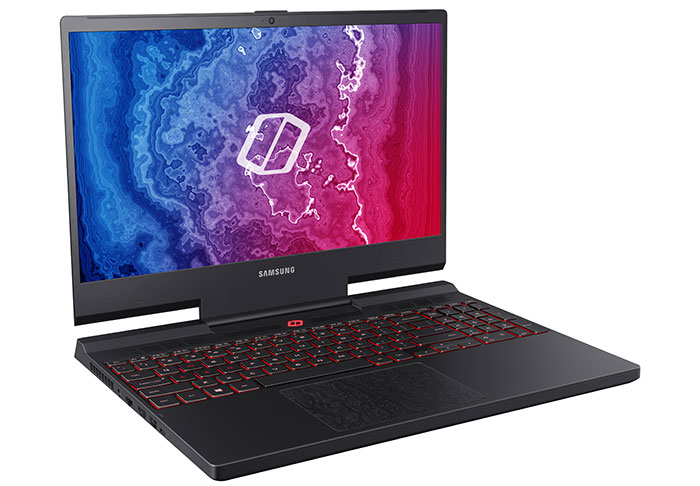 Performance comes courtesy of the latest Intel processors, and as announced at CES 2019, Nvidia GeForce RTX graphics coming to mobile. More specifically Samsung has kitted out the Notebook Odyssey with an 8th Gen hexacore Intel Core i7 processor (probably the Core i7-8850H) and the GeForce RTX 2080 GPU.
These performance components are complemented nicely with a base spec of 16GB of RAM, and the mixed storage on offer consisting of 256GB NVMe SSD (taking up one of the 2x SSD slot) plus a 1TB HDD (1x HDD slot). Another import ant part of the gaming laptop experience is catered for by the 15.6-inch Full HD (144Hz) screen with G-Sync and Black Equaliser tech. Stereo speakers with Dolby Atmos complete the audio/visual experience on offer as the laptop stands.
Moving onto construction, Samsung is proud of the Notebook Odyssey's style and premium metal design. This 2.4kg device is under 20mm thick and aims to keep its powerful components cool via two redesigned Jet Blade blowers sport 83 blades each, and a new penta-pipe cooling system. Cooling can ramp up into 'Beast Mode' should the game / application demand it…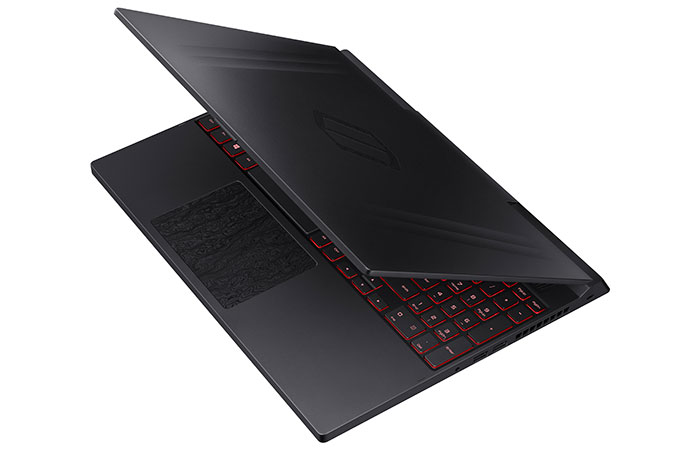 Elsewhere the design sports 1x USB-C, 3x USB3.0, HDMI, RJ-45 and there is 802.11ac 2×2 for Wi-Fi connectivity. Availability starts in the US in early 2019 before rolling out to China, Korea and other select regions. Pricing is yet to be divulged.
Micro LED Technology
Samsung says that Micro LED is "at the forefront of the next screen revolution with intelligent, customizable displays that excel in every performance category." At CES 2019 it is showing off some of the capabilities of the display technology to attendees with a variety of shapes and sizes of Micro LED display.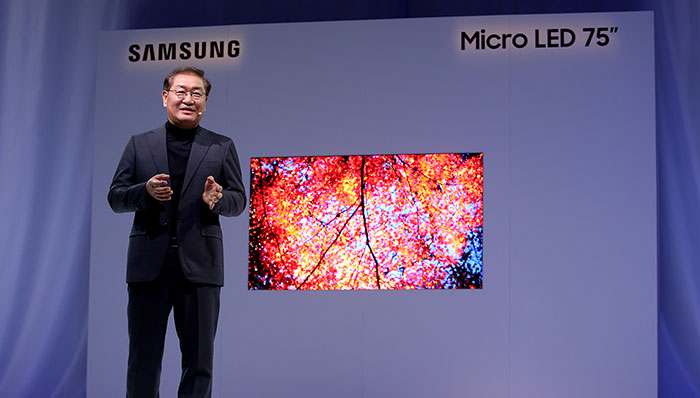 To recap, Micro LED is a self-emissive technology, which means the pixels don't need backlighting. That facilitates the 'true black' capabilities as enjoyed by OLED display viewers. In the recent DisplayHDR True Black HDR standard news, you may have noticed the mention of Micro LED alongside OLED.
Another feather in the Micro LED cap is its modularity. Showing off this capability at CES 2018, Samsung demonstrated its 146-inch The Wall TV. This year Samsung has another Micro LED displays to show the tech flexibility; a home-friendly 75-inch 4K TV. Thanks to Micro LEDs flexibility users will in the future be able to create irregular 9×3, 1×7 or 5×1 screen sizes "that suits their spatial, aesthetic and functional needs," says Samsung.
An example given by Samsung is that - if your bezel-free Micro LED TV doesn't support an unconventional aspect ratio movie, you can move the modular parts (or even add/take away parts) to fit the content (up to 10k). A feature I would like to have automised by some holding frame / robotic device. These "seamless, stunning infinity pool," displays are now enhanced by a new new Ambient Mode.
Samsung's MicroLED screens have two pieces to each module.

There's a back plate with metal hooks that extend when you twist a dial. These are for attaching modules together. Then, the display part just latches on magnetically and lights up.https://t.co/ebOrnT8kMe pic.twitter.com/upvt43I6st

— The Verge (@verge) January 7, 2019