Dell has updated its Latitude Rugged laptop line with the latest Intel processors and strong, slimmer and lighter builds. Three new ruggedized laptops were just announced, and these are; the Dell Latitude Rugged Extreme 7424 laptop, plus the Dell Latitude Rugged 5424, and the Dell Latitude Rugged 5420 laptops.
The "biggest and baddest" new rugged laptop from Dell is the Latitude Rugged Extreme 7424. It features an 8th gen quad-core Intel CPU, up to 32GB of DDR4 RAM, AMD Radeon RX graphics options, up to 4TB of SSD storage, and a 14-inch FHD 1000 nit (with glove-friendly touchscreen option).
In terms of ruggedness, this laptop has been drop tested from 6 feet for impact resistance and certified by IP-65 ingress protection. Its quad-cool system should keep it running smoothly even in the hottest environments. It is said to be strong against no-physical threats too, with its secure encryption, manageability and support.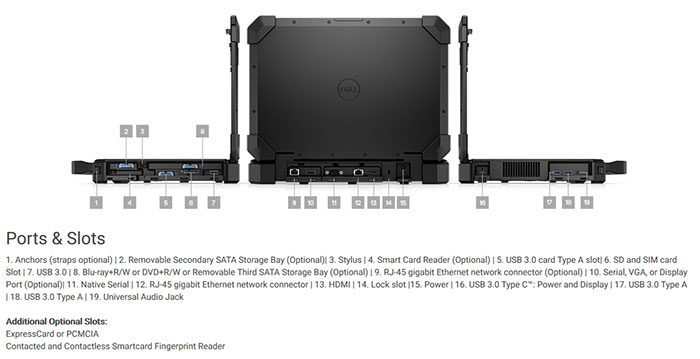 For a modern laptop, these rugged designs are still eminently practical and adaptable with their wide selection of ports. A side effect of all the ruggedness and expandability is the size and weight; 352 x 255 x 59mm, and 3.45kg with a single 3 cell battery, no handle, and no optical drive. As you see in the videos, outdoors types will find an extra battery appealing due to the extended life and hot swap capability.
The Dell Latitude Rugged Extreme 7424 costs from $3,499.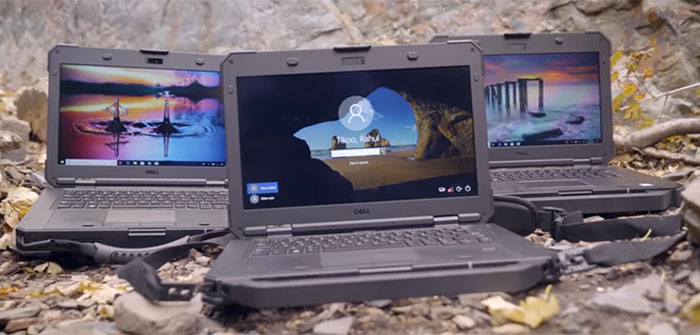 Dell's Latitude Rugged 5424 looks like it has a lot in common with the Extreme model, but isn't quite as tough, according to the promotional blurb. However it still boasts MIL-STD-810G certification and IP-52 ingress protection. The entry level model costs from $1,500, which is quite a saving
If you prefer a thinner and lighter rugged laptop and are happy with ruggedness that can cope with a 3 feet drop and IP-52 ingress protection, then the Latitude Rugged 5420 might appeal. With its slimmer frame there are fewer ports and expansion options but it still looks capable and fairly bristling with connectors compared to a standard clamshell design. It measures 347 x 244 x 32.9mm and weighs from 2.22kg.
The entry level price for the Dell Latitude Rugged 5420 is just $1420. However, it is easy to bump that past $2k or even $3k by beefing up the processor, storage and GPU options.