We are still waiting patiently for the previously teased Lenovo 25th Anniversary Edition ThinkPad. That last time we heard about it was at the Lenovo Transform NYC 2017, back in June. What we are expecting is an all new laptop with the best features of past ThinkPads but infused with today's best technologies.
A couple of days ago we appear to have got a good sneak peek at the final design as the official Lenovo Partner website posted details of a promo for the Lenovo 25th Anniversary Edition ThinkPad, or 'ThinkPad Retro', via Liliputing.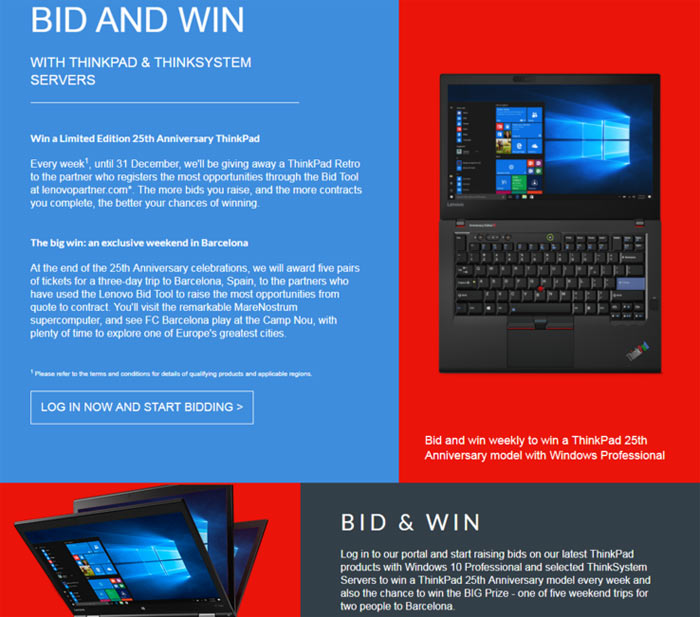 The image is decent enough in quality to answer a number of questions about the upcoming design. The fully opened up laptop clearly shows off features such as:
a sculpted-key keyboard featuring 7 rows of keys
the blue enter key
the red trackpoint
a touchpad with left/right mouse buttons and scroll mechanism
function keys with secondary blue modifier functionality
dedicated easy access buttons for audio control and more
an array of camera lenses and microphone(s) above the screen which possibly facilitate Windows Hello logins as well as Skype calls etc
a fingerprint sensor to the right of the cursor key cluster
a colourful ThinkPad logo on the wrist rest
'Anniversary Edition' printed above the keyboard to the left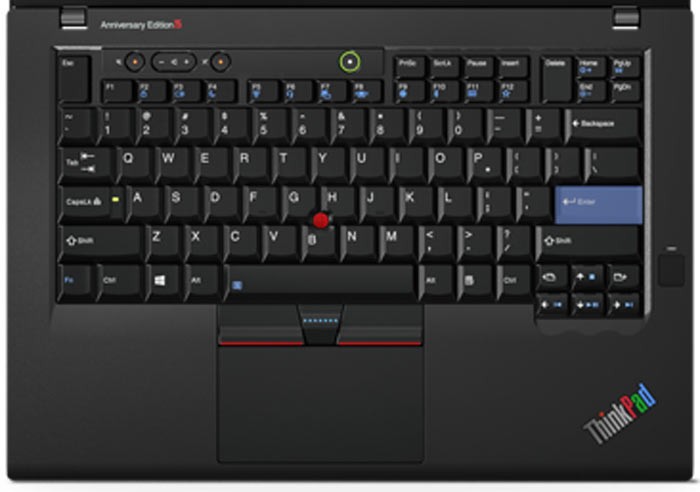 Those hoping for a 4:3 ratio screen may be disappointed, as this modern tribute looks rather more like a 16:9.
With the promo offering to give resellers a free Lenovo 25th Anniversary Edition ThinkPad once a week until the 31st December, I'd say it must be launched at least a month earlier than that. Unfortunately we don't have any solid release date info other than that vague indication. However, ahead of the unveil we should expect some promotional activity, video teasers, and/or event invites.
Pricing is similarly vague but just after the Transform NYC 2017 event Lenovo's chief design officer David Hill asserted that a $5,000 price tag was just an ill-founded rumour.