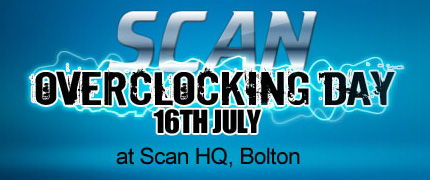 There's only one thing better than overclocking, and that's overclocking with a bunch of like-minded individuals!
So head down to the Scan Overclocking Day next Saturday, July 16 to watch and learn from experts who will be overclocking all of the latest kit from the likes of Intel, ASUS and Corsair.
And that's just a glimpse of what will be available. In addition to the free overclocking sessions, Scan will be hosting a range of gaming tournaments - with prizes! - and there will be exclusive in-store discounts on a wide range of products.
It promises to be a fun-filled day for the PC enthusiast, so head on over to Scan.co.uk for details on how to register.