Gigabyte continues to deliver new custom-designed top-end PC graphics cards. Last week we saw the PCs and components maker roll out its GeForce GTX 1080 Turbo OC 8G with Turbo Fan cooler, now a new Waterforce card has appeared upon its website. The Gigabyte GTX 1080 Xtreme Gaming Waterforce WB 8G, designed with a water block ('WB') cooling system in mind, to slot into your existing liquid cooling setup.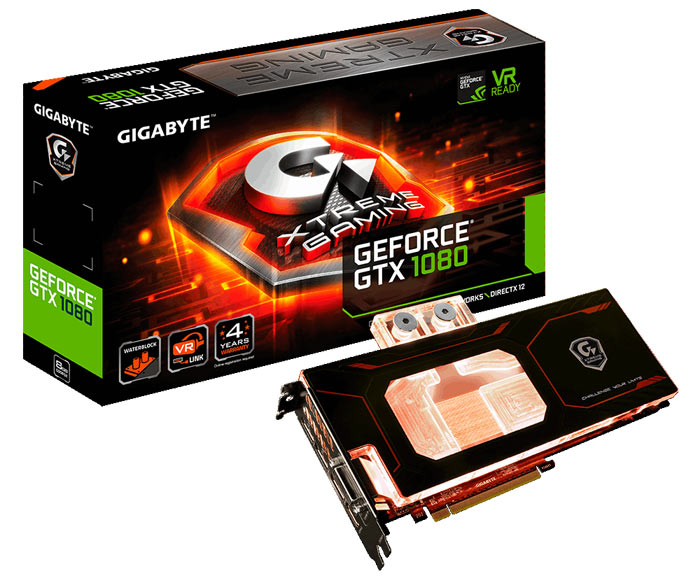 This new graphics card is able to look particularly sleek and stylish as it can do away with all the fans, shrouds and attachments required by air cooled or liquid/hybrid cooled All-in-One designs. The new Xtreme Gaming Waterforce WB 8G features a potent Gigabyte GTX 1080 GPU sandwiched between a black metal backplate and a full coverage copper waterblock with transparent acrylic windows and cutouts. Transparent portions of the design are lit up by customisable 16.8 million colour LED lighting. The water cooling loop in and out ports are also RGB LED lit, as you can see. Gigabyte's water block design provides direct copper contact with GPU, VRAM and other critical components.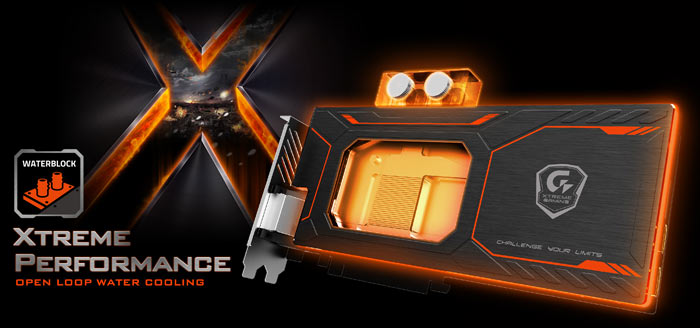 Looking at the components used, Gigabyte says that it has chosen the best GPUs for these cards using its Gauntlet Sorting techniques. Gigabyte's Ultra Durable components such as Titan X-Grade chokes and capacitors feature. The card features 12+2 power phases for OC flexibility. Furthermore, Gigabyte claims its fully automated PCB production process ensures top quality circuit boards unlikely to snag and get damaged when installing, and this board is protected with a dust-resistant, moisture resistant aerospace-grade coating. A 4-year warranty shows confidence in its own durability claims.

Gigabyte's new GTX 1080 is clocked as follows; Boost: 1936 MHz / Base: 1784 MHz in OC mode, and Boost: 1898 MHz / Base: 1759 MHz in Gaming mode. This naturally gives it an fresh out-of-box performance advantage over a 'Founder's Edition', as you can see in the graphic comparisons below.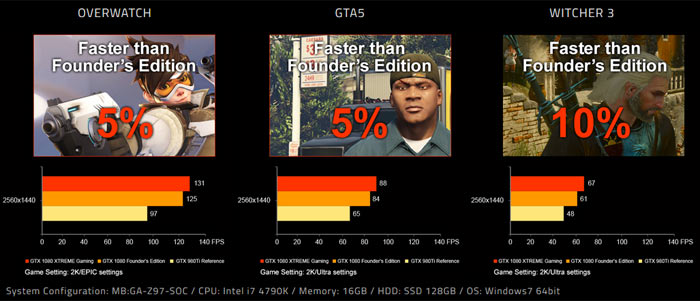 On the backplate of the card are a trio of DP ports, an HDMI port and a DVI-D connector. In a so-called VR-mode two of the rear DP ports are disabled and an extra 2x internal HDMI ports become active (for routing to a front VR I/O panel, for example).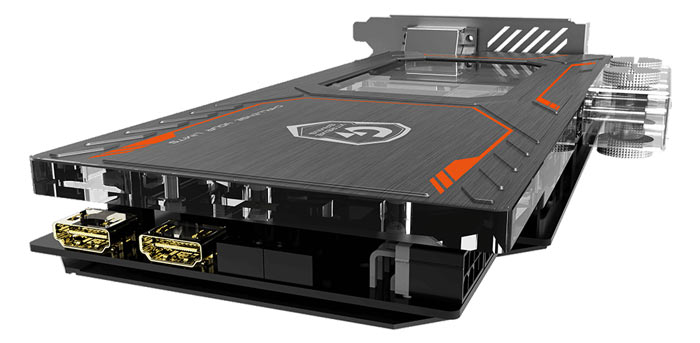 We don't have pricing and availability for the Gigabyte GTX 1080 Xtreme Gaming Waterforce WB 8G at this time. However it should be a little less expensive than the Gigabyte GTX 1080 Xtreme Gaming AiO Waterforce which retails for £780 inc VAT in the UK.