Corsair has launched the Hydro GFX GTX 1080 liquid cooled graphics card. This all in one liquid cooled graphics card is based upon the sleek melding of an MSI designed GTX 1080 graphics card with a Corsair Hydro Series H55. In an email to HEXUS, Corsair referred to this tasty new product as "The GeForce GTX 1080 as it should be," and straplined the design "Silent Cooling. Maximum Performance. VR Ready."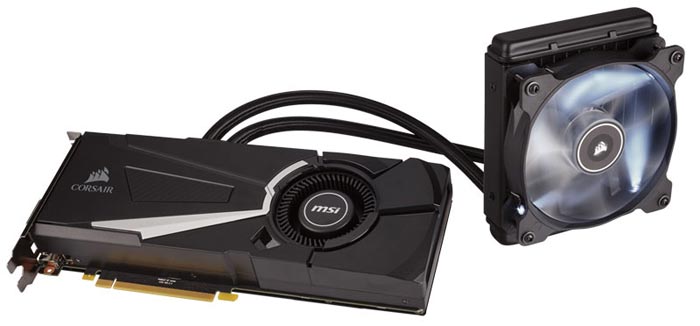 As you would expect, the Hydro GFX GTX 1080 is overclocked straight out of the box. Despite the decent preset OC levels the Corsair/MSI branded card is said to be significantly cooler and quieter than stock versions of the GTX 1080. Headline OC Mode performance figures are a GPU Boost clock of up to 1,847MHz and Memory Clock of 10,108MHz.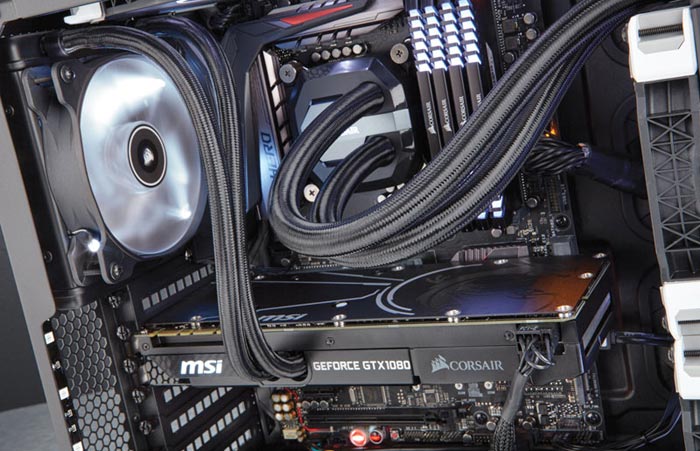 While on the topic of specs, the full rundown is bullet pointed directly below:
GPU: NVIDIA GeForce GTX 1080
CUDA Cores: 2,560
Interface: PCI Express 3.0 x16, dual-SLI capable
Boost / Base Core Clock:
1,847 MHz / 1,708 MHz (OC Mode)
1,822 MHz / 1,683 MHz (Gaming Mode)
1,733 MHz / 1,607 MHz (Silent Mode)
Memory Clock:
10,108 MHz (OC Mode)
10,010 MHZ (Gaming Mode)
10,010 MHz (Silent Mode)
Memory Size, Type: 8GB GDDR5X
Memory Bus: 256-bit
Outputs: 3x DisplayPort (Version 1.4), 1x HDMI (Version 2.0), 1x DL-DVI-D
Power Connector: 8-pin x 1
Power Consumption: 180W
SKU: CB-9060010-WW
Dimension / Weight for Card: 270 x 111 x 40mm / 1249g, Cooler: 151 x 118 x 52mm/ 1286g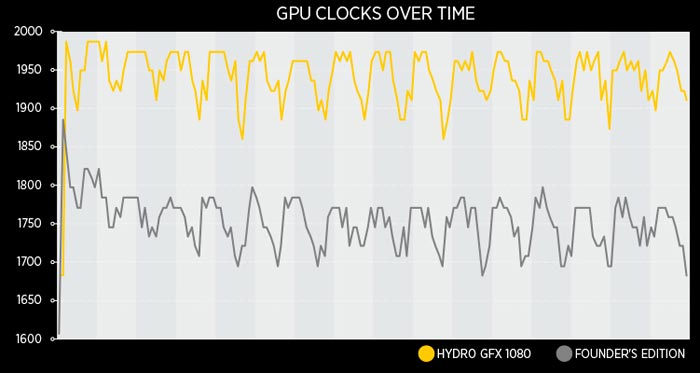 Corsair says that its Hydro Series H55 cooler draws heat from the GPU via its micro-fin copper base cold plate and efficiently dissipates it using a 120mm high-surface area radiator. A pre-attached cooling bracket provides full coverage, two-stage cooling. A low-noise 120mm LED lit fan keeps the air flowing quietly through the radiator fins to regulate the closed loop liquid temperature. Meanwhile a quiet blower style fan air-cools the memory and VRMs. Corsair's cooling system is complemented by the MSI Afterburner overclocking software, allowing easy but advanced voltage, fan and clock speed control.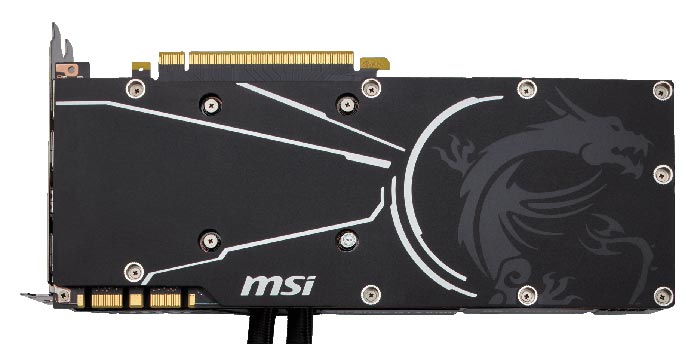 Corsair told HEXUS that the Hydro GFX GTX 1080 is available immediately from the Corsair official webstore, and is priced at $749.99 Exc TAX in the United States, £699.99 Inc VAT in the UK, and €849.99 Inc Tax in Germany. Those prices aren't much more than some of its air cooled rivals.