Graphics card leak specialists VideoCardz has published what it claims to be Nvidia GeForce GTX 1070 3DMark FireStrike benchmark results. The headline performance of the GTX 1070 in this popular synthetic benchmark is slightly better than previous graphics card generation leaders such as the Nvidia GTX TITAN X, GTX 980 Ti, and AMD Radeon Fury X. Comparisons below are of graphics cards at stock speeds and doesn't include any OC models.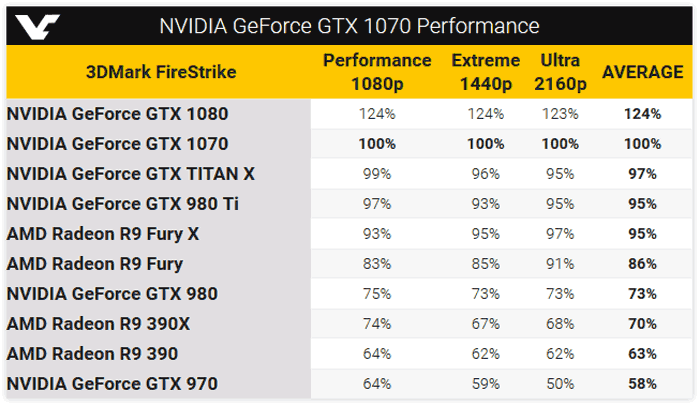 You can see in the above chart that the GeForce GTX 1070 provides
a significant inter-generational performance uplift.
On the subject of overclocking, VideoCardz asserts that users won't be able to OC their GTX 1070 to achieve stock GTX 1080 performance. It says that the Founders Edition card is power limited. In tweaking the card for these tests, it was found that the average GTX 1070 OC frequency was 2060MHz. However the memory frequency was easily overclockable to 9GHz effective speed (2250MHz) to increase bandwidth to 288GB/s (the GTX 1080 offers 320GB/s of bandwidth).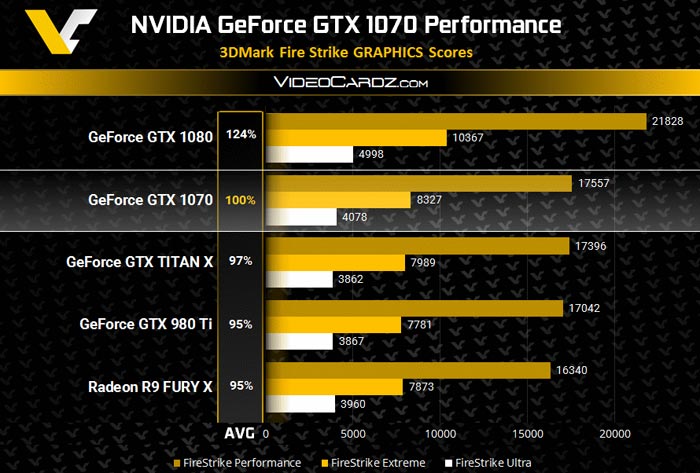 I've truncated the above bar chart; the full version along with 3DMark FireStrike system info screen grabs is available at VideoCardz. As a reminder, the GeForce GTX 1070 Founders Edition will be launched on 10th June, just over a fortnight from now, priced at $449. A few weeks later AiB partner designs should come in at $379 or lower.