MSI has been teasing its Facebook followers with a not-too-subtle image combining its own logo, that of Corsair and an artistic swirl of water. It's pretty obvious what the collaborative product is going to be; the post is accompanied by the hashtags #MSI, #Corsair, and #GraphicsCard, and we are told the product will be "truly cool". Furthermore the product was pre-announced at MSI's 100 millionth Nvidia GeForce graphics card bash at Computex in June.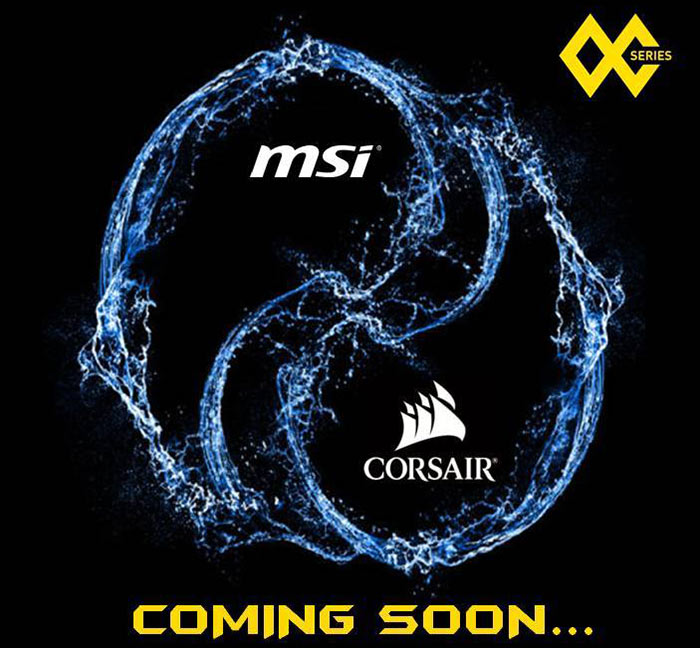 So it seems like the MSI and Corsair branded water-cooled Nvidia GTX 980 Ti graphics card is to arrive "soon". MSI only launched its "Overclocking perfection" MSI GTX 980Ti Lightning graphics card a couple of weeks ago. That "engineering masterpiece" used its evolved TriFrozr thermal design with three 90mm Torx fans, plus three 8mm SuperPipes, plus an enhanced power design and LN2 BIOS. That card is certainly set to be trumped in out-of-the-box performance when the Corsair collaboration arrives.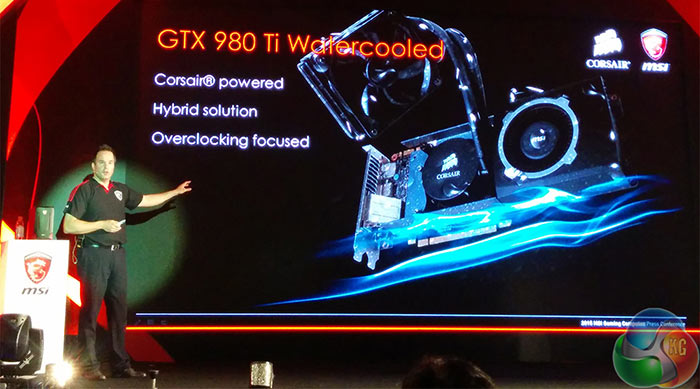 Unfortunately, details about the GeForce GTX 980 Ti water-cooled card are rather thin on the ground right now. From June we know that it will be equipped with a hybrid solution, mixing air & liquid cooling tech. It is to be an "overclocking focussed" product, so will probably offer similar tweaking capabilities to the Lightning graphics card released recently. The cooling components of the upcoming hybrid card could easily be a variation on the Corsair Hydro Series HG10 we reviewed on HEXUS nearly a year ago. In our tests of the HG10 on an AMD card we found it enabled a dramatic boost over reference clocks, so it will be interesting to see what a similar implementation can do in a custom-made MSI/Corsair product.
We will update you with the full specs, availability and pricing of this interesting collaborative product as soon as we get them.