Gigabyte has released a trio of Nvidia GeForce GTX 960 GPU based cards which feature a new, more compact, WindForce 2X cooler. The GV-N960WF2CN-2GD, GV-N960OC-2GD and GV-N960OC-4GD are all equipped with the new 'super-compact' dual-fan WindForce 2X VGA cooling solution.
Gigabyte has seemingly reduced the size of the WindForce 2X with little impact on its cooling abilities. For example the GV-N960WF2CN-2GD offers the same base/boost GPU clock speeds (1127/ 1178 MHz) as its 'regular' sized WindForce 2X relative the GV-N960WF2-4GD. Meanwhile the pair of OC cards, the GV-N960OC-2GD and GV-N960OC-4GD, offer base / boost clocks of 1190 / 1253 MHz. Those speeds are just a little below the regular WF2 GV-N960WF2OC-2GD which provides 1216 / 1279 MHz.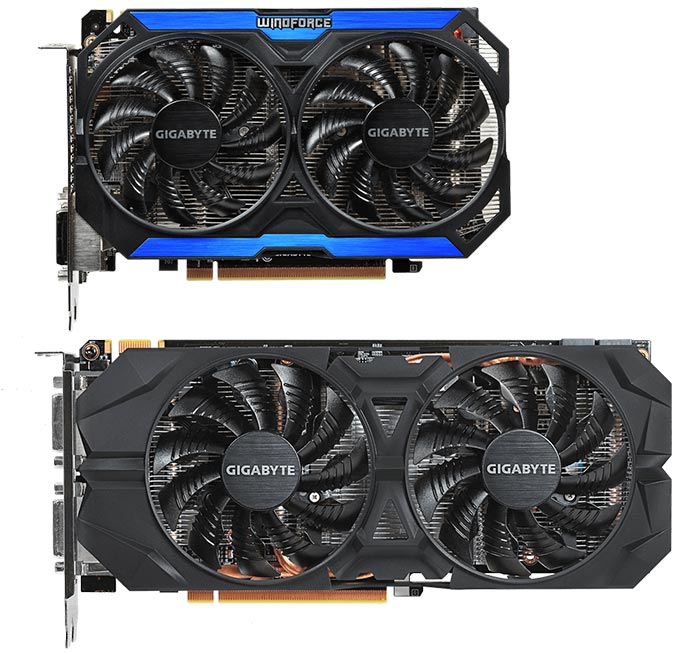 Super compact WF2 cooled card (above), compared to a regular WF2 GTX 960
Without our hands on any of the new products we can't say if the new 'super-compact' cooler offers as much overclocking headroom as the regular WindForce 2X. Unfortunately Gigabyte doesn't mention the fan size of the super-compact WF2 cooler. However by comparatively measuring the fans and knowing that the regular WF2 cooler uses 90mm fans I have determined that the super-compact model employs a pair of 75mm fans. Smaller fans can be noisier but again Gigabyte doesn't offer this data in its standard specs list. The fans are supplemented by pure copper heat pipe direct touch (HDT) technology.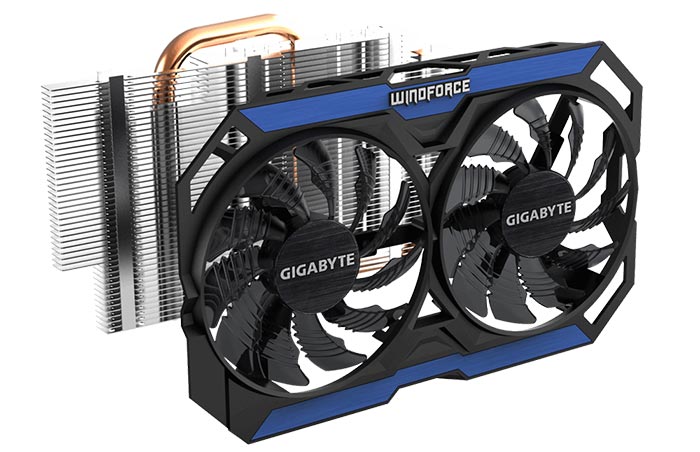 Looking at the overall product sizes, which will probably be important to you if you are considering such a 'super-compact' design, all the new cards are sized at 42mm x 181mm x 136mm (including bracket). This is 76mm shorter than a 'regular' Gigabyte WF2 cooled GTX 960 which is 43mm x 257mm x 114mm (without bracket) but 22mm taller as seated in the motherboard PCI-E slot.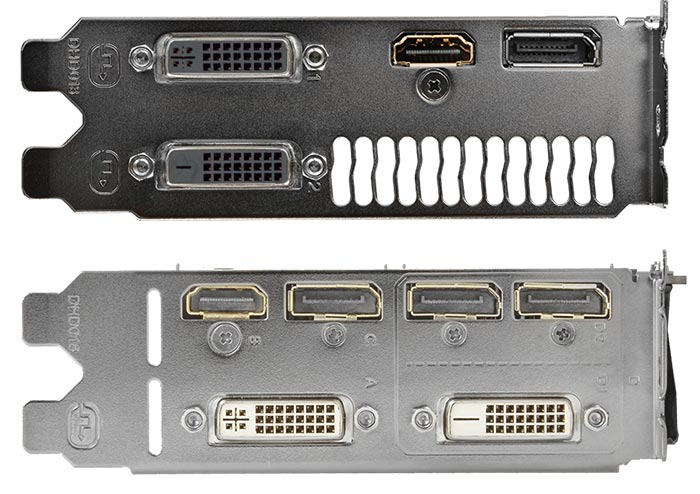 Going super compact (top) loses you a couple of DP sockets
All the new cards offer Dual-link DVI-I x1/DVI-D x1/HDMI x1/DisplayPort x1 – that's a couple less DisplayPort sockets than the regular WF2 equipped GTX 960s I compared them to. One more thing of note is that the new super-compact dual-fan WindForce 2X cards are equipped with just a single 6-pin power connector while their larger WindForce stable mates have both a 6-pin and an 8-pin connector.