KFA2 today announced its water cooled Nvidia GeForce GTX 980 and 970 HOF graphics cards. These particular Hall of Fame series cards feature a custom designed PCB and custom waterblock that covers all key components. Europe's Diamond Cooling helped with the "clean yet strong" design which should provide end users with the coolest looking, and performing, Nvidia graphics cards available.
HEXUS gave the Galax GeForce GTX 980 HOF a thorough review back in November last year. This range topping card offers a 1,304MHz base clock and 1,418MHz boost straight from the box, around 17 per cent faster clocks than Nvidia reference. We found that the card's looks and performance went a long way to justifying the £500 region pricing but were a little disappointed about the memory running at a standard 7,012MHz.
The new KFA2 GeForce GTX 980 HOF water cooled edition actually shares all the specs/clocks with the Galax branded card we reviewed. So you could expect it perform in line with that card except with regard to cooling/overclocking, where the Diamond Cooling water block provides "unprecedented cooling capacity needed for extreme overclocks".
Turning to the GTX 970 HOF water cooled edition, its straight out of the box core and boost clocks are 1,216MHz and 1,380MHz respectively. These are also exactly the same as the standard air cooled HOF edition of this card. As a reminder, reference core and boost clocks on a GTX 970 are 1,050MHz and 1,178MHz respectively.

Both the GTX 980 and 970 HOF water cooled graphics cards offer the following key features:
Completely redesigned PCB layout, optimized from the ground up for GM204
10 layer manufacturing process in HOF signature pure white colour
Extended PCB width with improved layout and cleaner signal
Customizable top HOF LED (control blanking frequency, brightness with GFE)
Next generation IR3595 Digital PWM controller provides 2X switching frequency vs. previous generation
8 phase GPU + 2 phase memory power
IR3555 with next gen DrMOS and 60A output
Aerospace-grade KFA2 Extreme Power Inductors provide ultra-long life, high endurance and low noise vs. normal power inductors
Hyper Boost technology acts like a hardware turbocharger, increasing fan speed and maximum powerdelivered to the GPU with the push of a button
Voltage tool (developed by enthusiasts) allows voltage beyond stock limits
Hardware dual BIOS simplifies the tweaking process by enabling risk-free firmware updates and customization
The swish looking UK-made Diamond Cooling water block is the same on both cards. It has a solid copper base with nickel plating and is designed to allow maximum heat transfer. "All key components," even the power connectors, are actively cooled by the block, says KFA2. The coolant channel is designed for optimal flow and bidirectional hook-ups with universal quarter inch ports.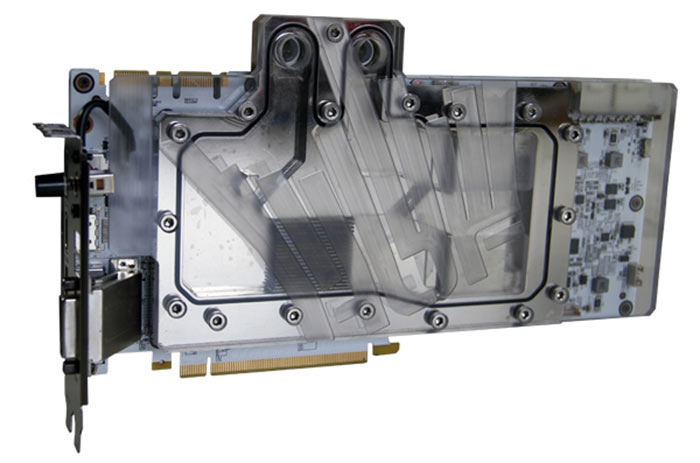 KFA2 didn't let us in on pricing and availability. However the GeForce GTX 980 HOF water cooled edition is in the Galax online store now priced at $799. It let me go through to the checkout with $90 EMS shipping from Hong Kong added to the total. (And watch out for the import duty).