Gigabyte has introduced a new ITX format Nvidia GeForce GTX 960 based graphics card, the GV-N960IX-2GD. The latest addition to Gigabyte's GeForce 900 range means that the add-in-board maker offers a total of eight different GeForce GTX 960 based SKUs.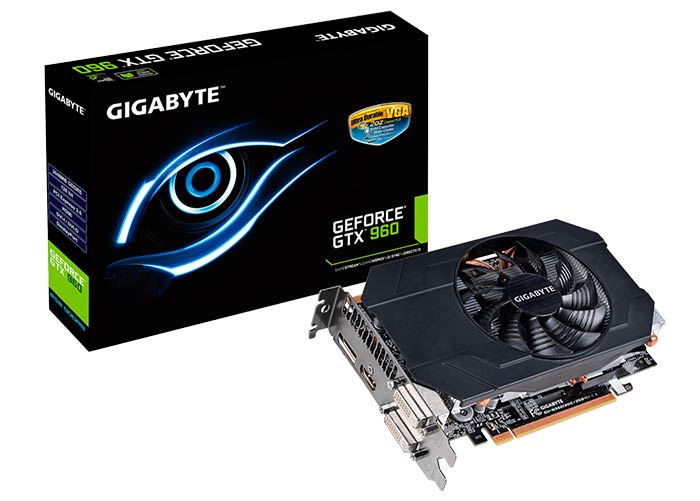 We have reviewed several graphics cards which use the Nvidia GeForce GTX 960 GPU including the Gigabyte GeForce GTX 960 WindForce 2X. That Windforce card offered base and boost frequencies of 1,216/1,279MHz. We found it well suited to 1080p gaming with plenty of overclocking headroom whilst offering silent idling and quiet performance under load.
The new GV-N960IX-2GD is much shorter at just 181mm long, compared to the 247mm long Windforce. It also is clocked slower by default offering base and boost frequencies of 1,127/1,178MHz. However the new ITX card has an OC mode which switches these frequencies up to 1,152/1,203MHz. The new ITX card uses a single 90mm fan where the Windforce has two of these cooling components working in concert. Also the new ITX card offers a single 6-pin power connector instead of the two on the larger Gigabyte card.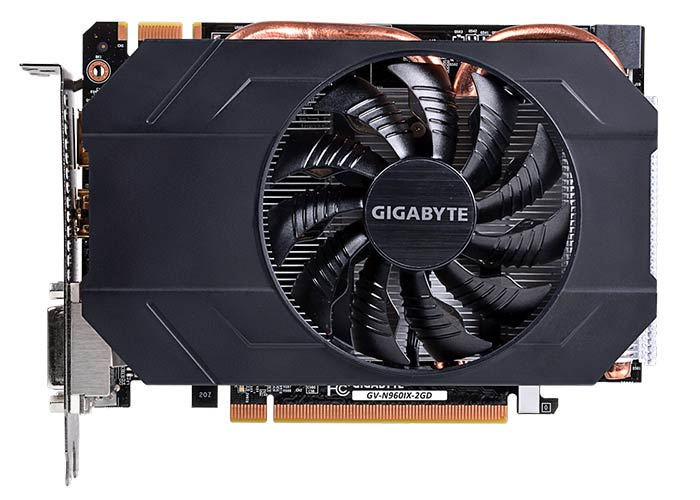 Gigabyte GV-N960IX-2GD specifications:
GPU: GeForce GTX 960
GPU clock speeds, base/boost: 1,127/1,178MHz and OC mode of 1,152/1,203MHz
Memory: 2GB GDDR5 on a 128-bit bus
Memory clock: 7010MHz
Display connectors: Dual-link DVI-I/DVI-D/HDMI/Display Port – one of each
Card size: H=42mm, L=181mm, W=136mm (include bracket)

The GV-N960IX-2GD is released in the wake of the similar, but factory overclocked, GV-N960IXOC-2GD graphics card. It features identical specs to the new ITX card but with the base/boost GPU clock frequencies set at 1,165/1,228MHz and OC mode frequencies of 1,190/1,253MHz. This GeForce GTX 960 ITX OC version is already in stock at UK retailers including Scan Computers, priced at around £165 inc VAT, including The Witcher 3: The Wild Hunt Digital Download. The new non 'OC' suffixed version, announced today, must be aiming to fill a price gap beneath this SKU.