Without fanfare Nvidia has launched, or rather started to let hardware partners put out systems based upon, the GeForce GTX 965M. The graphics chip firm already has two higher tier mobile GPUs based upon the GM204 GPU in systems on the market; the GeForce GTX 970M and 980M.
Nvidia's official overview of the GeForce GTX 965M says that this mobile GPU "brings desktop-class gaming performance to the notebook, driving impressive gameplay at ultra settings on 1080p resolutions." It goes on to promise "blazing-fast performance, exclusive gaming technologies, plus the improved battery life".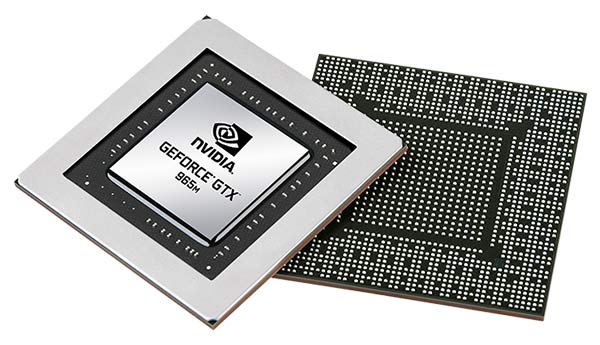 So what does the GeForce GTX 965M offer in terms of hardware specs? This mobile GPU sports 1024 CUDA cores with a base clock of 944MHz + boost. The up to 3GB of GDDR5 memory is clocked at 2.5GHz and attached via a 128-bit bus to provide a bandwidth of 80GB/s. The GPU supports resolutions up to 3820 x 2160, but as mentioned by Nvidia this is meant for laptops and All-in-One type machines for gameplay nearer to 1080p resolutions.
Here's a concise Nvidia GeForce GTX 900M series comparison table:
| | | | |
| --- | --- | --- | --- |
| Nvidia GeForce GTX | 965M | 970M | 980M |
| Architecture | Maxwell (GM204) | Maxwell (GM204) | Maxwell (GM204) |
| GPU clock | 924Mhz (+ boost) | 924MHz (+ boost) | 1038MHz (+ boost) |
| Memory clock | 2500MHz | 2500MHz | 2500MHz |
| Memory bus width | 128-bit | 192-bit | 256-bit |
| Memory bandwidth | 80GB/s | 120GB/s | 160GB/s |
| RAM installed | Up to 3GB (GDDR5) | 3GB (GDDR5) | 4GB (GDDR5) |
| | | | |
In comparisons with the GeForce GTX 970M and 980M, the 965M obviously reaches lower, and could be hit particularly hard in bandwidth hungry applications.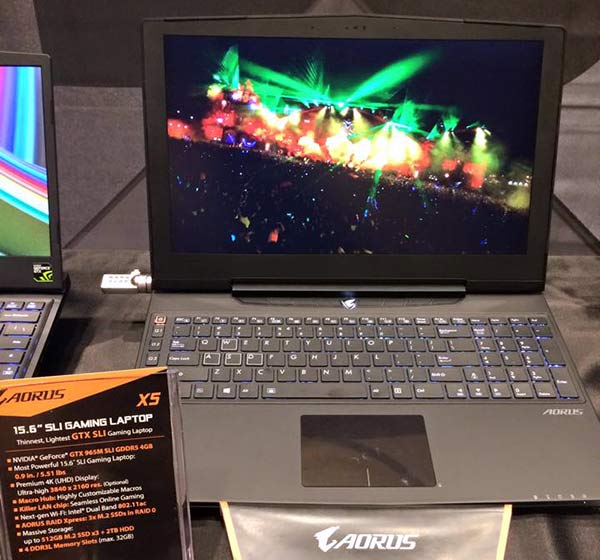 There are two new laptops we know about that are available with the new GeForce GTX 965M installed; the MSI GE62 Apache and the Aorus X5 (above) with twin Nvidia GeForce GTX 965M chips in SLI.