It's turning out to be a busy day for NVIDIA. We've heard rumblings of an upcoming GeForce GTX 580, we've received an updated driver release, and we're now being treated to a new product launch; the GeForce GT 440.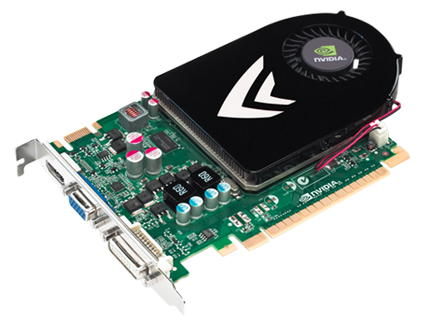 Launched amid little fanfare, the new DX11 GPU (pictured above) is an OEM-only affair that's destined to appear in mid-range systems in time for the lucrative holiday sales.
Slotting in alongside last week's GeForce GT 430, NVIDIA's latest features a basic core frequency of 594MHz and 144 CUDA cores clocked at 1,189MHz.
Available to system integrators in two unique models, the card can be configured with either 1.5GB or 3GB of DDR3 memory clocked at an effective 1,600MHz or 1,800MHz, respectively. The memory is hooked up to a 192-bit bus, and though the 3GB buffer appears to be overkill, it'll certainly help NVIDIA's product stand out on system specification sheets.
The modest internal frequencies enable the card to maintain a maximum TDP of 56W, and that in turn facilitates a slim cooler that occupies a single slot. Two-way SLI is supported, and DVI, VGA and HDMI outputs are all available as standard.
There's no mention of OEM pricing, and currently no sign of NVIDIA bringing the GeForce GT 440 to retail as a standalone product.