HEXUS has had a number of external Thunderbolt 3 graphics enclosures in the lab. The most recent review of such a device was back in March, when we checked out the Sapphire GearBox with a Sapphire Radeon RX 580 Nitro+ installed. Though it was natural for Sapphire to promote one of its own GPUs with the box, and we reviewed it this way, there was nothing stopping buyers of the barebones device wedging something from the green team in the chassis - it has enough room for the Nvidia GeForce RTX 2080 Ti Founders Edition, for example.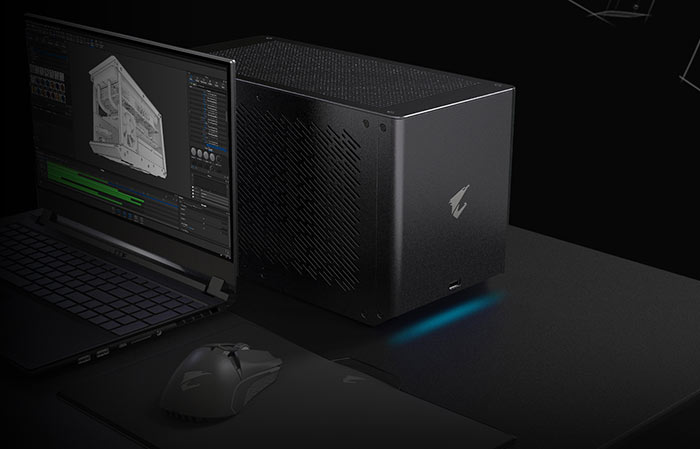 Moving on to the present day and Gigabyte is seeking to push the boundaries of the Thunderbolt 3 eGPU box with its new Aorus RTX 2080 Ti Gaming Box. Yes, the RTX 2080 Ti is the pinnacle of consumer gaming graphics cards, where money is no concern, and this example is particularly premium as it uses a water-cooled card. This makes the Aorus RTX 2080 Ti Gaming Box "the world's first liquid cooled external graphics," device.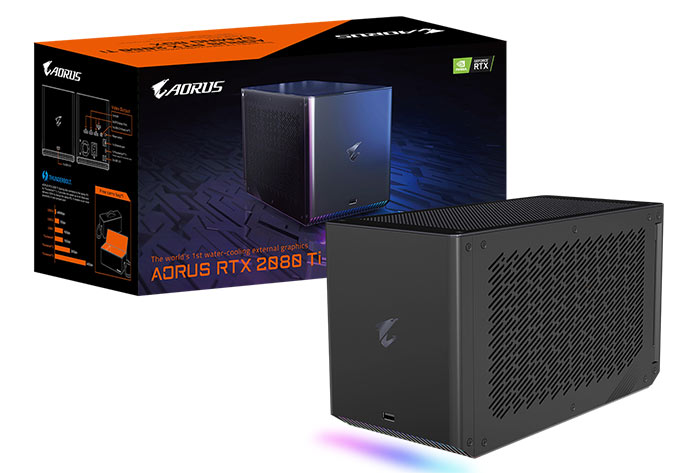 This product relies upon Gigabyte's WaterForce cooling tech which comprises of a 240mm aluminium radiator with twin 120mm fans, a large copper base plate, composite heatpipes, plus sturdy FEB (Fluorinated Ethylene Propylene) tubing.
Basically this is the WaterForce GeForce RTX 2080 Ti 11G in a tin, and has the key GPU specs you would expect;
CUDA Cores: 4352
GPU clock: 1,545MHz
Memory clock: 14,000MHz
Memory Bandwidth: 616GB/s
Memory type: GDDR6
Memory size: 11GB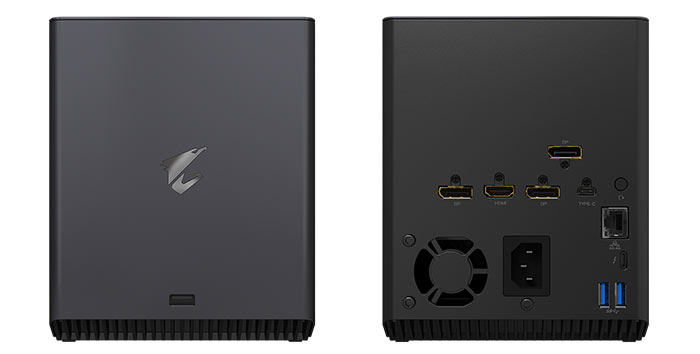 This is powered via 2x 8-pin connectors by a built-in 450W PSU. The box offers Thunderbolt 3 type-C x1, Ethernet port x1, USB 3.0 x3, and Video output (HDMI x1, DPx3, USB- C (VirtualLink) x1). Gigabyte's Aorus RTX 2080 Ti Gaming Box measures 300 x 140 x 173mm (smaller than the Sapphire GearBox which is 300 x 138 x 204mm) and weighs in at about 3.8kg. There are some RGB LED lights installed.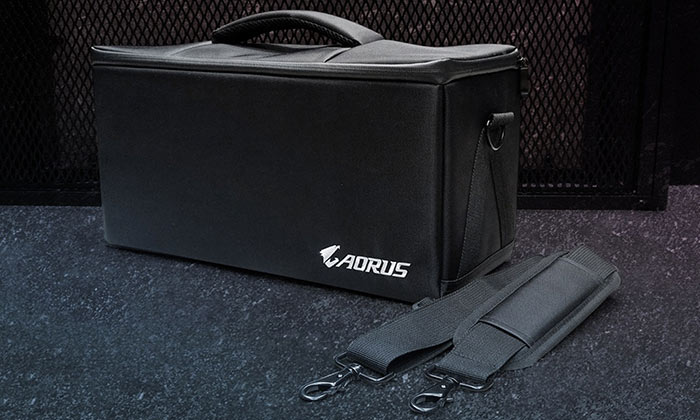 Buyers will get a carry case to lug the Gigabyte Aorus RTX 2080 Ti Gaming Box around in but if that is something you might do regularly, alongside your laptop and accessories, it might be worth re-thinking your kit choices. The other questions are; what kind of performance you will get from this TB3-linked GPU in practice, and is it worth using such a high-end GPU in an external configuration? The answer will lie in your own particular use cases (gaming, content creation, and AI tasks are strengths, according to Gigabyte) - but unfortunately, at the time of writing, we can't help with pricing and availability info. As an indication, a graphics card like the one installed in this product costs £1,499 alone in the UK, so this product could easily be £1,800.