Just ahead of the weekend an eagle eyed Anandtech reader spotted some interesting entries in Intel's 26.20.16.9999 test graphics driver. Intel has started shipping its 10nm-based 10th Gen Intel Core processors (Ice Lake) to device makers, it noted in its latest results statement, and these will need updated graphics drivers for the Gen11 iGPUs. However, the since-removed test driver stretched even further into the future, by including Gen12 graphics processor codenames and details.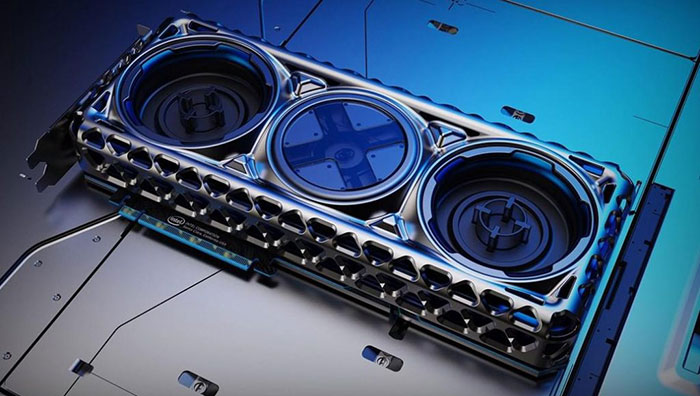 Looking through the code you will see string denonting various upcoming platforms such as TGL (Tiger Lake), RKL (Rocket Lake), EHL (Elkhart Lake), LKF (Lakefield) and others with indicators of the iGPUs they will come packing. Moreover, you will see strings with LP and HP in them, likely denoting low- and high-power GPUs. Perhaps more interesting are numbers nearer the beginning of the hardware code strings which are likely to signal the number of execution units in each respective GPU.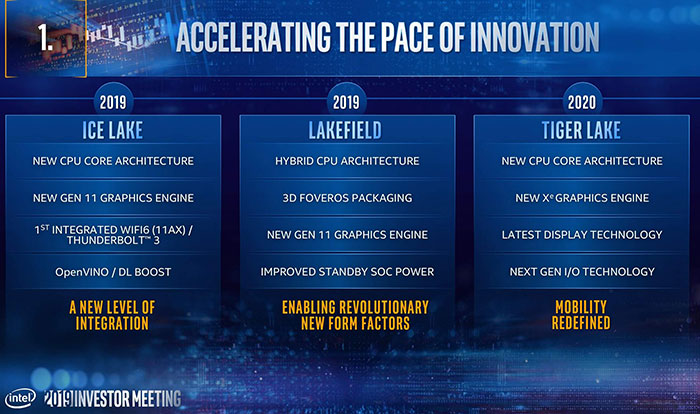 Intel Gen12 graphics add-in-cards
With the advent of Gen12 graphics, Intel is set to debut its discrete GPU designs and in the leaked driver we got some solid hints at what to expect, at this early stage. Of particular interest are the four discrete Xe GPUs which appear to have been referenced in the driver file, as below.
iDG1LPDEV = "Intel(R) UHD Graphics, Gen12 LP DG1" "gfx-driver-ci-master-2624"
iDG2HP512 = "Intel(R) UHD Graphics, Gen12 HP DG2" "gfx-driver-ci-master-2624"
iDG2HP256 = "Intel(R) UHD Graphics, Gen12 HP DG2" "gfx-driver-ci-master-2624"
iDG2HP128 = "Intel(R) UHD Graphics, Gen12 HP DG2" "gfx-driver-ci-master-2624"
Above you can see that the iDG (Intel Discrete Graphics) parts include a 'low power' DG1, plus a trio of 'high power' DG2 boards offering up the choice of 512, 256, or 128 EUs (possibly). Even if our assumptions are true, there is a long way to go to having any useful knowledge of these upcoming Xe discrete GPUs; clock speeds, performance, efficiency, etc.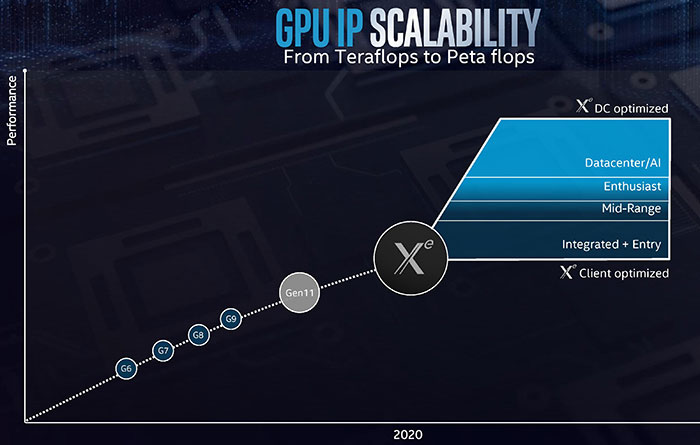 Back in May we learned via an official Intel blog post that its upcoming Xe GPUs would offer some SKUs with support for raytracing in hardware. As the roadmap diagram above shows, we don't expect to get a sniff of these graphics products until next year.