Nvidia's Deep Learning Super Sampling (DLSS) is set to make a big impact on Monster Hunter: World performance later this week when the game is updated to support the technology. Thanks to leveraging the power of AI, in turn powered by the Tensor cores in GeForce RTX graphics cards, gamers should experience a significant boost in this action-RPG from Capcom. In a recent blog post, Nvidia says Monster Hunter: World fans using the RTX20 series GPUs will be able to experience frame rate performance boosts by as much as 50 per cent.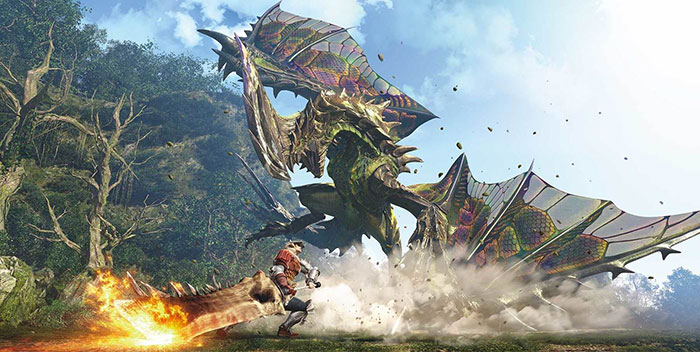 Capcom's Monster Hunter: World is indeed a demanding title, especially for fans who have downloaded the High Resolution Texture Pack and prefer to run at 4K max settings. In this scenario, Nvidia says that even the GeForce RTX 2080 Ti, "the world's fastest graphics card, topped out at around 47 FPS, and gamers using a RTX 2060 or 2070 were unable to hit 30 FPS at 4K". That is about to change appreciably, as you can see in the average FPS comparison chart below.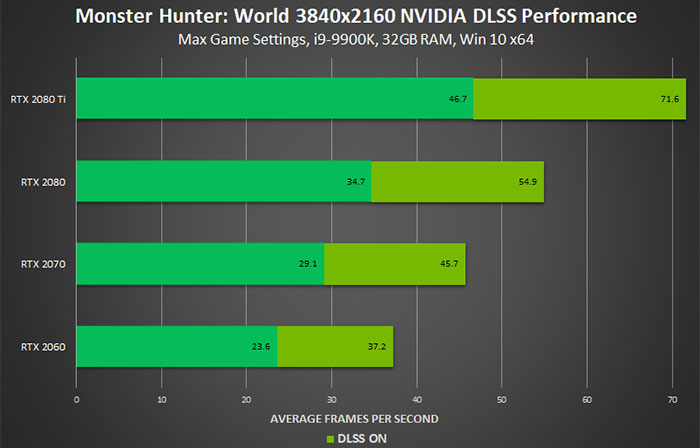 Another change gamers will see on Wednesday is the introduction of a new community-requested DLSS feature - a slider to adjust sharpness, enabling users to make the image sharper or softer, based on their own personal preferences. Is this a response to AMD's Radeon Image Sharpening (RIS), which we highlighted on HEXUS a week ago?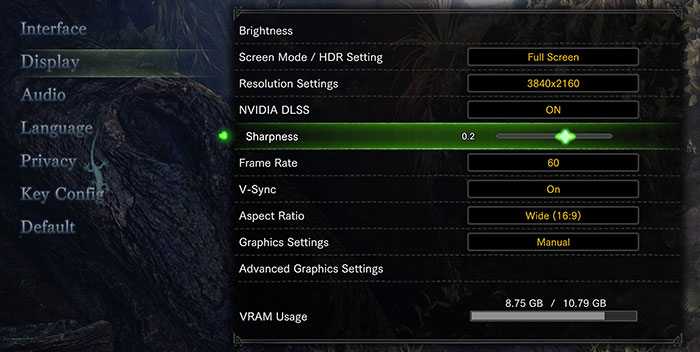 If you play Monster Hunter: World and want to get DLSS working with the High Resolution Texture Pack, you will need; the latest Nvidia GeForce Game Ready Driver, the free texture pack, an RTX20 series GPU with 8GB or more of VRAM, and a monitor set to full screen 2560x1440 or 3840x2160. Then you will be able to toggle the setting in the display options to switch on Nvidia DLSS (see screenshot above, showing sharpness slider too).