You will have already read about the release of the new AMD Radeon RX 5700 XT and RX 5700 graphics cards yesterday, and checked through our review for benchmarks and other test results. These graphics cards aren't just faster and more efficient products from AMD, they include some extra features and refinements too. On the consumer side of things, a significant introduction is that of Radeon Image Sharpening (RIS), and Radeon Anti-Lag (RAL) has arrived for older generation GCN graphics cards too. Meanwhile, on the developer side, AMD has introduced the FidelityFX open-source toolkit.
The initial support for RIS and RAL comes with the release of Radeon Software Adrenalin 2019 Edition 19.7.1. The former requires an RDNA GPU, such as one of the new Radeon RX 5700 Series graphics cards, but the latter works on any Radeon GCN-based discrete graphics and newer in DX11 (plus DX9 for RDNA GPUs).
In the video above, AMD explains that Radeon Image Sharpening uses a contrast-adaptive sharpening algorithm to provide sharper image quality with a minimal performance hit. As you can see in the chart below, RIS can work its magic in modern games with between a 0.5 and 1.4 per cent frame rate impact.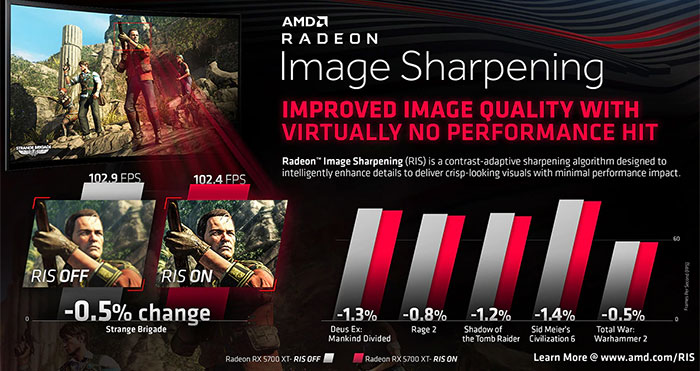 To see the small print for the above chart you can head over here and toggle the footnotes. On the same page you can poke around an image comparison slider (featuring a still from Strange Brigade) which gives a clear overview of the effect.
Remember, RIS only works on RDNA GPUs at this time. To use it simply click the toggle in the driver and enjoy sharper visuals in DirectX 9, 12, and Vulkan titles.
AMD is promising to reduce the input lag in GPU limited games thanks to Radeon Anti-Lag, as featured in the new Radeon Software Adrenalin 2019 Edition 19.7.1 driver. With RAL turned on you can enjoy an improved input-to-display response time with up to 31 per cent reduction in lag.
Explaining how RAL works, AMD says that it "controls the pace of the CPU work to make sure it doesn't get too far ahead of the GPU, reducing the amount of CPU work queued up." This shrinks the input lag by almost a frame in some cases, delivering greater responsiveness, and should be a boon to eSports players.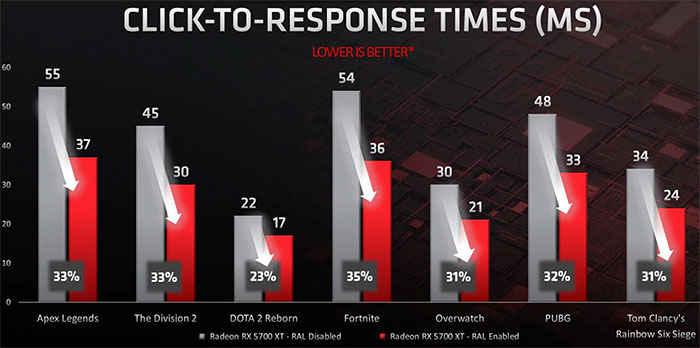 Above you can see AMD's test chart illustrating the lag difference with RAL on and off. The footnotes for this test (with system and game configs) can be checked out on the feature page linked above.
Other worthwhile changes have been introduced in Adrenalin 2019 Edition 19.7.1, and it is worth updating for enhancements to AMD Link, Radeon Chill, WattMan, a quintet of bug fixes, and more.
AMD Magazine Show
If you still have a yearning for AMD content, the firm has released the latest episode of its own magazine show, The Bring Up: Episode 10, which offers news and discussion of the 3rd Gen AMD Ryzen processors and Radeon RX 5700 Series graphics cards. See below.