A multitude of graphics cards based upon the Nvidia GeForce GTX 1660 Ti have been documented by the EEC. This is nothing to do with Europe; rather it is the Eurasian Economic Union common trade body, with members such as Belarus, Kazakhstan and Russia. This is why much of the writing in these documents is in Cyrillic.
On Twitter @Komachi seems to be the first to have spotted these international trade manifests, and I saw them via VideoCardz. @Komachi links to quite a few interesting EEC documents today, including the aforementioned one documenting Gigabyte parts, one with MSI parts, and documentation for a selection of PowerColor Radeon VII graphics cards, and nine ASRock AMD X570 Ryzen 3000 motherboards.
Back to the headlining GeForce GTX 1660 Ti graphics cards, and the following models have been listed:
Gigabyte
GV-N166TAORUS-6GD
GV-N166TGAMING OC-6GD
GV-N166TWF2OC-6GD
GV-N166TOC-6GD
GV-N166TIXOC-6GD
GV-N166TGAMINGOC PRO
GV-N166TGAMINGOC WHITE
GV-N166TGAMING-6GD
GV-N166TWF2-6GD
GV-N166TD5-6GD
GV-N166TIX-6GD
De-coding the Gigabyte naming scheme simply shows the firm has created a range of offerings under both Aorus and Gigabyte brands with variations sporting 'OC' overclocked GPUs, Gaming and WindForce coolers, and even white and Mini ITX sized products. All come packing 6GB of video memory.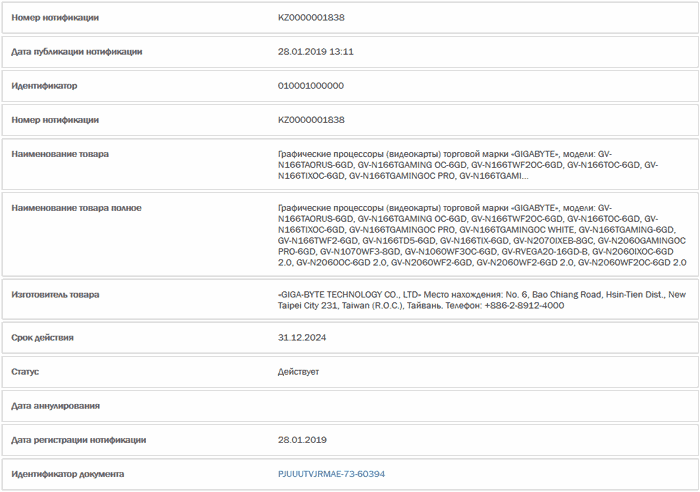 MSI
MSI GeForce GTX 1660 Ti GAMING Z 6G
MSI GeForce GTX 1660 Ti ARMOR 6G OC
MSI GeForce GTX 1660 Ti VENTUS XS 6G OC
MSI GeForce GTX 1660 Ti GAMING X 6G
No name decoding is needed for the above, I expect, as MSI's names are less abbreviated / diverse than Gigabyte efforts.
As a reminder, we expect to see the GeForce GTX 1660 Ti cards launch on 15th Feb, and be priced at approx $279 depending on the cooler and so on. In early March the GeForce GTX 1660 will become available priced from $229, and the GTX 1650 arrives in late March priced from $179. These dates and prices were revealed a few days ago from industry sources talking to HardOCP.