If various reports shared over the weekend pan out then we know quite a lot about Nvidia's mid-range graphics card plans for the immediate future. According to VideoCardz, the GeForce RTX 2060 will be launched at the CES 2019 on 7th January. It reckons Nvidia CEO Jensen Huang is likely to personally announce the new graphics cards at a keynote address.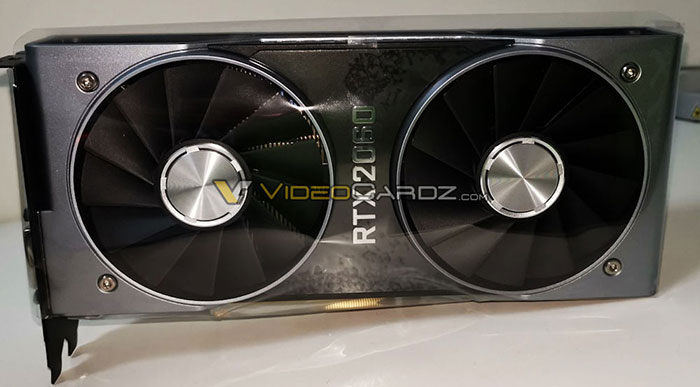 The Nvidia GeForce RTX 2060 Founders Edition will look a lot like the RTX 2070 externally. It is said to feature a single 8-pin power connector and a full cover backplate, plus 2x DisplayPort, 1x HDMI, 1x DVI and 1x USB Type-C connector.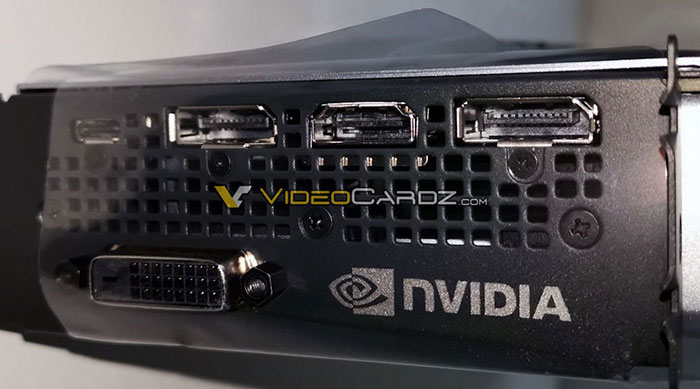 Inside, the TU106-300 GPU boasts 1920 CUDA cores, 30 RT Cores, and 240 Tensor cores. It is estimated to offer up to 6.5 TFLOPS FP32 compute, and will come with various memory configurations as previously indicated. The GeForce RTX 2060 Founders Edition will be have 6GB GDDR6 RAM on a 192-bit bus. This model, with a base clock of 1365MHz and boost clock of 1689MHz, will be priced $349 at launch. While the RTX 2060 is launched on 7th Jan, it won't be available in stores until the 15th.

VideoCardz says it has gathered some benchmark numbers from an official 'Reviewers Guide' document. When we first heard that the XX60 graphics card range would have raytracing capability some were cynical about whether such a feature was worth it on this GPU. In the document Nvidia claims that in Battlefield V with ray tracing enabled (1080p) users can expect the following average framerates with the RTX 2060 FE:
Battlefield V: RT Off: 90 FPS
Battlefield V: RT On + DLSS Off: 65 FPS
Battlefield V: RT On + DLSS On: 88 FPS
(Buyers of the new Nvidia GeForce RTX 2060 will get a choice of Battlefield V or Anthem for free, adds VideoCardz.)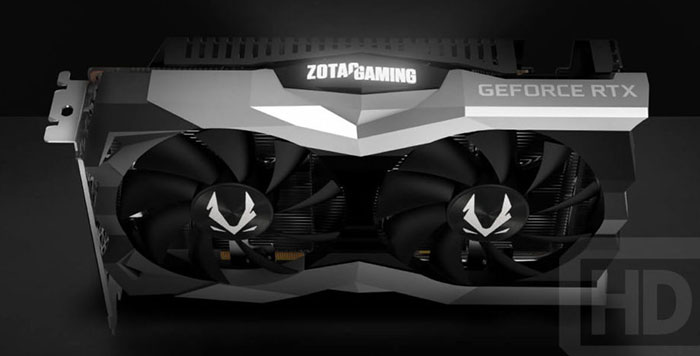 That's not all, with regard to benchmarks, the Reviewers Guide is also said to include comparative benchmark numbers for gaming in 1080p and 1440p for a wide range of games including Far Cry 5, The Division, Shadow of the Tomb Raider, Witcher 3, and PUBG. At either resolution the RTX 2060 looks to sit somewhere between the GTX 1070 Ti and GTX 1080. I've included a truncated set of 1440p results below for your convenience but VideoCardz has shared two full tables of results.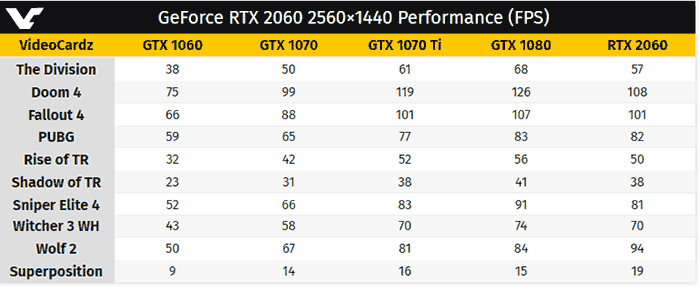 Benchmarks conducted on an Intel Core i9-7900X plus 16GB system
The 7th January is just a week away, so let us hope we get the above specs and performance confirmed next week, with 3rd party reviews hot on their heels. UK availability information and pricing will be good to see too.
X