With the weight of leaks, spills, and unofficial evidence pointing to the release of an Nvidia GeForce RTX 2060 in the New Year, I thought that might be the mid-range traditionally biggest seller nailed down. However Nvidia might have decided to carve up this middle market area a bit more. Today VideoCardz and EXPReview (paywall) have both shared reports from their insider sources which say that there is a GeForce GTX 1160 graphics card on the way.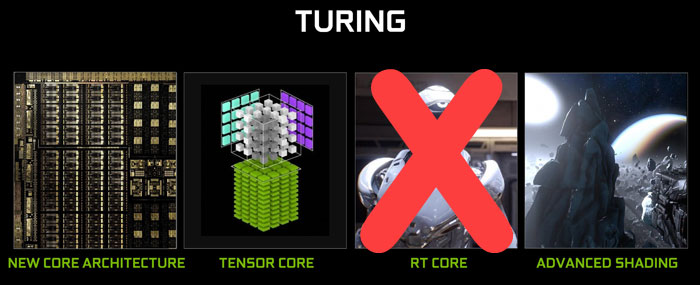 GTX 11 Series GPUs - Turing without RT Cores?
If the reports turn out to be true, Nvidia will follow a twin pronged mid-range Turing GPU strategy with the GeForce GTX 1160 sitting atop of the GTX 11 range and the RTX 2060 forming the base of the RTX 20 range of graphics cards. VideoCardz says that the GTX 1160 uses the TU116 GPU, and the RTX 2060 the TU106-200 GPU. The new split mid range would form a convenient transition between those cards capable of real-time raytracing effects and those that aren't.
Chinese site EXPReview claims its sources have tipped it off that there is a GeForce GTX 1660 Ti on the way (surely a GTX 1160, maybe a typo?). The shared marketing material says that the GTX card features 'Turing Sharers' but not the real-time raytracing capable RT cores – which would form the basis of RTX exclusivity.
Could the GTX 11 series still offer support for DLSS?
If the GTX 11 series can still deliver other useful Turing tech such as DLSS, and Turing Mesh Shaders, as well as a meaningful performance boost over the GTX 10 series, then it could be a good weapon for Nvidia to compete with current value-priced AMD fare. Obviously the rest of the mid-to-entry level GeForce cards will slot into this GTX 11 series, if the rumours are true. All these assertions should be settled by the second week of January.
More info about those Turing Mesh Shaders