Nvidia has launched the recently teased Titan RTX, which it variously refers to as 'The Titan of Turing' and 'T-Rex'. At the Conference on Neural Information Processing Systems in Montreal, Canada today, Jensen Huang, founder and CEO of Nvidia, repeated his claim that "Turing is Nvidia's biggest advance in a decade – fusing shaders, ray tracing, and deep learning to reinvent the GPU". Huang added, more specifically, that "The introduction of T-Rex puts Turing within reach of millions of the most demanding PC users — developers, scientists and content creators."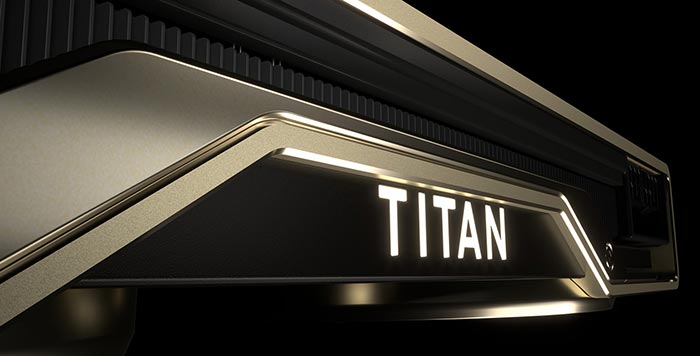 The hope for the Nvidia Titan RTX is that it will "transform the work of millions of developers, designers and artists across multiple industries." Nvidia thinks this will be a result of its unique combination of the new multi-precision Tensor Cores for AI training and inferencing, the new RT Cores to accelerate ray tracing, plus the enhanced compute and enhanced rasterization abilities from the latest CUDA cores.
Looking at specific use cases, Nvidia reckons that AI researchers and deep learning developers will appreciate the multi-precision Turing Tensor Cores will deliver breakthrough FP32, FP16, INT8 and INT4 performance, allowing faster training and inference of neural networks. Data scientists will look forward to the accelerates data analytics with RAPIDS, one of the most popular data science workflows. Last but not least, content creators will likely be enamoured with the power real-time ray tracing and AI bring to creative applications.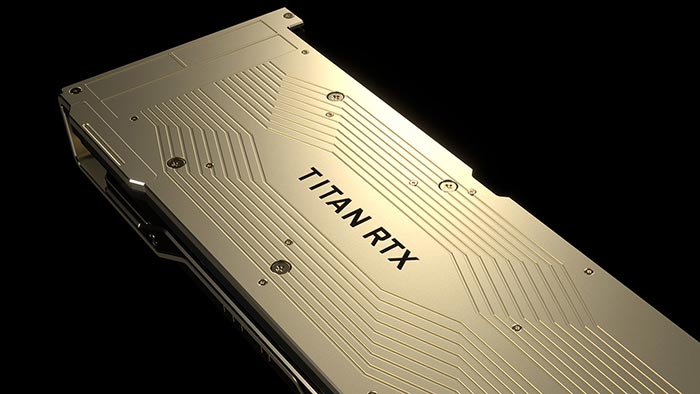 Other highlights of the Nvidia Titan RTX design are the 24GB of high-speed GDDR6 RAM available, and the scaling provided by NVLink in dual-card setups. The full key features list as espoused by Nvidia is reproduced below:
576 multi-precision Turing Tensor Cores, providing up to 130 teraflops of deep learning performance.
72 Turing RT Cores, delivering up to 11 GigaRays per second of real-time ray-tracing performance.
24GB of high-speed GDDR6 memory with 672GB/s of bandwidth — 2x the memory of previous-generation TITAN GPUs — to fit larger models and datasets.
100GB/s Nvidia NVLink can pair two TITAN RTX GPUs to scale memory and compute.
Incredible performance and memory bandwidth for real-time 8K video editing.
VirtualLink port provides the performance and connectivity required by next-gen VR headsets.
Additional tech specs can be found on the official product pages. For example, not mentioned above, there are 4608 CUDA cores (compared to 4352 in a GeForce RTX 2080 Ti), the GPU base/boost clock is 1350/1770MHz, the GDDR6 sits on a 384-bit interface, the GPU features 18.6 billion transistors, and the T-Rex's TDP is 280W.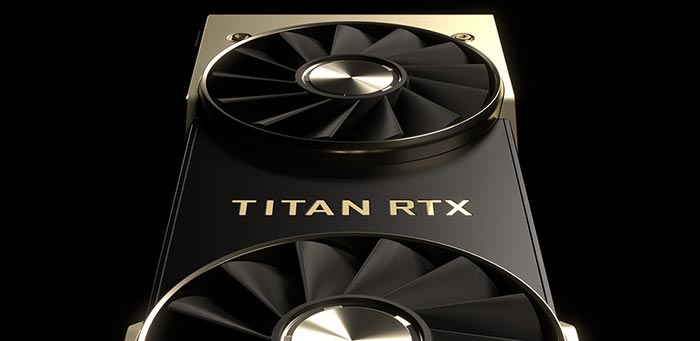 In an email to HEXUS, Nvidia said that the Titan RTX will become available in the US and Europe later this month, priced at $2,499.