One of the most well read news articles on HEXUS at the current time concerns the Nvidia partner email suggesting next gen GeForce FTX graphics cards will start to become available from 30th August onwards. With such a release schedule we are pretty sure that Nvidia will be using Gamescom 2018, "the world's biggest gaming expo," to launch the new GTX11 Series. Actually, as is common with the biggest announcements, the green team will host a special event a day ahead of Gamescom 2018 to steal the limelight. In a blog post from yesterday evening, Nvidia says that it will live stream its event on Monday, 20th Aug from 5.30pm CET, with the presentation(s) starting from 6pm.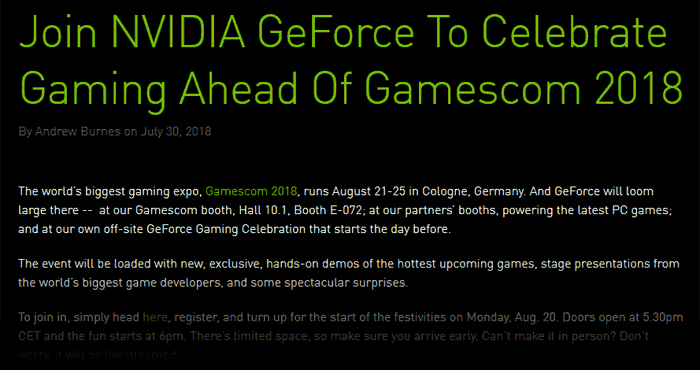 Spectacular surprises
Nvidia sounds rather excited about what it will reveal ahead of the Gamescom 2018 show. It describes its pre-event show variously as "festivities," an "epic event," and "a celebration". In particular it writes "The event will be loaded with new, exclusive, hands-on demos of the hottest upcoming games, stage presentations from the world's biggest game developers, and some spectacular surprises."
At the show proper, Nvidia will be present at its Gamescom booth, Hall 10.1, E-072 and at various gaming software and hardware partners' booths. It adds that if you miss the Monday special event, that "the festivities continue on Tuesday at 10am, and run clear through to 5pm".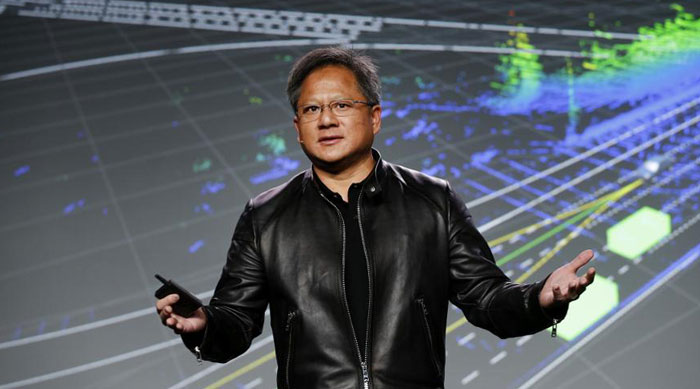 Space at the Nvidia GeForce Gaming Celebration ahead of Gamescom 2018 in Cologne will be limited but luckily it will be live streamed online.
As a reminder of what is expected to happen after Gamescom 2018, after launch, the following retail hardware release schedule was leaked:
GeForce GTX 1180 on 30th August
GeForce GTX 1170/1180+ on 30th September
GeForce GTX 1160 on 30th October
The above '+' model card designation is expected to mean partner cards arriving after the one month Nvidia Founders Edition exclusivity period has ended.