HDR (High Dynamic Range) gaming is seen as a new frontier in the industry, with new technologies on the GPU and display side aligning to provide wider colour gamuts, improved levels of contrast, and greater realism than ever before. With a plethora of recent and new games supporting HDR technology, and native 4K resolutions, it would be interesting to see if there is any impact in performance switching between SDR and HDR modes. Luckily for the curious, and those with deep enough pockets that such considerations might be practical, German computer magazine ComputerBase.de has very recently ploughed through a range of gaming benchmarks to check the state of play.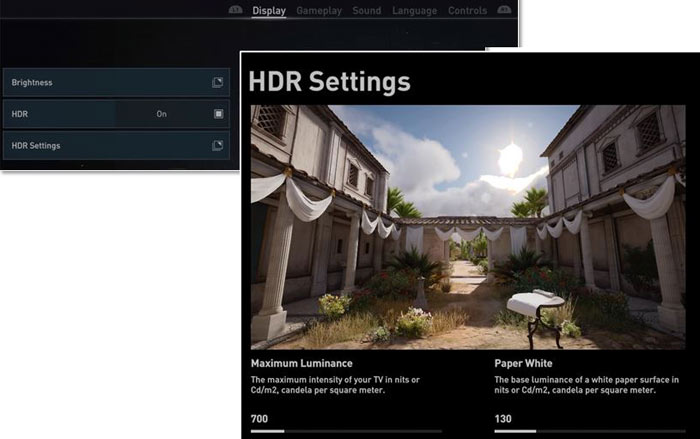 ComputerBase checked through a long list of HDR capable games running at 3840 x 2160 pixels (and various quality presets). Under scrutiny with HDR enabled/disabled were; Assassin's Creed Origins, Battlefield 1, Call of Duty: WWII, Destiny 2, F1 2017, Far Cry 5, Final Fantasy XV, Mass Effect Andromeda, Mittelerde: Schatten des Krieges (Middle-earth: Shadow of War), Resident Evil 7 Biohazard, Star Wars: Battlefront 2, and Shadow Warrior 2. With such a long list of games it chose only two cards to run through the tests; the Nvidia GeForce GTX 1080, and the AMD Radeon RX Vega 64.

Charts for each and every title are available at the source site, page 2, via a drop down menu system. You can go there to chck through games that might be particularly interesting to you. Nicely we also have an average overall chart to share with you, above. You can see with the baseline set as 100 per cent for the GTX 1080 running games at 4K HDR, the RX Vega 64 scores 110 per cent. Turning off HDR results in 111 per cent performance for the Nvidia card, and 113 per cent performance for the AMD card. You will note therefore that turning on HDR has a bigger detrimental performance impact on the green team hardware, on average.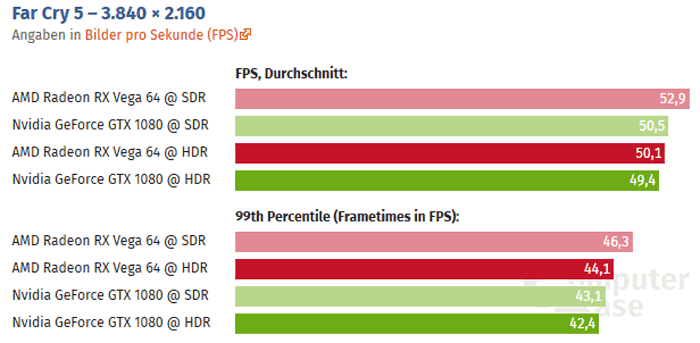 In its analysis of the results, Guru3D suggests that Nvidia's 4K HDR systems are impacted by the way it converts RGB to reduced chroma YCbCr 4:2:2. If the system used 4:4:4 or RGB, the performance should be closer to that of SDR, it asserts. HEXUS discussed the technicalities behind G-Sync HDR 4K screens and their chroma subsampling previously.