Earlier this month we heard Chinese whispers that an Nvidia GeForce GTX 1050 graphics card with 3GB of video memory was on the way. Just ahead of the long weekend, Gigabyte confirmed the rumours by publishing an official product page for this SKU. The pioneering new card is the Gigabyte GeForce GTX 1050 OC 3G and you can head on over to browse both a key features page and specifications page, as per usual with Gigabyte product listings.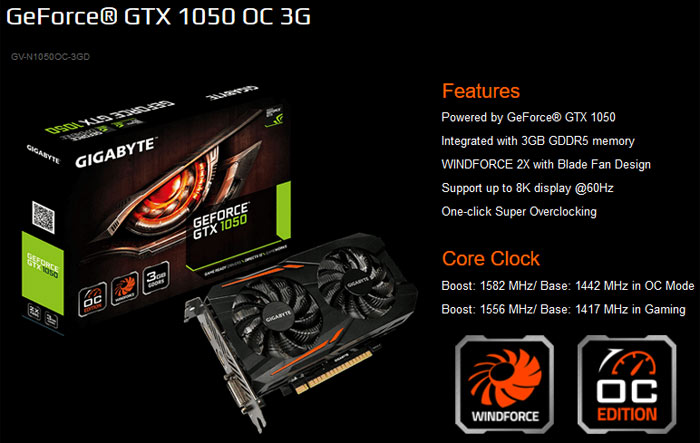 The headlining change in memory configuration is just scratching the surface of what has changed with this card. A word of warning in our original story featuring the GTX 1050 with 3GB of VRAM has come to pass - it does indeed use a memory bus width that has been reduced from 128-bit to 96-bit. Obviously this could have a negative impact in your gaming performance. However, that is the only bad news in the specs table.
As well as the increase in VRAM Gigabyte / Nvidia has massaged some other specs in the GeForce GTX 1050 with 3GB which may well make up for the reduction in bus width. First of all this card comes packing 768 CUDA cores (instead of 640), the same amount as the GeForce GTX 1050 Ti. Secondly, it boasts faster core clocks than the standard GTX 1050. Gigabyte's own inter-SKU comparison has can be seen in the screen shot below (web link). The GDDR5 memory clocks don't differ between models, at 7008MHz.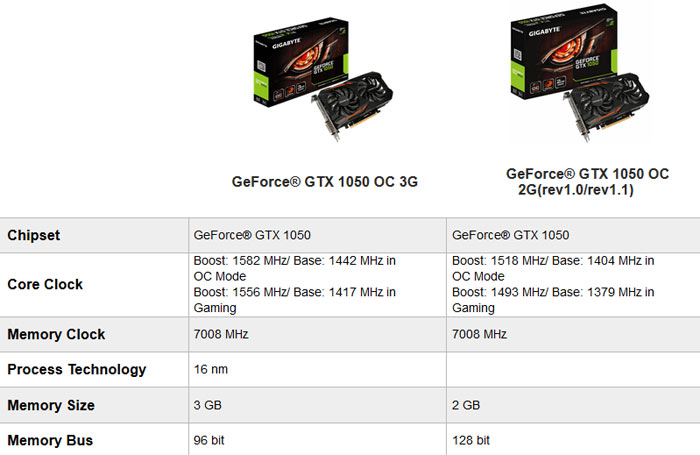 Elsewhere you can see that Gigabyte has leveraged its standard WindForce 2 cooler and this card is exactly the same size as the one in the comparison table above (H=36 L=191 W=111 mm). Connectors available include Dual-link DVI-D x1, HDMI-2.0b x1 (Max Resolution: 4096x2160 @60Hz), Display Port-1.4 x1 (Max Resolution: 7680x4320 @60Hz).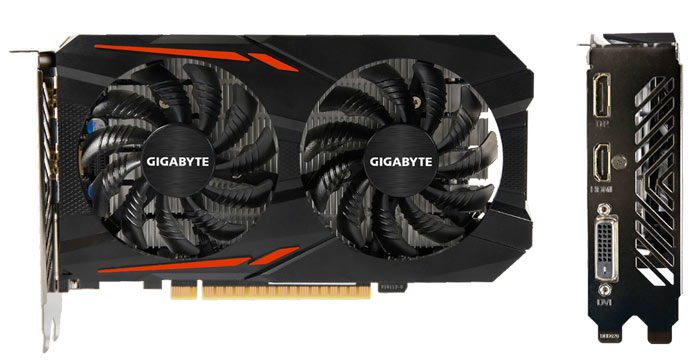 Of course the proof of the pudding is in the eating, and while it is reasonable to assume that the 3GB version of the Nvidia GeForce GTX 1050 will perform a little better than the 2GB variant, the precise benefits can't be confirmed without testing. Pricing will be another matter.