If you head over to the official Gigabyte Facebook page right now you will be greeted with a scary clown image at the top of the posts list. The influence for the 'artwork' is clear, with the red balloon and terrifying clown face. One further huge hint comes from the reflected title of the blockbuster Stephen King book/film: 'Ti' in ripped material red lettering. Then there are also images of a wallet/cash and a high performance Aorus branded graphics card in the mix.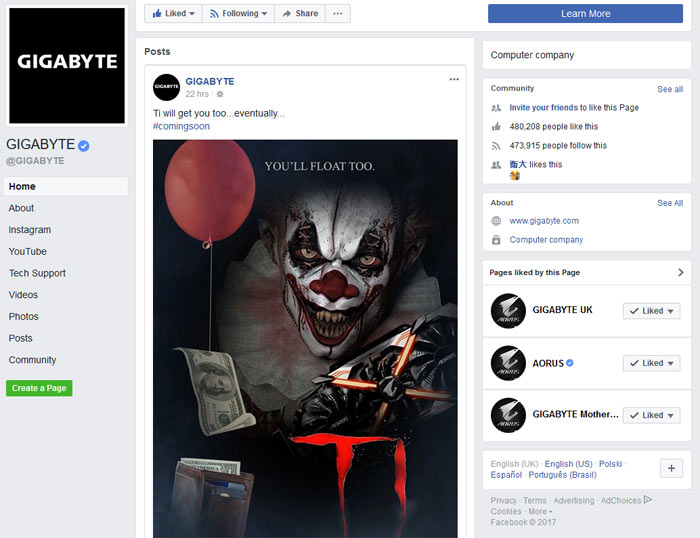 Following in the wake of recent rumours of an Nvidia GeForce GTX 1070 Ti in the pipeline, a range of tech news sites are putting one and one together to conclude that Gigabyte is teasing upcoming GTX 1070 Ti based products. The previous rumour was based on the spotting of a Strix model 1070 Ti, so it's good to see a tease from a different vendor.
Other text accompanying the Gigabyte 'poster' doesn't provide much in the way of clues to its meaning. Atop of its post Gigabyte has written "Ti will get you too...eventually...," which doesn't really tickle the ribs. On the top of the poster we read the confusing phrase "You'll float too". At least the post comes with the hashtag #comingsoon, so we know we won't have to wait very long to find out what all this is about (but following in the horror theme soon could be the 31st Oct - Halloween).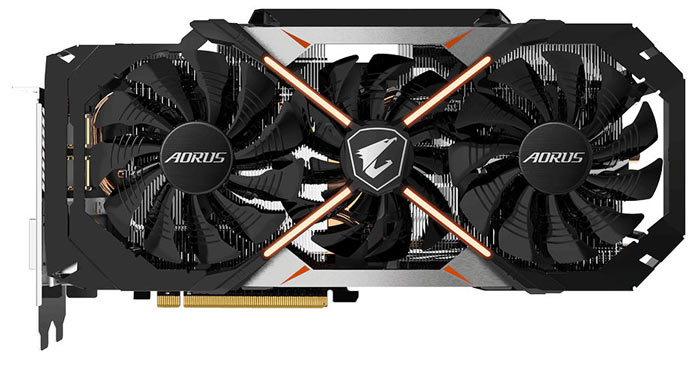 The currently available Aorus GeForce GTX 1070
Of course the performance of the upcoming GeForce GTX 1070 Ti will sit somewhere between the existing GTX 1070 and 1080 models. The pricing will do so too, and there may be adjustments of the existing range to fit it in nicely in that respect. There is only speculation on the number of activated CUDA cores and clock speeds at this time. Our earlier report's source asserted that the GTX 1070 Ti would come packing GDDR5X RAM.