Gigabyte has listed a new graphics card among its GeForce GTX 10 Series roster. The new Gigabyte GeForce GTX 1080 Mini ITX 8G is described as "tiny but mighty," and becomes the smallest GTX 1080 based graphics card yet released. It's almost 10cm shorter than Nvidia's reference design, for example.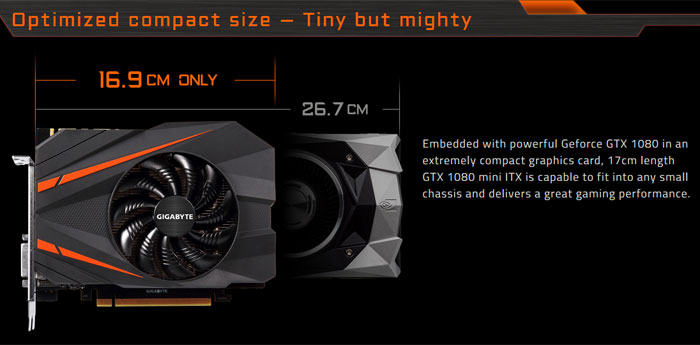 If you have a small chassis and want the beefiest GPU you can get, perhaps this new Gigabyte GeForce GTX 1080 Mini ITX 8G will appeal. Its dimensions are as follows, according to the official specs page: H=37, L=169, W=131mm, and it requires 1x 8-pin power connector.
The dual slot card relies upon Gigabyte's custom cooling system to achieve its mix of performance and physical compactness. Powering the cooler is a 3D Active semi-passive 90mm fan. Gigabyte says this fan design, with a set of 3D stripes on the surface, enhance airflow by 23 per cent. Behind the fan shroud you will find a finned aluminium block with a set of three composite heatpipes running through it. These heatipes help spread the heat to the arrays of cooling fins as efficiently as possible and they are of the 'direct touch' type where the copper cores go straight to the GPU.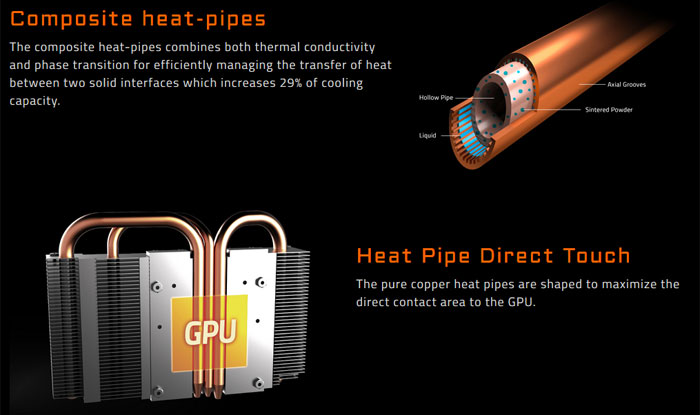 As shipped the Gigabyte GeForce GTX 1080 Mini ITX 8G will run in 'gaming mode' at Nvidia reference clock of Boost: 1733MHz/ Base: 1607MHz. There's a preset OC mode too: Boost: 1771 MHz/ Base: 1632 MHz.
Gigabyte says its mini card is better at OC than the reference design GTX 1080 as it offers 5+2 power phases (Founders Edition 5+1). Furthermore, there's 'one click super overclocking' available to users via the Aorus Graphics Engine utility. This software facilitates more than simple OC tweaks as it lets you adjust Clock speeds, voltage, fan performance, and power targets and provides extensive monitoring functionality. For better OC performance and a lifetime in your PC this card is built with 'ultra durable' highest-grade chokes and capacitors.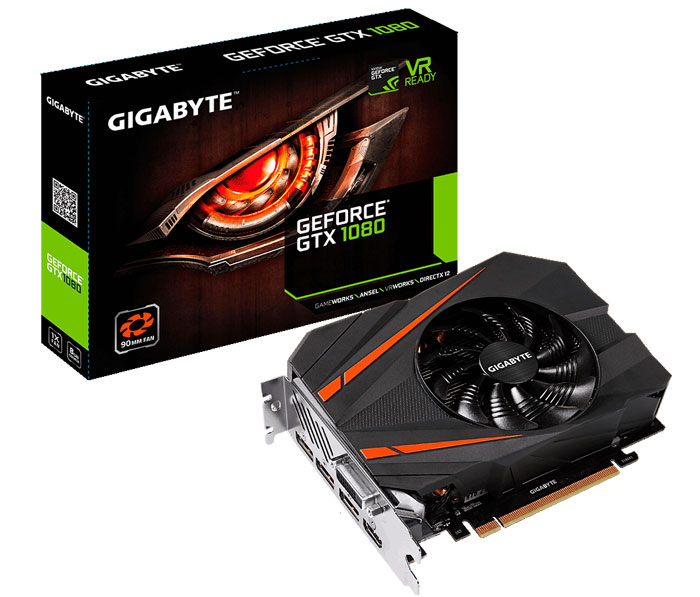 Pricing and availability haven't been announced.
Graphics Processing: GeForce GTX 1080
Core Clock: Boost: 1771 MHz/ Base: 1632 MHz in OC Mode | Boost: 1733 MHz/ Base: 1607 MHz in Gaming Mode (Reference Card Boost: 1733 MHz / Base: 1607 MHz)
Memory Clock: 10010 MHz
Memory Size: 8 GB
Memory Type: GDDR5X
Memory Bus: 256 bit
Card Bus: PCI-E 3.0 x 16
Output: Dual-link DVI-D x1 / HDMI x1 / DisplayPort x3
Digital max resolution: 7680x4320
Multi-view: 4
Card size: H=37 L=169 W=131 mm
PCB Form: ATX
DirectX: 12
OpenGL: 4.5
Recommended PSU: 500W
Power Connectors: 8 pin*1