Qualcomm has today announced that it is collaborating with Samsung Foundry to build its next-generation mobile system-on-chip (SoC) processor.
This new SoC, productised as Snapdragon 835, is now the company's flagship processor that is destined to go into premium handsets early next year, most likely found in devices at the Mobile World Congress show in late February. The incumbent, Snapdragon 820/821, is found in over 200 design wins.
The Samsung announcement is newsworthy because the Snapdragon 835 represents the first mobile SoC built on a leading-edge 10nm FinFET process. Though details of the next-generation SoC have yet to be revealed, the move to a small process will lead to inevitable gains in efficiency and die space.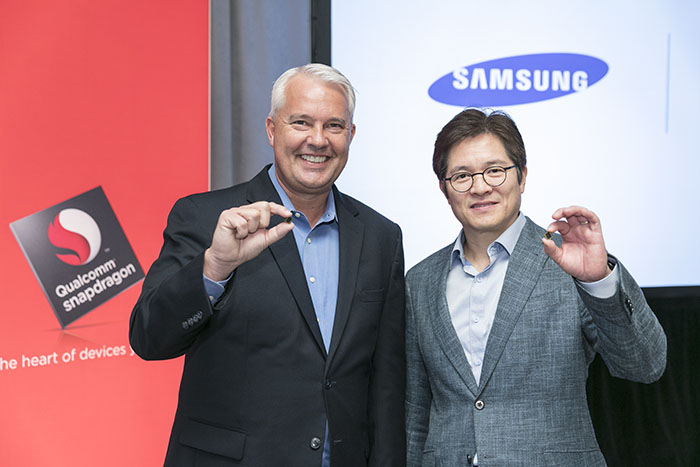 Qualcomm's Keith Kressin and Samsung's Ben Suh show off itty-bitty SoC
Putting some meat on the bones, Samsung's 10nm technology allows up to a 30 per cent increase in area efficiency with 27 per cent higher performance or up to 40 per cent lower power consumption when compared to extant 14nm parts.
"We are excited to continue working together with Samsung in developing products that lead the mobile industry," said Keith Kressin, senior vice president, product management, Qualcomm Technologies. Inc.
"Using the new 10nm process node is expected to allow our premium tier Snapdragon 835 processor to deliver greater power efficiency and increase performance while also allowing us to add a number of new capabilities that can improve the user experience of tomorrow's mobile devices."
The news is a blow to rival foundry TSMC, though it can be content with being the company building the super-thin A10 SoC inside the latest Apple smartphones.
Quick Charge 4.0
Qualcomm also provided details on an update to its fast-charging mobile phone charging technology known as Quick Charge. Next year's Snapdragon 835 will feature Quick Charge 4.0, too.
Currently, Quick Charge 3.0, announced approximately a year ago, and baked into all the latest Snapdragon processors, it remains up to the handset manufacturer to implement it in their products.
The headline marketing feature is the faster charging potential of Quick Charge 4.0, raising the speed by 20 per cent. More prosaically, Qualcomm reckons a five-minute charge will enable up to five-hour usage, though the exact use-case scenario was not divulged.
The ability to charge more quickly is a direct consequence of shunting more power from the charger to the device, raising the 18W ceiling to a potential 36W.
Just like the incumbent, Quick Charge 4.0 uses the company's INOV (Intelligent Negotiation for Optimum Voltage) technology enables fine-tuned power regulation, now improved and in its third generation, and offers real-time thermal management, which is a first for the industry.
Quick Charge 4.0 is also fully compatible with USB Power Delivery (PD) and other USB Type-C specifications, with Qualcomm hoping that wider industry adoption is made possible by its charging technology being a superset of what USB PD offers.
Qualcomm's Quick Charge 4.0, therefore, promises faster charging than ever before, wider compatibility and a new power-delivery redesign that purportedly makes it safer and smarter than previous generations.