NVIDIA has introduced a new variant of the Tegra 4 SoC called the Tegra 4i. It is specifically targeted at smartphones as NVIDIA thinks it offers the best mix of performance, capabilities and power efficiency for that platform. The project was previously known as "Project Grey".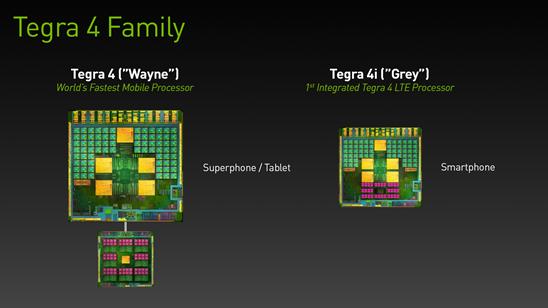 The NVIDIA Tegra 4i SoC features a quad-core ARM Cortex-A9 accompanied by a fifth battery-saver core. For graphics acceleration it features 60 custom NVIDIA GPU cores. In addition the SoC integrates an optimised NVIDIA i500 LTE modem.
Compared to the older Tegra 3 the new Tegra 4i has five times the number of GPU cores which will facilitate "high-quality, console-quality gaming experiences and full 1080p HD displays" according to NVIDIA.
| | | | | |
| --- | --- | --- | --- | --- |
| The Tegra 4 family | | | | |
| | | Tegra 4 | | Tegra 4i |
| Quad-Core CPU | | Cortex-A15, plus battery saver core | | Cortex-A9 r4, plus battery saver core |
| Tegra 4 GPU Cores | | 72 | | 60 |
| LTE | | Optional via NVIDIA i500 | | Integrated NVIDIA i500 core |
| Chimera Computational Photography Architecture | | Yes | | Yes |
| | | | | |
NVIDIA calls the Tegra 4i "an extremely power efficient, compact, high-performance mobile processor that enables smartphone performance and capability previously available only in expensive super phones". Phil Carmack, senior vice president of the Mobile business at NVIDIA, discussed smartphones integrating the new chip; "Tegra 4i phones will provide amazing computing power, world-class phone capabilities, and exceptionally long battery life" he opined.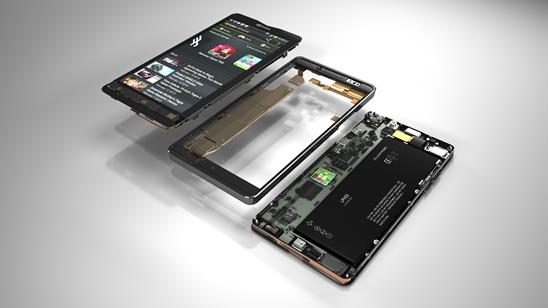 Tom Cronk, executive vice president and general manager, processor division at ARM is also quoted in NVIDIA's press release, talking about the Cortex-A9; "ARM and NVIDIA worked closely to further optimize the Cortex-A9 processor to drive performance and efficiency in areas such as streaming and responsiveness."
NVIDIA i500 core is reprogrammable over-the-air
An interesting feature of the integrated NVIDIA i500 software-defined radio modem is that it is reprogrammable over-the-air to support new frequencies and air interfaces. With a lot of the 4G world in a state of flux this is a great USP for NVIDIA's mobile solution.
NVIDIA Phoenix smartphone reference platform
As predicted last month NVIDIA has now made a reference platform for smartphones. The Phoenix smartphone was built to make the best use of the Tegra 4i and provides a blueprint for phone makers. This will help potential NVIDIA smartphone partners make devices quicker with a common standard. Whether we will see AiB partners such as ASUS, MSI or Gigabyte etc make a Tegra 4i phone as a result remains to be seen.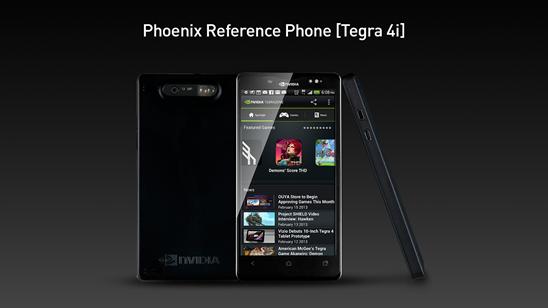 Various devices sporting this new Tegra 4i SoC will be demonstrated at MWC starting in five days time.