An information slide, purportedly showing details of the NVIDIA Tegra 4 "Wayne" SoC, has leaked onto the internet. The slide was shared on the China-based Chiphell forum by a user called Xenomorph. If the details revealed are correct this is going to be a very powerful mobile processor designed for "superphones, tablets and clamshells" and will help NVIDIA battle competitors such as Samsung and Qualcomm.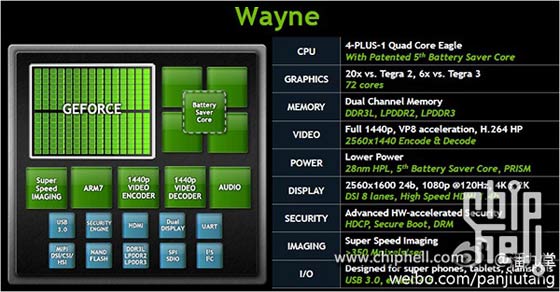 Let's get to the meat in the sandwich and look at the actual leaked specs of the NVIDIA Tegra 4. The quad-core, 28nm CPU will use the 4-PLUS-1 architecture, just like the Tegra 3. The +1 core is the "patented battery-saver core". Also the CPU is to move to ARM's latest Cortex-A15 design. Within the Tegra 4 SoC the CPU will be paired with an astonishing 72 GPU cores, supporting displays up to 2,560x1,600. The slide reveals that the graphical grunt on offer will be approximately twenty times the power of the Tegra 2 GPU or six times that of the Tegra 3 GPU! Also in case you miss it, obscured slightly by the heavy watermark, the slide mentions 4K video output within the DISPLAY section.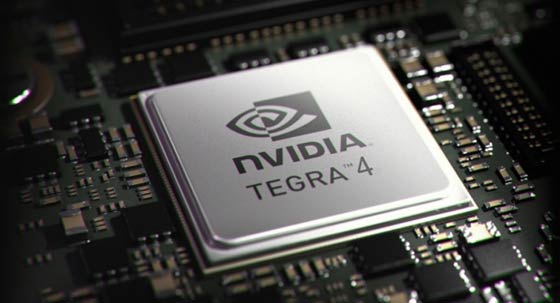 According to the Chiphell slide, the Tegra 4 will be NVIDIA's first chip to support USB 3.0 and DDR3L memory. ZDNet says Apple's current A6X processor is about four times as powerful as the current Nvidia Tegra 3 and that the next generation Tegra should be competitive with that chip and appeal to power-hungry (non-Apple) fans. Expect to see the NVIDIA Tegra 4 officially revealed in January's CES 2013.