It was only last week that new details of the Exynos 5 dual-core arrived in the form of a slide, detailing GPU performance of 2.1 GPixels/s. This time, however, the details listed are from an official document.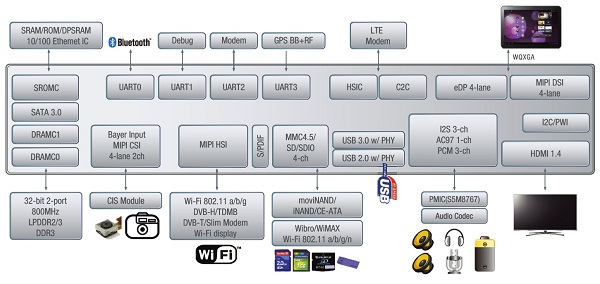 Confirming previous details, the SoC will feature 12.8GB/s of bandwidth through two 32-bit 800MHz memory ports, capable of supporting LPDDR3 and standard DDR3. On-chip support for USB 3.0 and SATA 3.0 has also been introduced. Another point of note is the inclusion of HSIC and C2C interfaces, capable of communicating with LTE modems.
Support for the MMC 4.5 standard is present, which offers embedded MMC speeds of 200MB/s, with the four channels also suggesting support for the SD UHS-II standard.
The 4-lane MIPI connection suggests support for incredibly high resolution image sensors, this is backed-up by details revealing that the chip's image processor is capable of handling a full 8-megapixels at 30fps.
For one final juicy bit of information, the chip, which features an ARM Mali-T604 GPU and a dual-core ARM Cortex-A15 CPU will be clocked at either 1.7GHz or 2.0GHz, with performance at the latter speed churning out 14,000 DMIPS, which is 0.2 DMIPS/MHz per core greater than Qualcomm's new Snapdragon S4 CPU and, 1.0 DMIPS/MHz per core greater than NVIDIA's Tegra 3.
In layman's terms, we should be seeing CPU performance matching the Tegra 3 quad-core, though in practise, the Exynos 5 should surpass the Tegra 3 as many mobile applications perform at their best in a dual-core scenario, where the Exynos's fast, 2GHz speed, will come into play.