Announced yesterday by NVIDIA CEO, Jen-Hsun Huang, the next three generations of ARM-based Tegra portable processors are already being produced and worked-on behind closed NVIDIA lab doors.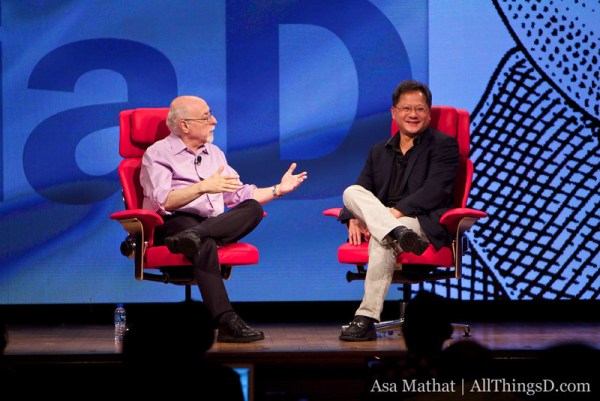 Image credit: AllThingsD.com

The future line-up follows the trend of using the real names of popular comic-book superheroes, here's the list in order of closest release:
Kal-El
o Tegra 3 – due November – Superman
o Quad-core Cortex-A9 design
Wayne
o Tegra 4 – expected 2012 – Batman
o Quad or Octa-core Cortex-A15 design
Logan
o Tegra 5 – expected 2013 – Wolverine
o Unknown design
Stark
o Tegra 6 – expected 2014 – Iron Man
o Unknown design
I can't wait for an 'Iron Man' CPU in my portable device and suggest that this be the final name for the Tegra 6.
Jen-Hsun also revealed that development of a new Tegra processor takes around three years, which explains why the roadmap is so well-defined. He also went on to reveal that NVIDIA has invested over $2 billion in Tegra development costs to reach its current state.
A glimpse at the Tegra 3's low-power core efficiency was offered, with Jen-Hsun stating that is required "20 times" less power than the Tegra 2 dual-core, so expect a substantial increase in standby time for Tegra 3-based devices.
Looking to the future, NVIDIA is considering a Tegra ecosystem beyond phones and tablets and is looking to Windows 8 as the likely enabling factor, Huang said.