HEXUS reported upon the leaked Intel roadmaps for mobile CPUs 2018 to 2020, and commercial CPUs 2018 to 2021 last week. The source of these roadmaps was claimed to be a Dell presentation, shared by Dutch tech site Tweakers.net. Interestingly there has been a follow-up by the Tweakers, and subsequently they have shared roadmaps for upcoming Intel Desktop Client CPUs (2018 to 2020) - the ones that PC builders and enthusiasts are most interested in. Furthermore, Dell XPS laptop admirers will probably appreciate the sharing of the XPS PG NB roadmap which shows Dell's plans for its sleek and attractive premium XPS laptops to the end of 2021.
Intel Desktop Client
The leaked client CPU roadmap shown here is notable in that it seems to confirm there will be no Intel consumer CPUs for desktops built on the 10nm process until 2021 at the earliest. The socketed S-Series, which makes up the majority of Intel DIY PC builds, is currently crowned by the 14nm Coffee Lake S refresh with up to 8 physical cores.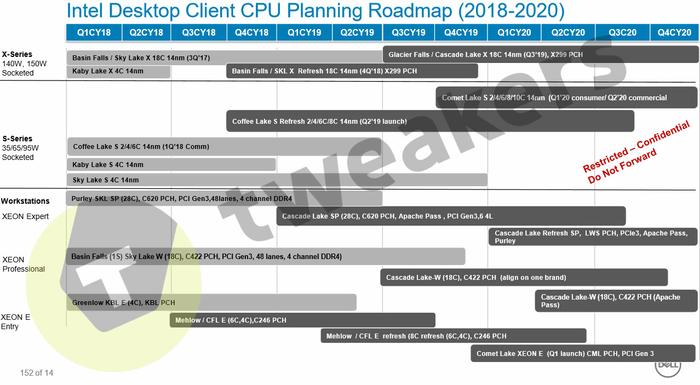 According to this roadmap enthusiasts will have to wait until the end of 2019 / start of 2020 (CES 2020 perhaps) to get their hands on the first 14nm Comet Lake S chips. Comet Lake S will be a large range of processors spanning SKUs with 2, 4, 6, 8 and 10 physical cores.
It isn't shown on this roadmap but Comet Lake S is expected to be followed up by Rocket Lake S processors sometime in 2021, another 14nm processor range.
Dell XPS laptops
HEXUS recently reported upon upgrades expected to be present in the upcoming range of Dell XPS 15 laptops. In a nutshell they are destined to be upgraded incrementally and come packing a choice of new 9th gen Intel Core mobile processor, accompanied by the Nvidia GeForce GTX 1650 GPU in Optimus configuration.
Tweakers have shared an interesting and extensive roadmap for the Dell XPS series that shows quite a number of things. First of all, it looks like Dell is seeking to broaden its XPS range from the current offerings by adding a 17-inch machine, a 13-inch 2-in-1 and a new dual screen device.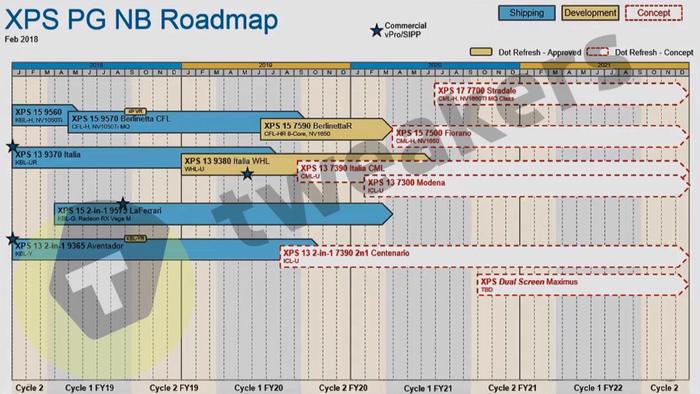 Very soon the XPS 15 7590 will become available, with Coffee Lake H refresh processors up to 8-core and the GTX 1650 GPU. This will be a short-lived revision, less than a year, before it is succeeded by the Comet Lake H packing upgrade, again sporting a GTX 1650 GPU. The new XPS 17 will follow shortly after that and it will sport more powerful graphics, up to GTX 1660 Ti Max-Q.
Looking at the XPS 13, there should be an upgrade out in September with Comet Lake U processor. Then, early in 2020 the IceLake U powered XPS 13 7300 will become available and co-exist with the earlier model (chip supply constraints anyone?) until the end of 2021.
Meanwhile Dell looks set to introduce the XPS 13 2-in-1 with IceLake U sometime in August this year (sounds early, and Intel noted this would be a limited production quantity on another roadmap). Last but not least the XPS dual screen Maximum is currently scheduled for Q4 2020 and Dell hasn't decided on the processor behind this machine as yet.
Intel 10th gen processor codenames
Another related leaky news nugget comes courtesy of Tum Apisak on Twitter. A few days ago Tum hinted that he had found references to a processor called the 10210U in his searches. Yesterday he followed up with a 3DMark specifications screenshot which appears to list an Intel Core i5-20210 CPU. You can see the screenshot and a little discussion via the link.