Purported Intel mobile and desktop processor roadmaps have leaked out, reaching as far as Q4 2021. The Dutch site Tweakers.net claims these roadmaps come from a Dell presentation earlier this year, so should be pretty much up to date. The roadmaps are rather interesting, showing the scheduled introduction dates and product lifespans of several processor ranges, some of which we haven't heard of before.
Intel's mobile CPU plans
PC gamers and enthusiasts will probably be most interested in the more powerful Intel mobile processors which make up the H / G Series across the top of the client mobile CPU roadmap. Here we can see that the Coffee Lake H Refresh has indeed just arrived (Q2 2019 launch), earlier this week in fact.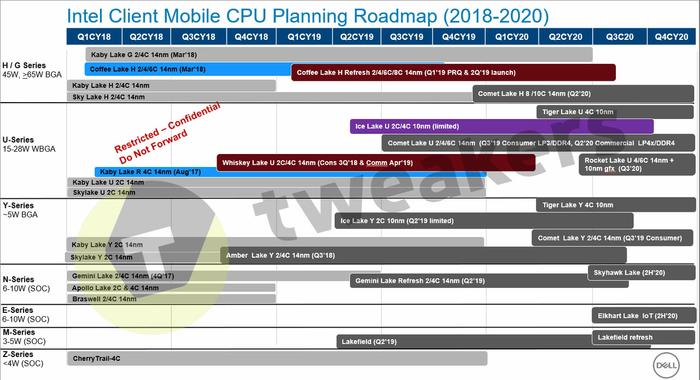 Click image to zoom
It looks like Intel's next major set of updates for powerful laptops will be with the Comet Lake H series offering up to 8 and 10-core processors. However some might be disappointed to see these are again on 14nm.
In the world of Intel mobile CPUs it will be Ice Lake U in 2C and 4C variants which will be 10nm pioneers. These lower power CPUs, destined for higher-end thin and light, and ultraportable, laptops are due shortly, within weeks to months according to the roadmap. However, production will be "limited" in nature.
Intel's desktop CPU plans
Please note that this roadmap, as presented by Dell, is for commercial CPUs, which as tech analyst Patrick Moorhead notes, "always lag the general purpose SKUs". Thus we should expect some earlier dates for PC enthusiasts and other consumers.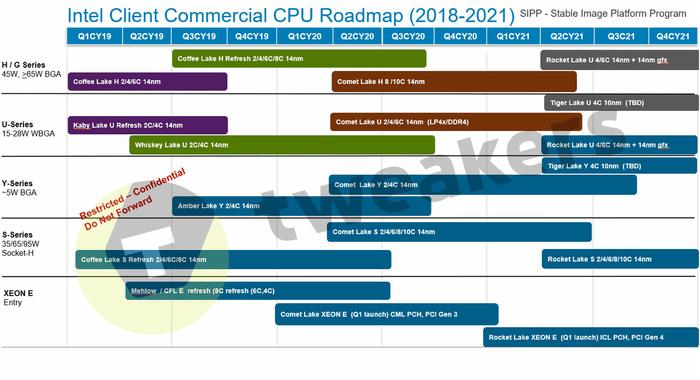 Again, most HEXUS readers, who are largely enthusiasts and PC gamers, will be interested in the upper rows of this leaked roadmap for indications of Intel's plans. The Intel Core H / G series Comet Lake H processors with 8- and 10-cores will arrive in approx Q2 next year, still fabricated on the 14nm process.
10nm parts are rather sparse and offered up with 'TBD' dates in the latter reaches of the roadmap from Q2 2021. Interestingly, the Rocket Lake processors launched in these extremities of the roadmap sound a bit like APUs, with CPU + Gfx specifically mentioned, unlike with earlier generation entrants.