AMD will share a keynote address at the CES 2019 in Las Vegas in a week's time. In the official posting on the CES.Tech website you can see the time and venue listed and a statement providing an overview of what to expect. It is rather vague but we are told that AMD will provide info on "solving some of the world's toughest challenges to the future of gaming, entertainment and virtual reality with the potential to redefine modern life". More specifically there will be details of "the world's first 7nm high-performance CPUs and GPUs".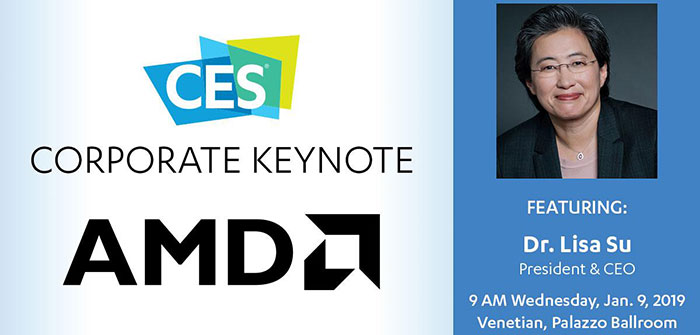 Luckily we have some more information to augment the above, also from the official CES website. The CES news blog interviewed Dr. Lisa Su, President and Chief Executive Officer of AMD, late last week and as well as some background info being provided about Su herself and AMD's technological history and aspirations, Su was asked for a sneak peek of what will be presented at the 9am PST keynote (that's 5pm in the UK) next Wednesday, 9th January, at the Venetian, Level 5, Palazzo Ballroom.
During the Q&A Su said that the keynote would be a "major milestone for AMD". Interestingly the AMD CEO will be joined by "some very special guests on stage from different industries that we work with," it was revealed. Most importantly, Su confirmed that "we will be making some exciting announcements about our next-generation products," but the interview ended there with the obligatory sign off asking us to watch the keynote next week.
The key phrase above is probably the mention of next-generation product announcements. AMD has quite a lot to reveal if the chitter chatter, rumours, and stated intentions all come together for 9th January. In particular we will be listening and watching intently for news of CPUs (and APUs) like the Ryzen 3000 series. In December we saw rumours and leaks pointing to impending AMD Ryzen 3000 'Picasso' APUs on the way, for example. In terms of GPU products we would be greeting official news of 7nm Vega II GPUs, and maybe something about Navi, which was spotted in testing back in October.