Intel announced its Xeon W-3175X processor back in October, saying that it would become available this month. While that has yet to officially happen, it looks like something is going on behind the scenes as several European retailers have been spotted with live listings for the beefy new processor. If you check out these retailer listings the average price seems to be approx US$4,000 and the UK-based premature listing, at Kikatek suggests that the RRP is £5,999, but it has it on offer at £4,045 (but no stock available).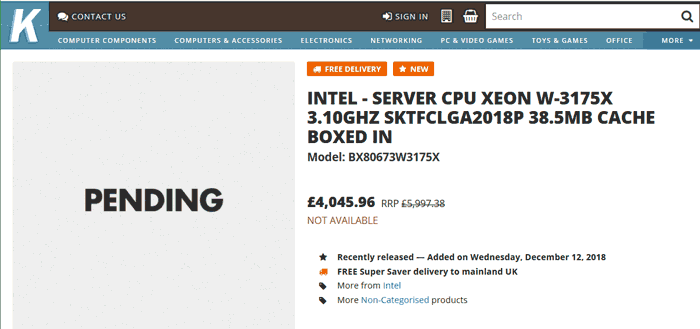 You can see the key specs of the Intel Xeon W-3175X in our previous article, and the highlights of the processor design in the infographic below. As a reminder this is a 28 core, 56 thread processor, with a base frequency of 3.1GHz and which boosts as fast as 4.3GHz. It is built upon the 14nm Skylake architecture and this 265W processor includes 38.5MB of 'Smart Cache'.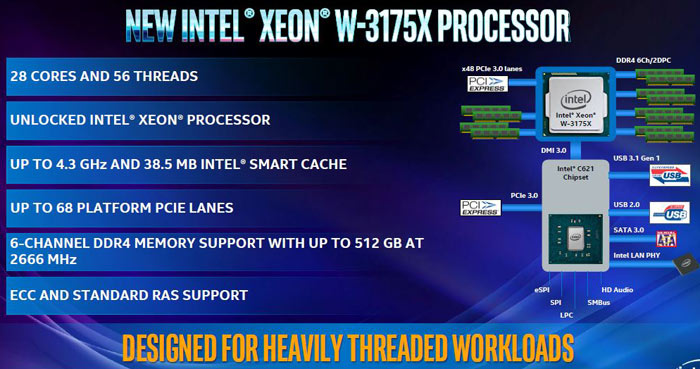 Before Intel's October announcement of the Xeon W-3175X in October, we think it was shown off on stage at Computex in June running Cinebench but at that time Intel wasn't forthcoming with the on-stage mystery processor's name. At the time it was described simply as a new 28 core processor (with 56 threads). It scored 7334cb, a record for a single processor at the time.
There was some controversy with the Intel Computex demonstration after it was discovered that it had used a 1770W water chiller unit to cool its 28C/56T processor to achieve the Cinebench score (via a 5GHz overclock). This chiller unit was squirreled away under the computer desk during the presentation.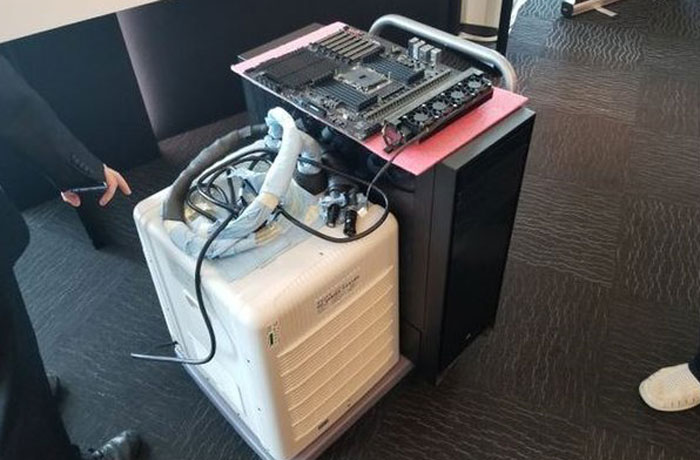 If you are interested in a very high core count processor that is available, AMD launched its Ryzen Threadripper 2990WX back in August. This 32C/64T processor was reviewed by HEXUS shortly after launch and it achieved 5174cb without strapping on an AC unit at the HEXUS labs (the Cooler Master Wraith Ripper was used). Users wishing to push their 2990WX to extremes can score even better than the 28-core Intel Xeon though, as Tom's Hardware chart shows that it is possible to push AMD's 32-core CPU to 5.1GHz on LN2 and score 7618cb.