Intel has used Computex 2018 to officially announce the limited edition 8th Gen Intel Core i7-8086K processor. We had previously heard previous rumours, and even seen retail listings, featuring this special anniversary processor. During its keynote at Computex another interesting new processor actually featured in a live demonstration. A 28 core processor, with 56 threads, was shown running the Cinebench benchmark and scored an impressive 7334 cb, a score only beaten by multi-processor systems.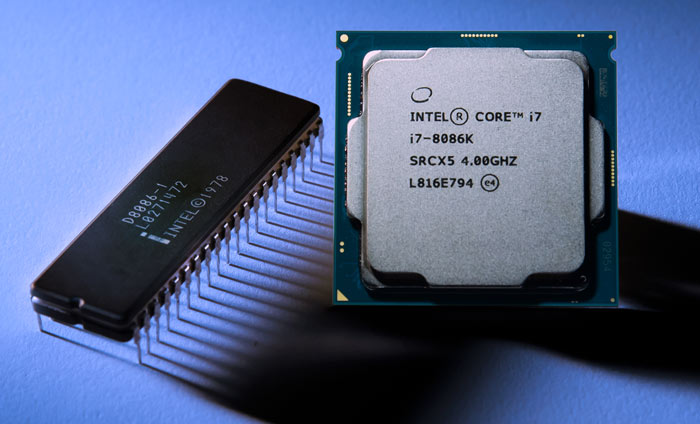 Intel's 50th anniversary is next month so it thinks now is a good time to recognise its 40th anniversary with the launch of the limited edition 8th Gen Intel Core i7-8086K processor. As expected, it is the first Intel processor with a 5.0GHz Turbo frequency.
As part of the celebration Intel will give away 8,086 of these processors in a sweepstakes. The sweepstakes opens in just over two days from now and after that there are only 24 hours to register and have a chance to win one of these processors. Residents of the USA, Canada (excluding Quebec), UK, France, Germany, South Korea, Taiwan, Japan and China (excluding Hong Kong) are all eligible to enter the draw. The draw will close at 5pm PST on 8th June. If you win you will find out within 2 weeks of the sweepstakes close date.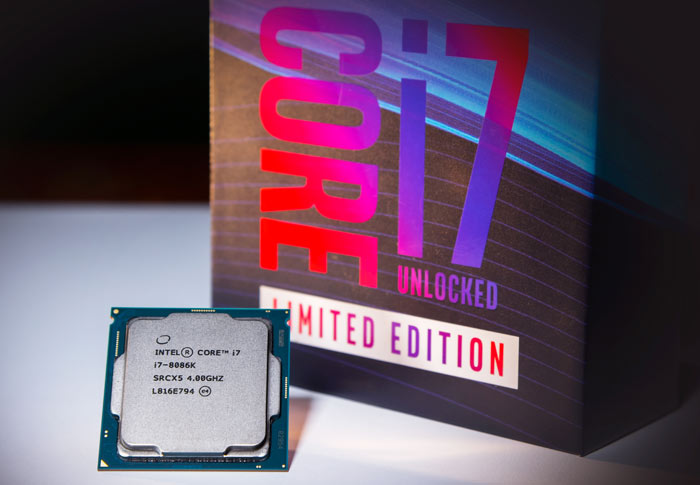 The Core i7-8086K isn't detailed in the Intel Ark at the time of writing but we do have a few key tech specs to share. This commemorative processor is a 6-core, 12-thread processor with integrated graphics in an 1151-pin package supporting a 64-bit instruction set. It can deliver 5.0GHz single-core Turbo out of the box and is fully unlocked for overclocking.
If you haven't hope of winning one of these limited edition processors they will be available to buy from 8th June 12.01am PDT (the actual anniversary date of the first Intel 8086 processor). It could be priced at $486, according to rumours.
Intel's 28C/56T processor demo
Intel teased a new 28 core processor (with 56 threads) live on stage at Computex 2018. The single chip, available later this year, is expected to become part of the Skylake XCC (extreme core count) range. However the process technology and architecture weren't revealed.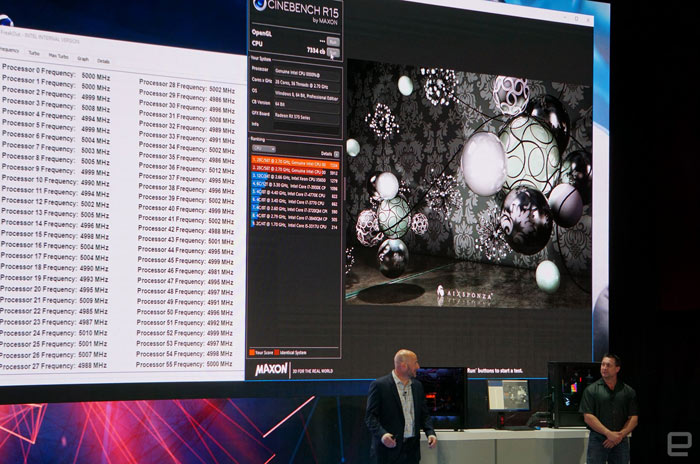 On stage the powerful processor was tasked with running Cinebench and scored an impressive 7334 cb. That's a record for a system running a single processor. The result hits the ball back into AMD's court - can or will it release a more powerful Threadripper processor this year?