Back in November we reported that Samsung had kick-started 10LPP mass production. 10LPP is the firm's second generation 10nm process offering an improved mix of performance and power consumption compared to the first gen 10LPE SoCs. Now, just ahead of its CES 2018 product launches, Samsung has announced its premium Exynos 9 Series 9810 "for AI applications and richer multimedia content". This processor is widely thought to be what will power the upcoming flagship Galaxy S9 devices.
"The Exynos 9 Series 9810 is our most innovative mobile processor yet, with our third-generation custom CPU, ultra-fast gigabit LTE modem and, deep learning-enhanced image processing," said Ben Hur, vice president of System LSI marketing at Samsung Electronics. The processor, with its octa core CPU, is described by Samsung as offering a boost to multitasking. Four of the eight cores are Samsung's most powerful and be cranked up to 2.9GHz. Thanks to a wider pipeline and improved cache Samsung claims that single core performance is enhanced two-fold and multi-core by up to 40 per cent. As you would expect, given recent mobile SoC design history, the other four cores are optimised to sip power when no demanding tasks are running.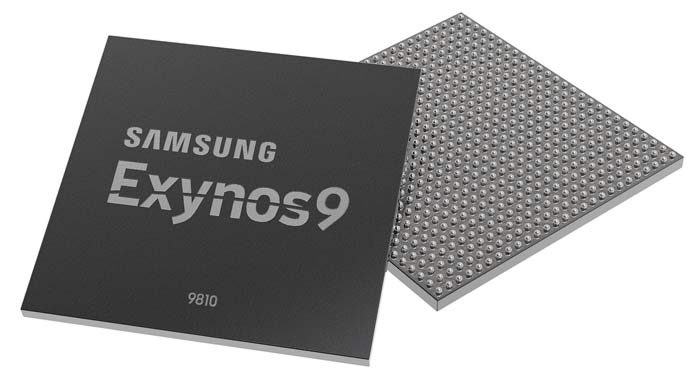 Neural network-based deep learning and stronger security debut on the Exynos 9 Series 9810. This functionality can be leveraged for image recognition, categorisation and searching, and stronger biometric security. The GPU employed by Samsung is thought to be based upon an Arm Mali-G72 design, featuring 18 GPU cores and a clock of 700MHz+. Such a GPU configuration should deliver approximate 20 per cent performance uplift compared to the previous generation but comsume less power.
For video and image processing Samsung has upgraded the multi-format codec (MFC) and included a dedicated image signal processing (ISP) chip. It is said to be faster and more energy efficient, enabling 1.07 billion colours, real-time advanced stabilisation and Bokeh effects, plus reduced noise and motion blur in low light. Support is available for video recording and playback at up to UHD resolution at 120 frames per second, 10-bit HEVC and VP9 codecs.
An essential part of any mobile SoC is its communications capabilities and the Exynos 9810 embeds the industry's first 1.2Gbps LTE modem with 200Mbps uplink. The modem supports 4×4 MIMO and 256-QAM with enhanced Licensed-Assisted Access technology.
We aren't expecting the Samsung Galaxy S9 and S9 Plus until MWC 2018 at the end of Feb.