HEXUS first took a long hard look at the NZXT S340 back in January 2015, with a thorough review of this affordable mid-tower chassis. We considered it to be an excellent choice and practically a 'no-brainer' for a low-cost gaming rig, with the only negative points being its lack of a reset button and the ease with which the finish could be scuffed, if not careful. Since that time NZXT has revisited the Source 340, to give it its unabbreviated name, first with the Special Edition S340 in August 2015, and then with the special Razer Edition back in October 2015.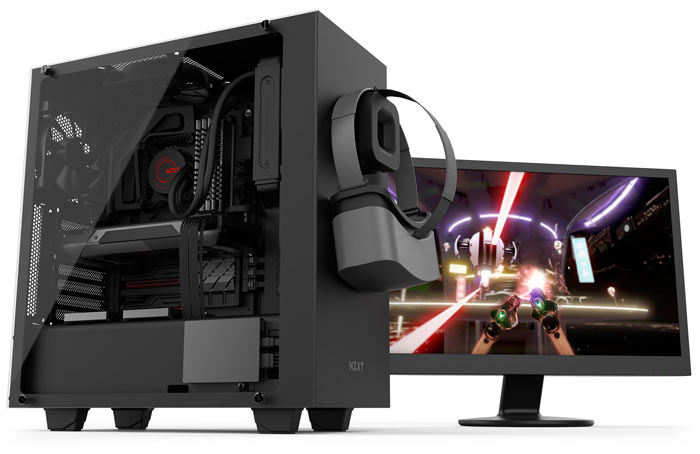 A year later here we are again with a new NZXT S340, this time it's the S340 Elite, which expands on the chassis durability and usability (extra I/O), adds VR niceties, and more. NZXT is calling the S340 Elite "the most refined and elegant S340" so far.
Talking about the new NZXT S340 Elite, Johnny Hou, NZXT's founder and CEO, said "We've always championed the idea that building truly beautiful PC's should be easy for anyone and the S340 Elite makes this even simpler." Add to that some neat design touches such as a large 4mm tempered-glass side-panel to showcase your build, and this could be a winning design.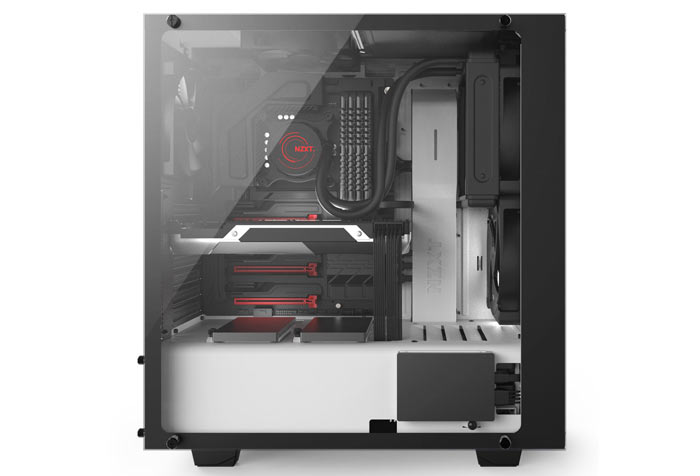 Inside you will find an open-interior design with a steel cable management bar that splits the front intake from the rest of the case. New to the Elite is a clamping system added behind the cable management bar and along the rear. This helps you make as clean a build as possible to show off your choice components through the clear tempered glass side.
Quite a few design considerations have been tweaked for the VR HMD user. NZXT has made the commonly required HDMI and USB-port connectivity readily available from the top panel. A specially designed magnetic cable management puck keeps CR and audio cables tidy too.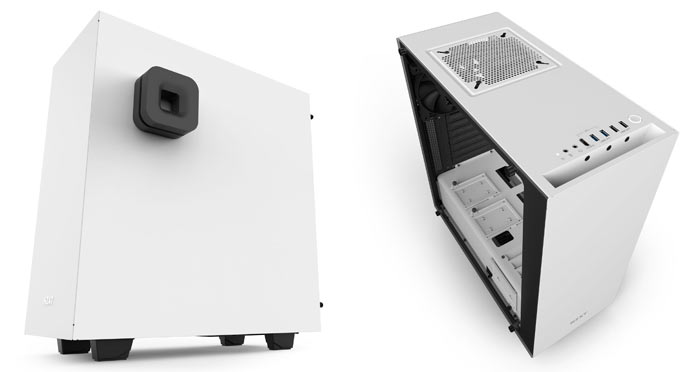 For enthusiasts it's good to hear that NZXT has all considered all corners of the chassis. The S340 Elite features fully-filtered intakes, steel-plated audio jacks, captive thumb screws, cable management solutions, and more within its compact dimensions. Furthermore, the chassis is fully compatible with NZXT's entire line of Kraken Series liquid coolers.
For an AB comparison between the S340 Elite and the 'plain vanilla' version
please glance at the following table.
| | | |
| --- | --- | --- |
| | S340 Elite | S340 |
| Steel Construction | ✔ | ✔ |
| Fully-Filtered Intakes | ✔ | ✔ |
| Cable Management Bar | ✔ | ✔ |
| Power Supply Shroud | ✔ | ✔ |
| Tempered Glass Side Panel | ✔ | |
| Cable Management Puck | ✔ | |
| Cable Management Clamps | ✔ | |
| VR Accessibility with Front HDMI Port | ✔ | |
| Additional SSD Tray on PSU Shroud | ✔ | |
| Two Extra USB 2.0 Ports | ✔ | |
NZXT says the S340 Elite is available immediately in Matte White , Matte Black, Matte Black + Red. UK pricing has been set at £89.99 inc VAT.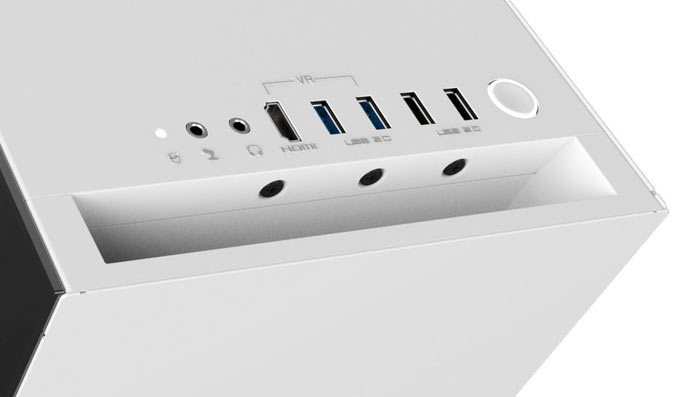 S340 Elite Technical Info
Case Specs

Dimensions

W: 203mm H: 474mm D: 432mm

Material(s)

Tempered glass side panel, Steel, ABS plastic

Total Weight

8.13kg

Motherboard Support

Mini-ITX, MicroATX, ATX

External Features

1x Audio/Mic, 2x USB 3.0, 2x USB 2.0, HDMI with VR Support
Cooling

Front

2x 140mm or 2x 120mm

Radiators up to 280mm

Top

1x 140mm or 1x 120mm (included)

Rear

1x 120mm (included)

Radiators up to 120mm
Bays & Expansion

Internal 3.5"

2+1

Internal 2.5"

3+1

PCI Expansion Slots

7
Clearance

CPU Cooler

161mm

GPU

With Radiator: 334mm

Without Radiator: 364mm

Cable Management

Lowest Point: 17mm

Highest Point: 168mm
In other NZXT news, the firm has just launched a new internal USB Hub. The powered internal device features:
Provides 5 USB 2.0 ports: 3 internal and 2 external connectors.
Sleek and multifunctional design works with any build.
Magnetic body quickly affixes to any metallic surface.
Molex connection provides additional power via PC's power supply.
Plug and play— no drivers needed
NZXT has put an RRP of £17.99 inc VAT on this hub, also said to be available immediately.