Taiwanese PC cooling specialists CRYORIG has sent HEXUS an email today, detailing its first foray into PC chassis design. The firm hasn't started very cautiously; these aren't just common-or-garden rectangular block shaped designs. Personally I think both the new chassis are very appealing and would be great for modern living rooms or reception areas where systems aren't hidden under the desk. This is a pre-Computex announcement by CRYORIG so we aren't getting the full scoop on the specs of these two new mini-ITX chassis but we do have a fair summary of key specs for you to ponder over from our email.
OLA
The CRYORIG Ola is designed to be used as a home theatre style PC and is admittedly inspired by the Mac Pro design. CRYORIG says the cylindrical shape plus large 140mm XT140 exhaust fan creates an inner chassis environment with "increased internal air volume, and zero airflow dead space". With regard to heat and air flow, the firm asserts that individual compartments for the CPU, PSU and GPU help prevent heat overflow. The sides of the chassis feature dual shark-gill like air intake ducts along their length.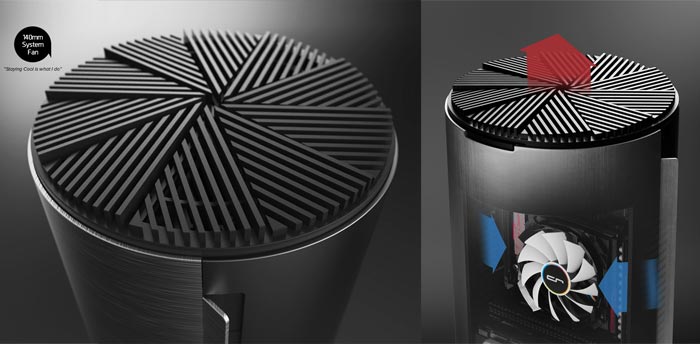 Full length graphics cards are supported by the Ola, as are CPUs up to 100W TDP. Front and back panels are modular and can be brushed aluminium or wood veneer. While we got this teaser today and the chassis will be showchassisd at Computex, its expected release date will be in Q2 2017. Full specs will be released at that time but for now CRYORIG has provided us with the following base specs.
Dimension: W226 mm x H378.5 mm x D205 mm
Weight: 5 kg
Motherboard Support: Mini ITX
3.5" Drive Bays: 1
2.5" Drive Bays: 1 or 2
System Fan: XT140(120mm x 1)
External Electronics: Power On/Off, Audio, Mic, USB 3.0
PSU Support: SFX
Maximum Compatibility: CPU Cooler Height* H72~82 mm, VGA Length L280 mm, PSU Length L130 mm (*cooler top must be no larger than 92x92mm)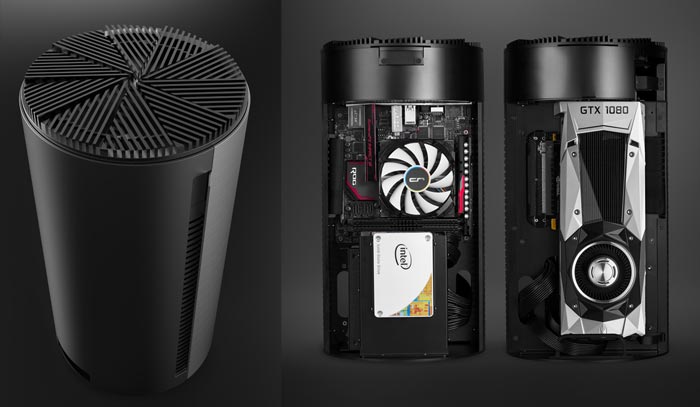 TAKU
I have a soft spot for compact desktop chassis - though I currently use a hulking tower PC system. Like the Ola, the Taku is a mini ITX system but its design is very different to CRYORIG's other new chassis. This is a chassis which doubles as a monitor stand with wooden legs. The design looks influenced by various classic tech objects with a dose of modern furniture design aesthetic.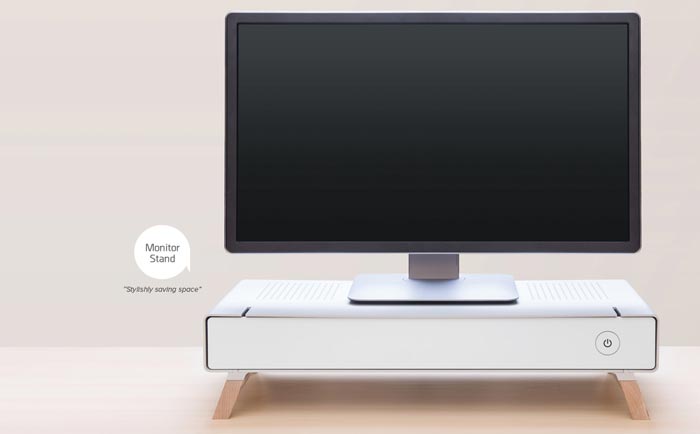 CRYORIG says the Taku chassis is made of 3mm aluminium and the innards are accessible as they slide out in a drawer. That gives users very easy access to mainboard, GPU and HDD compartments. I/O such as USB ports are available on both sides for easy charging of smartphones and connecting and disconnecting such devices.

Inside there's support for 250mm long graphics cards and drive bays for 1x 3.5-inch and 2x 2.5-inch devices. Cooling isn't discussed so must still be under consideration. Like the Ola, this is a work in progress to be showchased at Computex. CRYORIG says this design might become available a little earlier though, possibly in late 2016. A smattering of non-finalised tech specs is provided below.
Dimension: W567 mm x H134.8 mm x D270 mm
Weight: 8 kg
Motherboard Support: Mini ITX
3.5" Drive Bays: 1
2.5" Drive Bays: 1 or 2
External Electronics: Power On/Off, Audio, Mic, USB 3.0
PSU Support: SFX
Maximum Compatibility: CPU Cooler Height H47 mm, VGA Length L240 mm, PSU Length L130 mm