Fractal Design is exhibiting a pair of new PC cases for those aiming to produce sleek, compact PC builds that are still eminently gaming capable. The slim Node 202 chassis (with optional Integra SFX 450W PSU) and squat Core 500 chassis are the PC components maker's highlighted products this year. In addition Fractal Design is happy t show off an updated Kelvin Series liquid cooling range.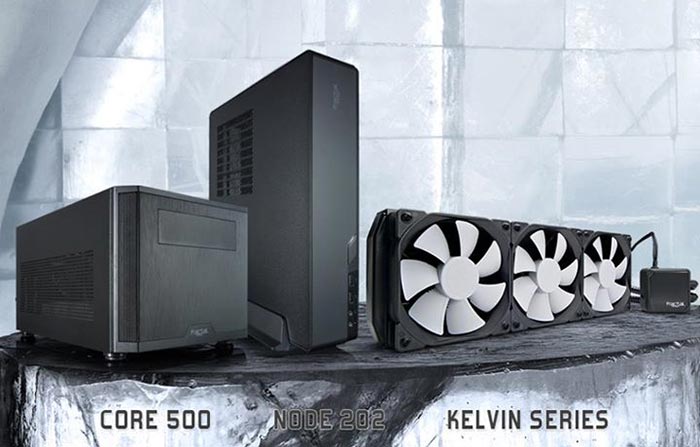 Node 202
This 10.2 litre chassis design is heralded by the company as "sleek and elegant". It is pleasingly minimal and understated with a subtle Fractal Design logo and just the essential ports on the front panel (2 x USB 3.0, audio I/O, and LED lit power button). Fractal Design suggests it is an attractive PC for both the living room or on your office desk.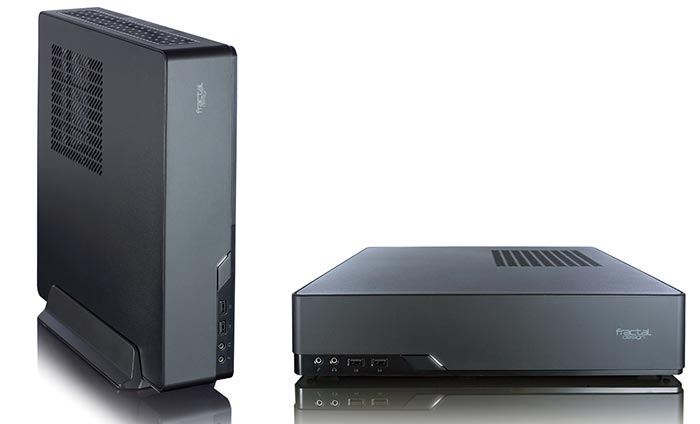 The Node 202 is designed internally to keep all the hot components separate and run cool despite the lack of case fans thanks to its air flow design. Filters are installed to minimise dust ingress. Maximum compatibility is listed as; a mini-ITX motherboard, an SFX power supply (130mm long maximum), CPU coolers up to 56mm tall and graphics cards up to 310mm in length.
Other key specs for the Fractal Design Node 202 are listed below:
2 x 2.5-inch SSD unit positions
2 expansion slots
2 x 120mm optional fan positions in graphics card chamber
Can be placed both vertical and horizontal position
3 dust filters included (for CPU, GPU and PSU)
Case dimensions - Horizontal (WxHxD): 377 x 82 x 330 mm
Net weight: 3.5 kg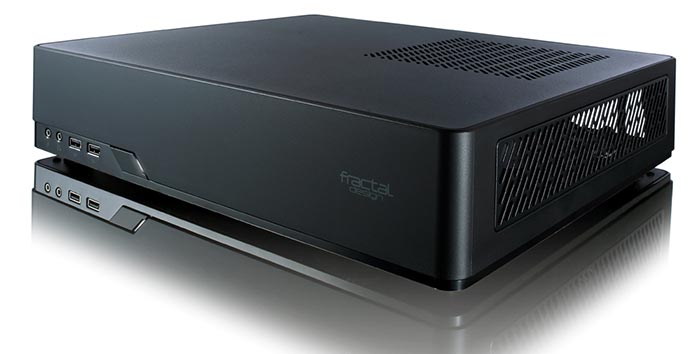 Node 202 chassis MSRPs are as follows: USD $79.99, EURO € 89.99, GBP £64.99, SEK 899
Fractal Design is also making a Node 202 SKU which includes the Integra SFX 450W PSU. It's cabling and connector configuration fit perfectly with the Node 202. The PSU offers quiet and efficient operation at 80PLUS Bronze efficiency backed by a 3 year warranty. The chassis and PSU combo has an MSRP of USD $139.99, EURO € 159.99, GBP £114.99, SEK 1499.
Core 500
The Core 500 is also a mini-ITX chassis. However this is built to offer even fewer compromises with almost double the capacity, at 19.5 litres, of the Node 202. This allows you to build a compact PC "without compromising on component selection," says Fractal Design.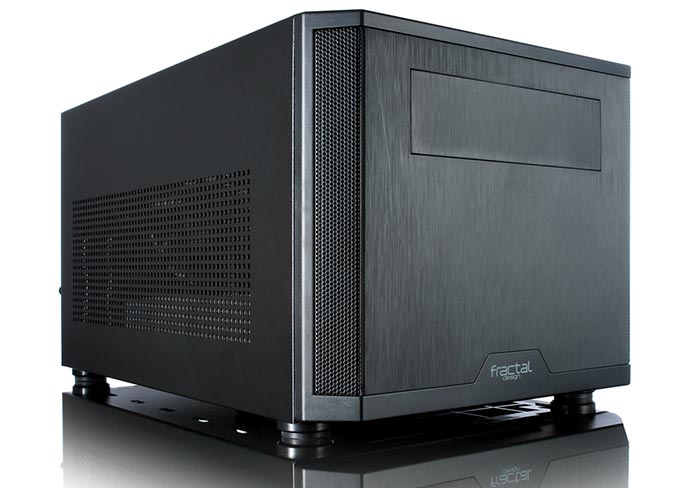 As it comes the case is equipped with a single Silent Series R3 140mm exhaust fan but has capacity for two further 140mm fans, water cooling radiators up to 280mm and air coolers up to 170mm tall. This brushed aluminium chassis can fit up to three 3.5-inch drives, three 2.5-inch and one 5.25-inch drive simultaneously. Maximum compatibility is a mini-ITX motherboard, an ATX power supply (up to 170mm long non-modular, or 160mm long modular), CPU coolers up to 170mm tall and graphics cards up to 310mm in length. Magnetically attached air filters for the chassis keep things clean and dust free.
Other key specs for the Fractal Design Core 500 are listed below:
2 expansion slots
3 x 3.5-inch HDD positions , 3 x 2.5-inch dedicated SSD/HDD unit positions, 1 x 5.25-inch bay (removable)
Front panel: 2x USB 3.0, audio I/O, power button with LED, reset button, HDD activity LED
Case dimensions (WxHxD): 250 x 203 x 367 mm
Net weight: 4.4 kg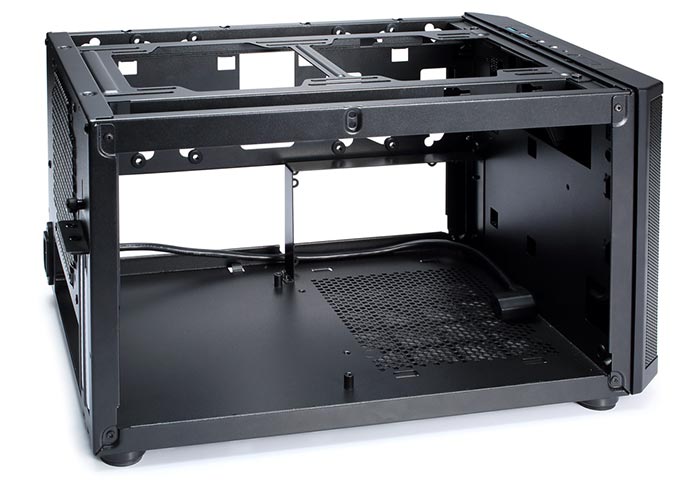 If you are interested in the Core 500 it is reasonably priced with an MSRP of USD $59.99, EURO € 69.99, GBP £49.99, SEK 649.

Kelvin cooler range updates
Fractal Design has also updated its Kelvin range of liquid coolers. All three coolers, the T12, S24 and S36 with one, two and three fan radiators respectively, benefit from the following improvements:
They have been upgraded to Dynamic GP-12 PWM fans for quiet operation with significantly large airflow; Wide PWM speed range, 500-2000 RPM, providing accurate and better fan speed control with quieter operation.
9V speed adapter now included with purchase to help control desired speed and noise level for the pump.
Improved dedicated fill-port design and quality: Extra strong fill-port that can be accessed by hand, with an allen key or with a coin for easy and durable handling.
Radiator screws updated to PH2 heads for simple management with screw driver. No allen key required.