Corsair has a bumper crop of new PC hardware launching at Computex today. Among the new offerings are three PC cases, members of the Carbide and Graphite series. Also we have seen a liquid cooler for your GPU, the HXi "silent and steady" power supply range and some new flash drives launched.
Three new high-end PC cases join Corsair's Carbide and Graphite ranges today. Perhaps illustrative of an industry trend, two of these high-spec cases are aimed at users of mini-ITX motherboards. However despite two of the chassis compact dimensions they can still comfortably fit a full length graphics card and 240mm water cooling radiators, for example.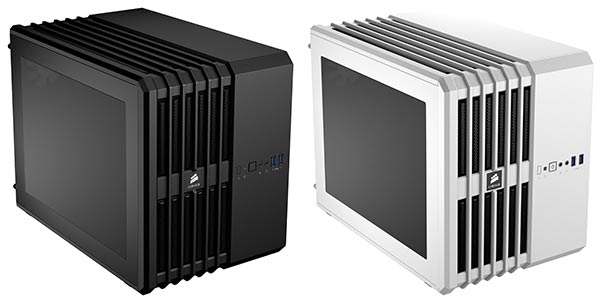 Carbide Series Air 240 Mini-ITX & Micro-ATX PC Case
This stylish cube shaped chassis, with side window, will be made available in black or white. Despite its size it can keep today's most powerful components cool. The Carbide Series Air 240 is optimised for powerful air or water cooling configurations, including water cooling radiators up to 240mm in size, yet still have capacity to fit a full size graphics card. Corsair says that its Direct Airflow Pathway Cooling layout combined with the three supplied AF120 fans should keep your PC's hottest components performing at their peak. The advanced cable routing design also facilitates great air flow characteristics.
The chassis is designed so that hard disk drives and your power supply are tucked away behind the motherboard, out of sight. This chassis also offers easy connectivity thanks to front panel USB 3.0 ports.
Carbide Series Air 240: August, $89.99 - $99.99
Graphite Series 380T Mini-ITX Portable PC Case
Here's another compact PC case. This time its mini-ITX only and, making the most of the portability this smaller motherboard form factor brings, the Graphite Series 380T is equipped with an integrated carry handle. This is a mini-ITX chassis without compromise, says Corsair. The design of the case includes rounded corners and a side window.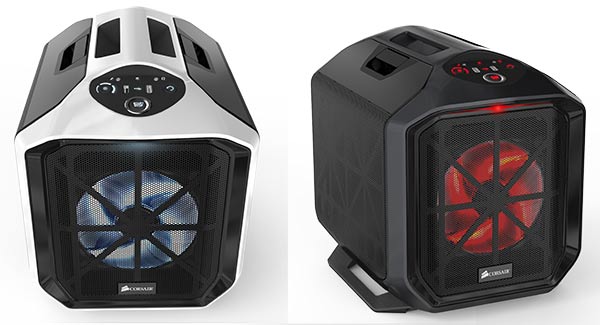 The 380T accommodates up to four 3.5-inch/2.5-inch drives and a full-length graphics card with ease, says Corsair. Also you still get a bevy of cooling options including the option to fit up to five fans or a 240mm watercooling radiator. The Corsair AF-140 140mm and AF120 120mm fans are included with the chassis as a starting point. A three speed fan controller lets you choose your preferred balance between silence and cooling performance.
Graphite Series 380T: August, $129.99
Graphite Series 780T Full-Tower PC Case
Some enthusiasts will always want to go large and if you prefer the size and comfort that only a full tower system can bring the Graphite Series 780T Full-Tower PC case might be for you.
Get inside this chassis via the latched easy-open side panel and you have access to up to nine expansion slots and up to nine hard drives. Again a fan controller is included and this chassis comes with three Corsair AF-140 140mm fans to get you started. The cavernous interior could also easily fit dual 360mm watercooling radiators.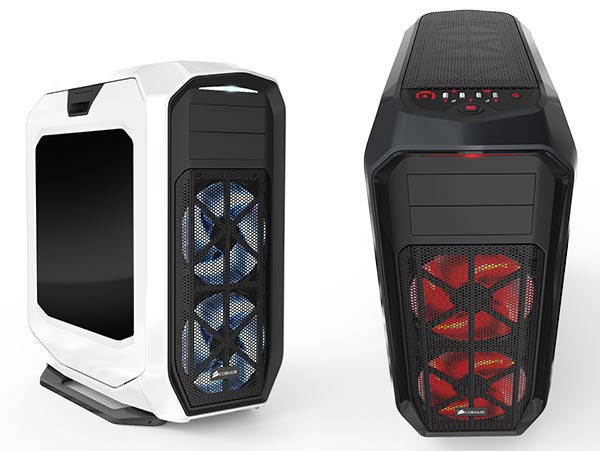 Graphite Series 780T: September, $179.99 - $189.99
Other Corsair products launched today
As mentioned in the intro Corsair has been very busy designing new products for Computex launch and today we also saw the launch of the:
Corsair Hydro Series HG10 to aid in the liquid cooling of your GPU and also the Air Series LED SP120 and LED SP140 High-Performance Edition Static Pressure Case Fans. Read more here.
Corsair HXi Series PSUs for 'Pure Power with Platinum Efficiency', read more here.
Two flash storage products; the Voyager Air 2 Wireless Drive, and the Corsair Flash Voyager GTX USB Flash Drive which "puts SSD performance in your pocket."