Today LA based NZXT launched the H440 chassis amid an explosion of marketing hyperbole and accompanied by a slick video. The PC case is claimed to "shatter tradition," bring the H series "to a whole new level," offer "next generation fans," and be "seamless and beautiful," among many other things. So let's have a look at exactly what has been launched today.
First of all we should check out the hold hard specs to see what exactly is on offer here:
CA-H440W-W1 (Glossy White), CA-H440W-M1 (Matte Black and Gloss Red)
Drive Bays: External 5.25": 0, Internal 3.5"/2.5": 6+2
Cooling System: Front: 2x 140/3x120mm (3 x 120mm FN V2 Fans Included), Top: 2x 140/3x120mm, Rear: 1x 140/120mm (1 x 140mm FN V2 Fan Included)
Filters: Front Side(Included), Bottom Front (Included), Bottom Rear(Included)
Radiator Support: Front 2 x 140 or 3 x 120mm, Top 2 x 140 or 3 x 120mm, Rear 1 x 140/120mm
Clearance: With HDD Cage: 294mm, Without HDD Cage: 406.2mm, CPU Cooler: 180mm
Cable Management: Lowest Point - 17.7mm; Highest Point 32.5mm
Dimensions: 220mm x 510mm x 475.3mm
Product Weight: 9.75 kg
Material: SECC Steel, ABS Plastic
Motherboard Support: Mini-ITX, MicroATX, ATX
Expansion Slots: 7
External Electronics: 1 x Audio/Mic, I/O Panel LED On/Off, USB 3.0 Ports x2, USB 2.0 Ports x2
Warranty: 2 Years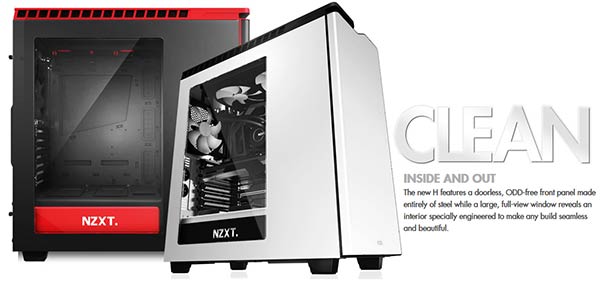 You can see that NZXT has decided to leave out any internal fitted ODD drive provision and it did so to "to make room for a host of chassis improvements and innovations," according to the press release. It has certainly spent a lot of effort re-arranging the case innards to make it sleek and good looking through the large side window.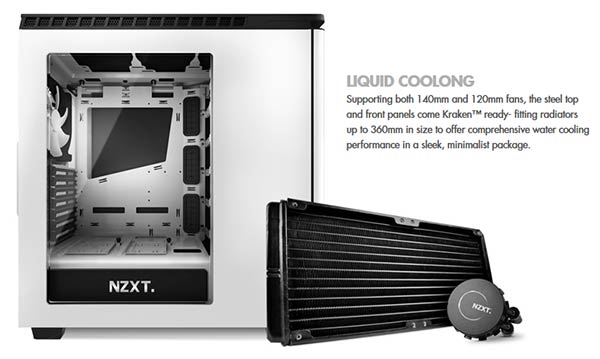 Major internal design decisions include an integrated power supply shroud which lets users effectively hide most of the cables for appearance and airflow sakes. Four new design NZXT steel HDD trays offer build flexibility while maintaining the "remarkably clean system". From the outside perspective the case looks pretty swish too, available in white or black & red depending upon your taste.
Let's look in more depth at the cooling options. NZXT says that one rear 140mm exhaust fan and three front 120mm intake fans come as standard and are FN V2 'next generation' designs. The chassis can also accommodate radiators such as those fitted to the Kraken range of water coolers, tidily and with ease.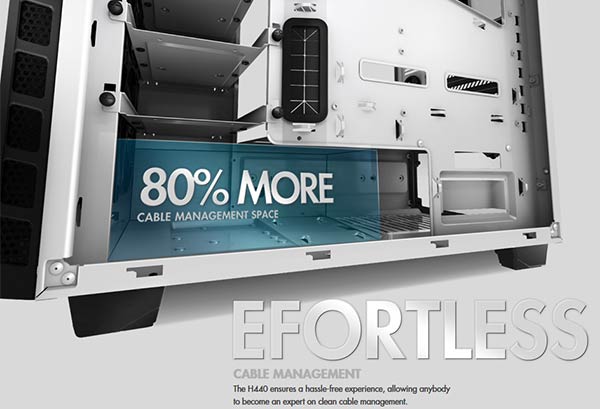 The NZXT H440 will be available "soon", we are told and it will retail for around €109. Retail versions of the included fans the 120mm FN V2 and 140mm FN V2 will also be available soon for €8.99 and €9.99 respectively. (So the chassis includes about €37 worth of fans within its price).
NZXT x Ducky Shine 3 Mechanical Keyboard
In a simultaneous news release from NZXT it was announced that it had partnered with Ducky Channel to create an "extremely limited edition" NZXT Shine 3 Mechanical Keyboard. This keyboard will be available in black/white and black/red and features Cherry MX Red switches with several LED backlighting modes. DIP switches allow users to toggle keyboard features such as windows key lockout, ctrl and capslock swap, windows key and alt swap, or demo mode. This is an NZXT Armory Store exclusive at $149.99.