Lian Li has posted details, and lots of pictures, of a new prototype case design it is working on. The Lian Li PC-Q33 is a prototype Mini-ITX form factor chassis which uses a hinged front panel that pulls down to reveal, and give you access to, the internal components.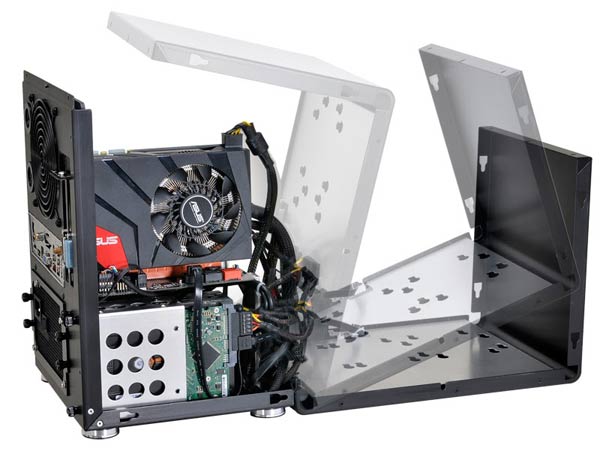 The major features of this Mini-ITX case are as follows:
a hinged front panel allowing easy access to the internal components
support for 120mm radiators
support for standard sized PSUs
capacity to fit 3x 2.5-inch, 2x 3.5-inch drives but no 5.25-inch drive support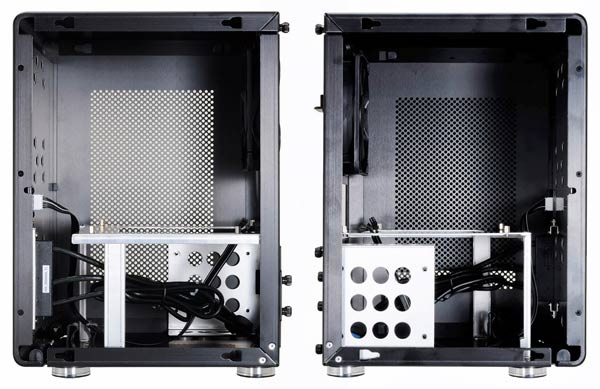 From the pictures it looks like they've made prototypes of the case in both standard Lian Li finishes of black and bare aluminium. As you can see from the major features list above the access to the insides of the chassis is through pulling down the top/front panel of the case which hinges at the front desk level. Once opened you should have nice and easy access to most of the components as the Mini-ITX motherboard sits on a shelf above the PSU. Two expansion slot cut-outs are provided on the back of the case.
Full specifications of the Lian Li PC-Q33 prototype:
Dimensions: WxHxD 229 x 330 x 248mm
Weight: 2.18Kg
Drive bays: 3x 2.5-inch, 2x 3.5-inch, 0x 5.25-inch
Expansions slots: 2
Motherboard support: Mini-ITX & Mini-DTX
System fan: 120mm x1 (rear)
Front panel I/O: 2x USB 3.0, HD Audio
PSU: ATX (optional)
Compatibility: VGA cards up to 220mm long, PSUs up to 200mm and CPU coolers up to 180mm high.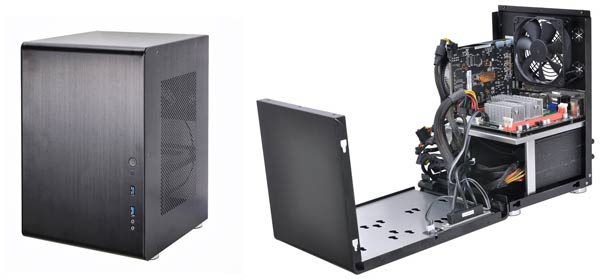 Following the reveal of this chassis prototype there's hasn't been much feedback given as yet, with just 12 comments on the Lian Li Facebook post and a paltry four on the XtremeSystems forum. However Lian Li has updated the original post, following the little feedback forthcoming, to say that a removable dust filter for the PSU "could definitely happen".